Faridabad cracker market fire: Vendors helpless, hundreds of onlookers, no police
There were hundreds of onlookers gathered at the spot even as smoke still billowed from the remains.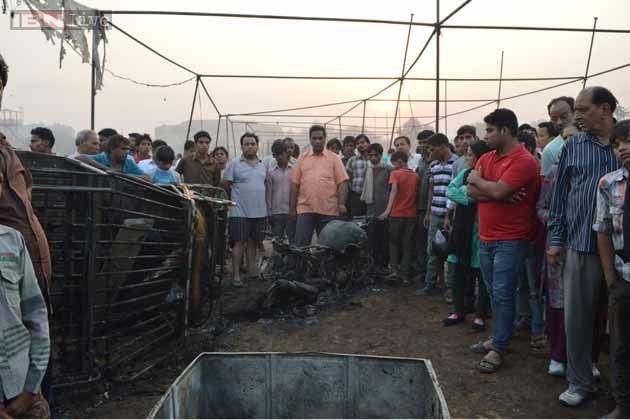 There were hundreds of onlookers gathered at the spot even as smoke still billowed from the remains.
Just a day ahead of Diwali people banking on the sale of crackers in Faridabad are reduced to tears, worried and have just one question - what next? A morning after a huge fire gutted Faridabad's biggest cracker market at the Dussehra Ground, there were hundreds of onlookers gathered at the spot even as smoke still billowed from the remains.
Every onlooker had a different story to tell as many of them were those who were witnesses to the humungous flames that engulfed the firecracker market on Tuesday evening. Among those present at the Dussehra Ground early Wednesday morning were those who had lost their shops in the fire. As they looked around helplessly at their gutted shops and vehicles, emotions ran high and so did aggression.
One of the cracker vendors, Gaurav Jaiswal, who claimed to have suffered a loss of at least Rs 1 lakh and his motorcycle, said, "We've been here since last evening trying to figure out what we can do next. How were we at fault? We should at least be compensated for this loss."
What added to Gaurav's dismay was the absence of police from the spot. Even as there was some leftover explosive material still going up in flames at Dussehra Ground on Wednesday morning, the spot was not sealed. When IBNLive went back to the spot at 7 am on Wednesday, there was not even a single policeman on the ground.
The ground was a scene of utter chaos with people gathered at gutted stalls that were still unsafe as there was smoke billowing out of them and firecrackers lying around. There were kids trying to see if any cracker was left for them to pick up, there were men and women working with magnets to collect iron that they could sell, there were tenthouse workers who were taking off the remains of the tents that they had put up and there were a few news channel OB vans.
But no security, no police, no MLA, no minister. It was people and the ground left on its own.
Another thing that added to the cracker vendors' anger was that there were some reports that they had turned violent. Many in the nearby areas alleged that vendors were destroying shops in the markets in anger.
"These are planted stories. They are politically motivated rumours. We've been here and have been demanding answers to our questions from policemen. We have not resorted to any kind of violence. Why will we do so," asked Gaurav.
A total of 230 cracker shops were gutted in the fire on Tuesday evening, resulting in a loss worth crores of rupees. While there have been no casualties, at least five people were reported to have been injured. However, eyewitnesses claimed that at least 20 people were injured. Faridabad DCP Sumit Kumar said that whether or not there was any casualty could not be confirmed.
The vendors also said that there were no fire safety measures in place. When asked why they put up the shops without ensuring that the safety measures were in place, Gaurav said, "We pay for safety measures when we get licences for these shops. But when we go to the police asking why safety measures are not in place, they will take all our time and energy in hundreds of useless verifications. We never get our answers. We have to set up our shops. Business toh karna hi hai (We have to run a business)!"
The vendors also claimed that the first fire tender reached the spot only an hour after the incident and by that time, the whole marked was totally destroyed. They said that it was the locals who came to their rescue.
But the firecracker business has gone up in flames just two days before Diwali. While questions remain as to who really is responsible for the huge loss, it will take time before the vendors pick up the pieces and get their lives back to normal. The blame game for now is still on even as vendors await compensation.
Get the best of News18 delivered to your inbox - subscribe to News18 Daybreak. Follow News18.com on Twitter, Instagram, Facebook, Telegram, TikTok and on YouTube, and stay in the know with what's happening in the world around you – in real time.
Read full article