Clashes were reported during farmers protests from several parts of Delhi as the police resorted to lathicharge and tear gassed farmers who deviated from the route of the tractor rally that had been chalked out for Republic Day. Violence was reported from ITO, Chintamani Chowk in Shadara and several other places, with Delhi metro shutting over 30 metro stations across the city in light of the incidents.
Farmers also entered the Red Fort and hoisted flags from the ramparts of the historic monument, before they were removed by the police. One protesting farmer died at ITO in Delhi after his tractor overturned, police was quoted as saying by PTI.
Also read: LIVE Updates — Protesters Barge Into Red Fort With Tractors, Wave Flags From Ramparts as Rally Turns Violent; Internet Suspended in Parts of NCR
— A group of farmers reached the Red Fort on Tuesday, hoisting flags from its ramparts. Videos showed farmers climbing the steps of the Red Fort, from where the installed they flags. The crowd swelled at the monument as some protesting farmers and 'Nihangs' (traditional Sikh warriors) were seen entering the Red Fort. PTI reported that they had been pushed back by the police form the ITO in Central Delhi and drove their tractors to Red Fort complex.
— A clash ensued at ITO from where the farmers with their tractors tried to push their way towards Lutyens Delhi. Here, the police lathicharged the farmers and used tear gas shells as they chased the police with sticks and rammed their tractors into the buses parked by police. A DTC bus was vandalised and barricades displaced. People were injured on both sides during the clashes.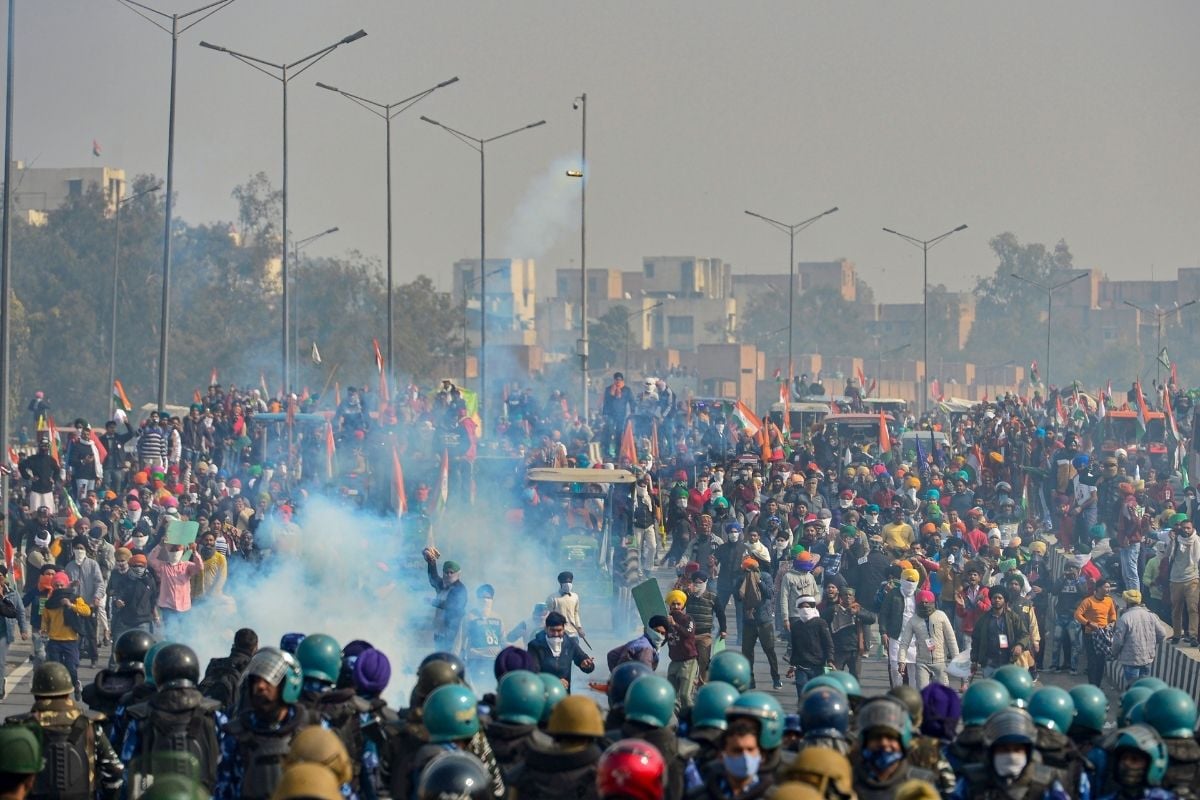 Police uses tear gas to disperse protesting farmers who were attempting to break barricades at Ghazipur border during their 'tractor march' on Republic Day, in New Delhi, Tuesday, Jan. 26, 2021. (PTI Photo)[/caption]
— Police said that many of its personnel were injured in the clashes and public properties were also damaged. "The time and the routes for the tractor rally were finalised after several rounds of meetings. But farmers drove tractors off the routes and before the fixed time, leading to vandalism in which many police personnel were injured," news agency ANI quoted Delhi Police Commissioner SN Shrivastava as saying.
— Internet services were shut down at protests sites at Singhu, Tikri, Ghazipur, Mukarba Chowk and Nangloi and adjoining areas from noon to 11:59 pm on Tuesday. The order, approved by the Union home secretary, said the suspension of services was necessary in the interest of maintaining public safety and averting a public emergency.
— Home Minister Amit Shah ordered the deployment of additional paramilitary troops to Delhi as violent protests continued till the evening. While some groups of farmers left towards Delhi's borders to disassociate themselves from the violence, reports said there were still thousands in the capital. The decision to deploy additional troops was taken after a review meeting between Shah, the IB chief and Delhi police commissioner that lasted 1.5 hours.
ALSO READ | Punjab CM Urges All 'Genuine' Farmers to Vacate Delhi, Calls Scenes of Violence 'Shocking'
— Farmers unions distanced themselves for the violence that took place. Rakesh Tikait of the Bharatiya Kisan Union told ANI, "We know the people who are trying to create disturbance, they are identified. There are people from political parties who are trying to malign the agitation."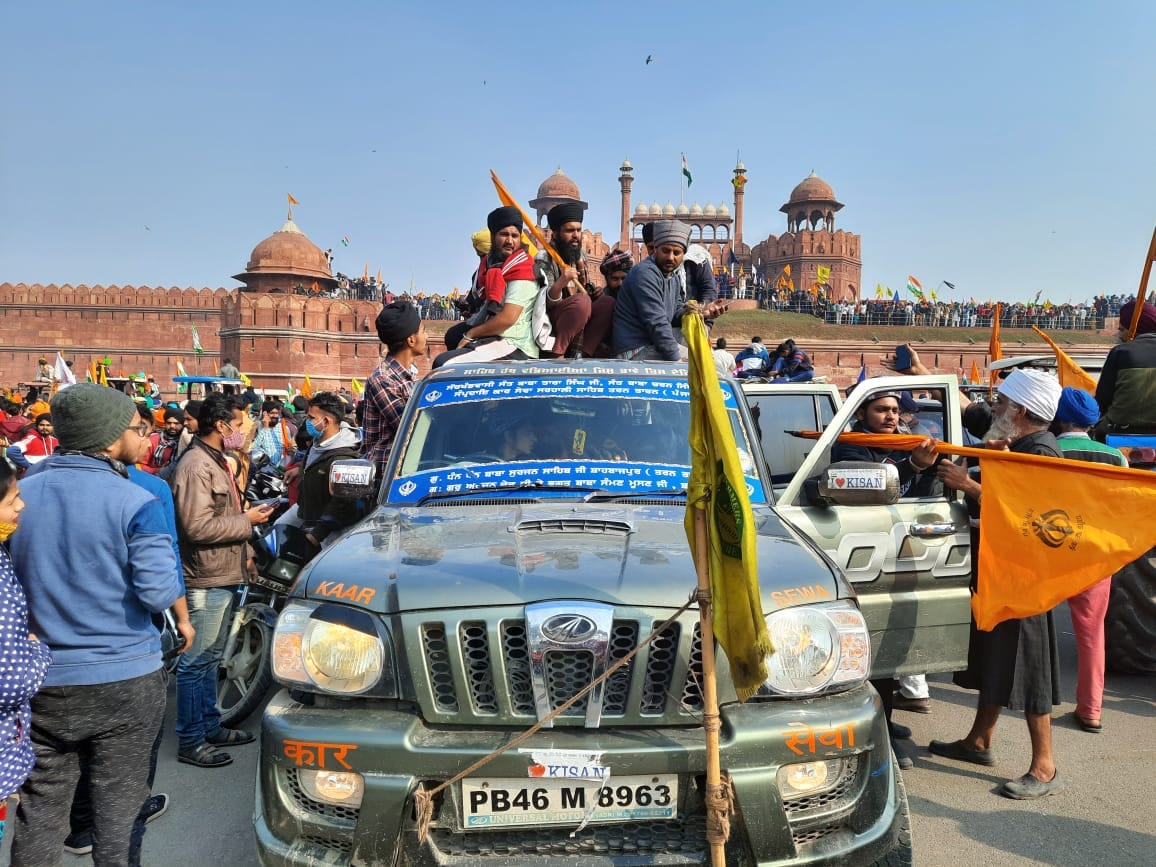 Farmers seen outside the Red Fort in a vehicle. (Image: News18)[/caption]
— The Samyukta Kisan Morcha said that despite best efforts, 'anti-social elements' marred the peaceful movement. It said, "Despite all our efforts, some organisations and individuals have violated the route and indulged in condemnable acts. Anti-social elements had infiltrated the otherwise peaceful movement. We have always held that peace is our biggest strength, and that any violation would hurt the movement."
— Shalini Singh, Joint CP Southwestern Range, said, "They were requested top follow route… but stone pelting was done… attempts made using tractor to run over police. Our policemen are injured. This is not peaceful protest. We appeal to them to maintain decorum of this festival."
— The entry and exit gates of at least 35 metro stations in central and north Delhi were temporarily closed in light of the clashed. Entry exit gates of ITO, Lal Quila, Delhi Gate, Indraprastha, among others, in Central Delhi was closed. Read more here.
Read all the Latest News, Breaking News and Coronavirus News here