Father of Missing Indian Girl in Texas Arrested, Body Still Not Identified
Wesley Mathews, the father of the Indian girl, voluntarily arrived at the Richardson police station along with his attorney. According to police, the man shared a different account of the girl's disappearance than his original statement.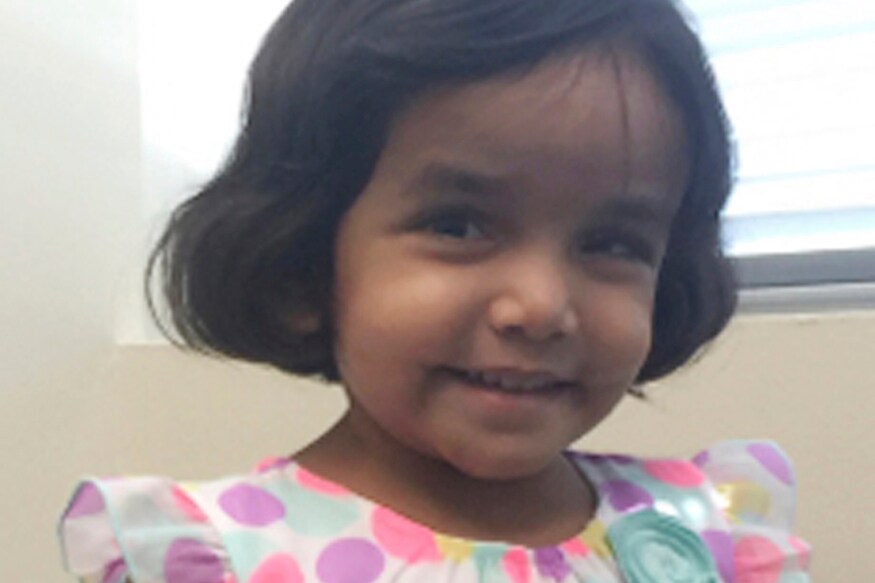 Undated photo of 3-year-old Sherin Mathews. (AP)
Houston: The father of the three-year-old Indian girl who went missing in Texas was arrested on Sunday, a day after the investigators recovered the body of a small child in a culvert, less than a mile from the family's home.
According to a PTI report, Sherin Mathews, who has developmental issues and limited verbal communication skills, was last seen outside her family's backyard in Richardson city in Texas on October 7 after her Indian-American father Wesley Mathews scolded her and sent her alone outside late at night as punishment for not finishing her milk.
Wesley was arrested on Sunday evening and faces charges of injury to a child, Police Sgt. Kevin Perlich said.
On Monday, Wesley and his attorney voluntarily arrived at the Richardson police station and shared a different account of the girl's disappearance than his original statement, Perlich said.
"He provided an alternate series of events from what he had previously given us," Perlich said according to a PTI report.
Perlich further added that investigators don't have reason to believe the body found Sunday is not that of Sherin Mathews, but they're still waiting for the medical examiner's office to confirm it and to determine a cause of death.
Meanwhile, Child Protective Services (CPS) had removed the couple's four-year-old biological child from their custody and the little girl was placed in foster care just days after Sherin disappeared.
Wesley and Sini Mathews approached a judge, along with officials from Texas Child Protective Services regarding the custody of the other child.
Wesley Mathews, 37, told police that he put Sherin in an alley near their house in the 900 block of Sunningdale where coyotes previously had been spotted, to punish her after she wouldn't drink her milk, around 3 am, according to the arrest warrant affidavit.
Mathews told police that he went to check on Sherin about 15 minutes later. When he didn't find her, he went inside to wait for daylight to continue searching, or for her to return on her own, according to the account he gave to police. As he waited, he did laundry, Perlich said.
The girl's mother was reportedly asleep at home when Wesley Mathews told the girl to go stand outside, but was unaware of what he was doing, police have said.
Wesley and Sini Mathews reportedly adopted Sherin about two years ago from an orphanage in India. She was said to have been malnourished and physically underdeveloped at the time and does not have the language skills of a typical 3-year-old.
The two-week search for Sherin involved drones, cadaver dogs, an Amber Alert and teams from multiple agencies that swept fields and other areas around the girl's home.
They also solicited help from neighbors and nearby businesses that may have had footage of the family's maroon Acura SUV between the hours that Sherin was said to have been left outside and when her disappearance was reported to police.
(With PTI inputs)
| Edited by: Sanchari Chatterjee
Read full article