There is no Agra Fort Where I Can be Locked up, Says Yashwant Sinha
Yashwant Sinha, who has been criticising the government particularly on handling of the economy, agreed with Kejriwal that an "atmosphere of fear" prevails in the country and urged people to stand up against it.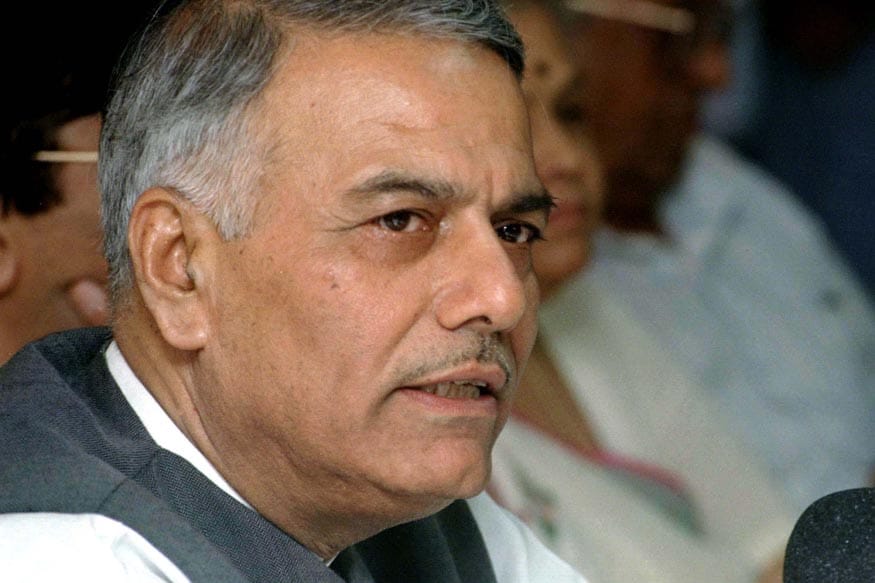 File photo of former Union Minister Yashwant Sinha. (Reuters)
New Delhi
: New Delhi: Verbal onslaughts over the past few days between the current dispensation and the rebels within the ruling party, questioning the state of economy, is far from subsiding.
The book launch of Congress leader Manish Tewari witnessed yet another such episode that had earlier started with former Union Finance Minister Yashwant Sinha writing a critical article on the state of the economy, which went against Finance Minister Arun Jaitley.
Flanked by Tewari and Delhi Chief Minister Arvind Kejriwal, Sinha took on Prime Minister Narendra Modi's "pessimism" jibe.
While Modi compared Sinha's pessimism to 'Shalya', a Mahabharata character, Sinha responded by comparing the Narendra Modi-Amit Shah pair with the eldest Kaurava brothers Duryodhana and Dushasan.
He said, "A 100 brothers constituted the Kaurava clan and two became infamous — Duryodhan and Dushasan."
Retorting to Sinha's article, Finance Minister Jaitley called the veteran BJP leader a "job applicant at 80".
Sinha said, "I come from that part of the country that gave us a freedom fighter named Babu Kumar Singh. He fought the First War of Independence. He was 80. There is no age bar to fight for freedom, I am also doing just that."
The leaders present said there is an atmosphere of fear in the country; Arvind Kejriwal said "everyone feels they are under surveillance".
Sinha added, "Darr (fear) and democracy cannot go together."
He added that after his came out with his opinion, there was an attempt to make this a family confrontation. "By making my son Jayant Sinha write in defense of the government on economy, they wanted the whole issue to turn into a family fight. But that didn't happen. Jayant is following his dharma and I am following mine."
The senior leader retorted, "There is no Agra Fort where I can be locked."
Yashwant Sinha was amused that his critical piece on the economy under the Modi government was seen as the gesture of a man disgruntled for not getting the job of the BRICS Bank Chairman.
He said, "It is completely out of question as I was not the candidate for it. I have been the finance minister of this country, why will I be after such a small thing like the BRICS Bank job. Is it same as being a candidate for the World Bank, IMF or UN Secretary General? I won't be disgruntled for such a small issue."
The stage saw three of the leaders from different parties coming together in the same frame, which Tewari said was planned much earlier before the whole Yashwant Sinha controversy happened.
Sinha said, "I have stopped caring. If the party takes action against me, it will be the best day of my life."
There were questions put up to Kejriwal and Tewari as well, when asked about the 2019 elections. Kejriwal said, "Next elections will see BJP and the rest of the country."
Tewari admitted that Congress had some problems, but given another chance it won't be repeated. He said, "There was a certain degree of arrogance and complacency in the UPA government. But one thing I can promise, given another chance, it won't be repeated."
| Edited by: Mirza Arif Beg
Read full article
Countdown To
Elections Results
To Assembly Elections 2018 Results