Five fitness trends to watch for
Some fitness trends to watch out for - child obesity, women going toe to tow men and boot-camp training.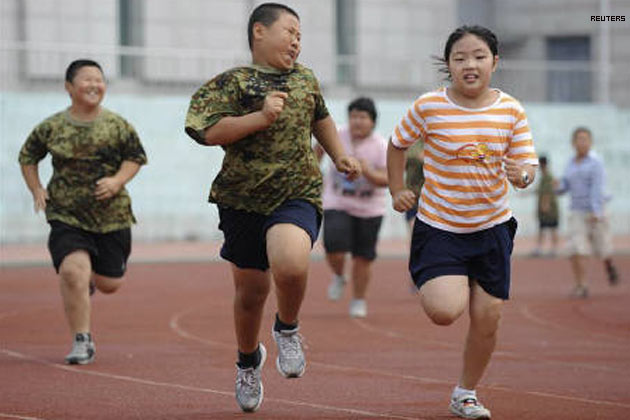 Some fitness trends to watch out for - child obesity, women going toe to tow men and boot-camp training.
1. Battling Child Obesity in Metros
Obesity has become a big problem for kids in metros: One in four schoolchildren is overweight. Though primary schools encourage physical activity, the real responsibility lies with parents to spot the problem and get inactive kids away from the TV and packet of chips to the park or the play area.
2. Women Going Toe to Toe with Men
Move aside pink dumb-bells and Zumba. Women increasingly want functional strength training as they do more and more daily physical activity. They are jumping into strength-weight training regimes with the guys. High-intensity interval training tones the body better than long cardio sessions.
3. Boot-Camp Training
Ex-servicemen are showcasing military style workouts that give you an armyman's strength. Boot-camp fitness involves groups of 10 or 12 going through rigorous outdoor training. Many find being barked at by a drill sergeant gives them the required push to scale a wall, finish a rope course or jump the last hurdle.
4. Senior Citizen-Specific Activities
The elderly love to look back at their glory days, when they would strut their stuff down busy streets for all to see. Now they have different fitness needs: They are less interested in weight loss and instead more keen on getting better sleep, healthier posture and boosting energy levels. After the spectacular success of Satyamev Jayate, Dada-Dadi parks, recreational activities like dance and cricket and designated senior citizens' spaces are becoming more common.
5. Stay-at-Home Workouts
The financial downturn coupled with rising gym fees in India mean that home workouts are gaining momentum. Internet home fitness gurus have mushroomed too. The YouTube channel BodyRock.TV has over 550,000 subscribers and 610 million views-to put that in perspective, Sony Music India's YouTube channel has roughly 150,000 subscribers and 192 million views.
Get the best of News18 delivered to your inbox - subscribe to News18 Daybreak. Follow News18.com on Twitter, Instagram, Facebook, Telegram, TikTok and on YouTube, and stay in the know with what's happening in the world around you – in real time.
Read full article