Five Men Working Without Safety Kits at Ghaziabad Drainage Project Die of Suffocation; Probe Underway
From when the first labourer dropped unconscious to the bottom of the tank till the last body was pulled out, nearly an hour was lost before the five could be rushed to a nearby hospital.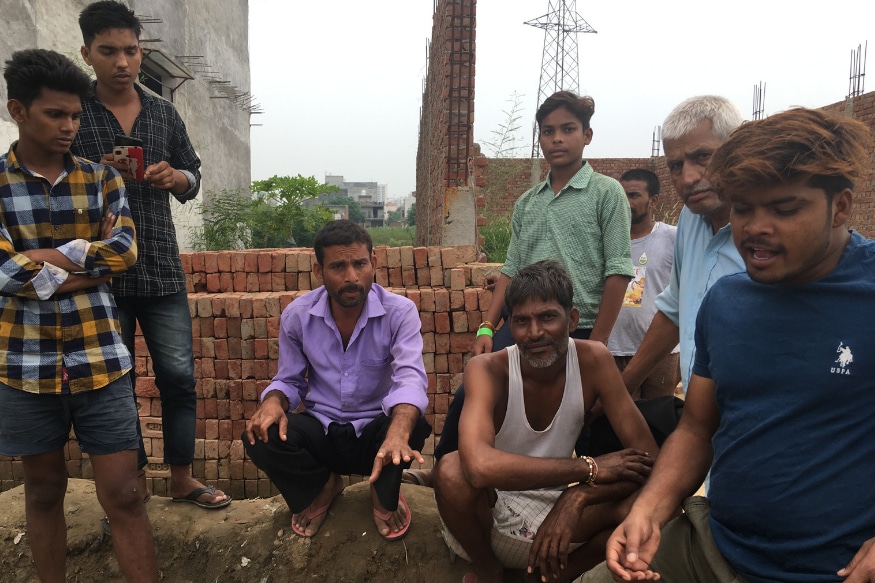 Locals at the spot where five labourers fell to death on Thursday. (News18)
New Delhi: Five labourers, all hailing from Bihar, working on a sewer line in Ghaziabad's Ghukna died after inhaling toxic fumes on Thursday. The deceased's families were awarded a compensation of Rs 10 lakh each and four officers of Ghaziabad's water supply department were suspended after the incident. An FIR was also lodged against the contractor.
Eyewitnesses said the five labourers had no safety equipment — ropes, masks, or torches — that could have prevented what clearly were easily avoidable deaths. From when the first labourer dropped unconscious to the bottom of the tank till the last body was pulled out, nearly an hour was lost before the five could be rushed to a nearby hospital.
Work on laying down a sewer line for the nearby Krishna Kunj area in Nandgram locality had just started on Thursday morning. The labourers had dug a cavity in the ground to make space for the sewer line. One of them began work on giving final touches to a manhole when fumes from below made him unconscious and fall to the bottom of the tank.
"It was about 1:30pm when we heard a labourer shout that his colleague who had just lowered himself in the manhole had fallen to the bottom of the tank. This labourer, who then tried to pull up his friend, also collapsed," said Rajbir Singh in front of whose shop the tragedy unfolded.
One by one, the remaining four labourers kept collapsing in the manhole in desperate attempts to pull their friends back to safety. "Finally, their supervisor also lowered himself in the manhole. By that time, a crowd had gathered around it. He also fell on top of the others."
A few other witnesses said that the bodies of the labourers lying on the bottom of the tank had turned pale yellow.
"Their bodies started losing colour very fast till they turned pale yellow. They soon stopped struggling as well and all movement ceased. But the last we saw, we could still see two chests heaving up and down. They were still breathing. But I think they died soon after," said Sardanand, another eyewitness.
If the villagers saw each of the five labourers die one by one, why did they fail to make a bigger, collective effort to save them?
"How could we have saved them? We thought we, too, will not come out alive if we stepped down like them. But we did our best to give them enough fresh air. We opened all the manhole covers and put table fans on top of them," said Singh, who estimated that the tank was around 15 feet deep.
It then took two other labourers working on a nearby construction site to stake their own lives and extricate the five men.
"We encouraged them. This time we were with them," said Pawan.
Sunny, a local youth, showed videos on his mobile phone of lifeless bodies being brought up to the ground. But the whole operation, he said, took over 20 minutes.
"The labourers dropped within two-four minutes of each other, so toxic were the fumes that overpowered them. They were lying there on top of each other for another 30 minutes till their bodies were brought up. However, by then, perhaps it was too late," he added.
A local journalist, who expressed surprise at the low turnout of reporters at the spot, said three sanitation workers had died last year under similar circumstances in Loni, not very far from here. "Three of them died the same death. Nothing changed. Just like this time, an inquiry was ordered then as well. At another spot, a few kilometres from here, a child died after falling into an open drain in July. A similar incident happened with another child in March last year. Nothing much changes."
The Krishna Kunj area of Ghaziabad, to the west of which jut out the fancy residential towers of Raj Nagar Extension high in the skyline, is in itself seeing an urban makeover. Foundations are being laid for big and bigger houses and at least a dozen labourers are working within 500m of this spot.
We asked some of them if they felt unsafe seeing the deaths of fellow labourers.
"I don't," said a labourer laying bricks for what looked like the entrance of the house. "We don't do these sort of jobs. Only the most desperate do the sewer work. We haul up load, lay bricks, dig and clean. Who wants to die for Rs 400 a day?"
Near his shop, quite close to the manhole on which a lid has now been firmly placed, Singh spotted a slipper possibly belonging to one of the five labourers. "Such sudden deaths are hard to process, more so for their families, so far away," Singh told a customer at his shop. "Who can challenge God's will?"
Get the best of News18 delivered to your inbox - subscribe to News18 Daybreak. Follow News18.com on Twitter, Instagram, Facebook, Telegram, TikTok and on YouTube, and stay in the know with what's happening in the world around you – in real time.
| Edited by: Sohini Goswami
Read full article