Five Reasons Why China Is Worried About The Quad Coalition
Chinese Foreign Ministry spokesperson Geng Shuang said "the relevant grouping should be open and inclusive and not aimed at excluding a third party."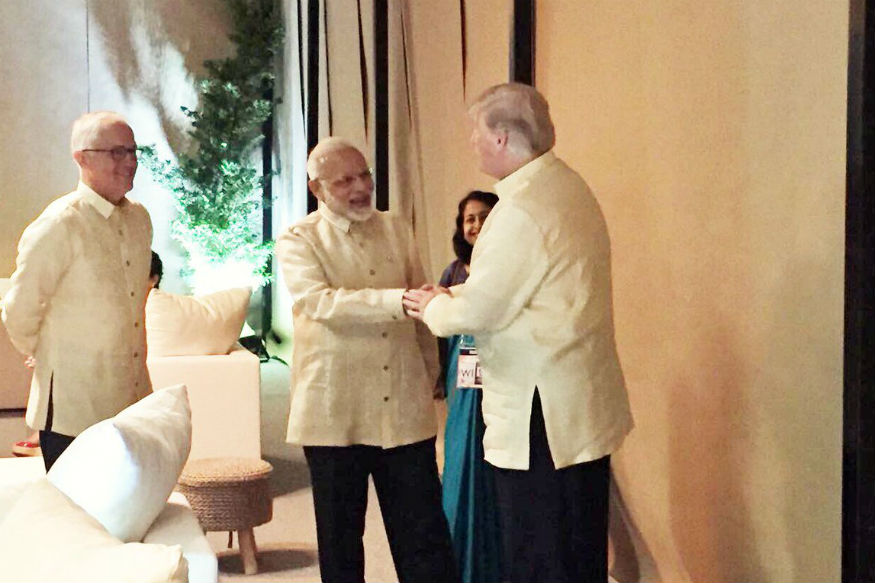 PM Narendra Modi greets US President Donald Trump on the sidelines of a gala dinner to mark the 50th anniversary of ASEAN, in Manila on Sunday. (Photo tweeted by @narendramodi)
The Chinese Foreign Ministry has already reacted rather angrily to the coming together of India, Japan, US and Australia on the sidelines of the ongoing ASEAN summit in Manila. Foreign Ministry spokesperson Geng Shuang on Monday said "the relevant grouping should be open and inclusive and not aimed at excluding a third party. We welcome the development of friendly cooperation between relevant countries, but we hope this will not be directed at any third party."
Here are five reasons why China doesn't like the idea of the Quad:
- A coming together of four democracies is in itself an implicit threat to China as it points out the stark difference in political systems of these four countries, all of whom, are democracies while China is a communist, totalitarian state.
- If these four countries come together militarily, it will change the rules of the game in the Indo-Pacific. US is the sole military superpower and outspends the next 26 countries in its annual defence budget.
- China has a flourishing trade with all four of these countries, often with huge surpluses, could come under question. All four countries could collectively put pressure on China to balance out the trade.
- This could pose a challenge to One Belt One Road, Xi Jinping's ambitious connectivity plan. The US has already spoken about alternative financing models given the concern of unsustainable debt in many of these smaller countries because of OBOR.
- Xi Jinping has just been elevated at the 19th party Congress to the level of the PRC's founder Mao Zedong. Such a coming together of four big countries would make Xi look weak, if not undermine his authority.
| Edited by: Aakarshuk Sarna
Read full article