Fodder Scam: CBI Court to Decide Fate of Lalu Prasad Yadav, Jagannath Mishra in Deoghar Treasury Case Today
Lalu Prasad Yadav, accompanied by younger son Tejaswi Yadav, arrived in the capital of Jharkhand to present himself before special CBI judge Shivpal Singh.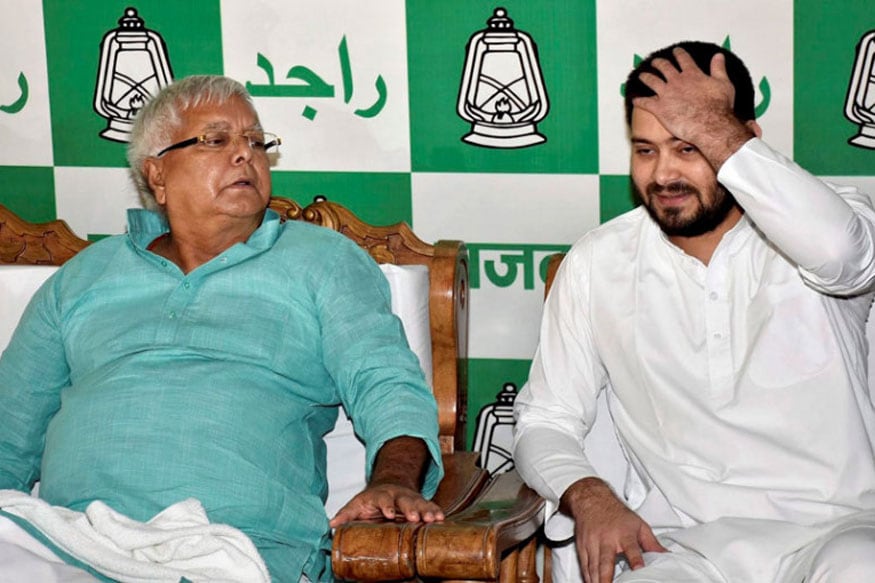 File photo of RJD chief Lalu Prasad Yadav with son Tejashwi Yadav. (PTI)
Ranchi: The fate of former Bihar chief ministers Lalu Prasad Yadav and Jagannath Mishra and 20 others will be decided on Saturday by a special CBI court in a fodder scam case pertaining to fraudulent withdrawal of more than Rs 89 lakh from Deoghar Treasury between 1991 and 1994.
Lalu, accompanied by younger son Tejaswi Yadav, arrived in the capital of Jharkhand to present himself before special CBI judge Shivpal Singh.
Like many other scams, the fodder scam also came to light through a report of the Comptroller and Auditor General of India (CAG) in 1985, though it went unnoticed then.
The then CAG, TN Chaturvedi, pointed out that monthly accounts submission from Bihar treasury were always delayed though the amount in question was roughly Rs 100 crore.
BJP leaders Saryu Rai and Sushil Modi, along with Shivanand Tiwari, raised this issue in the Bihar assembly in 1994. The trio made several submissions before the authorities. The then finance secretary Vijay Shankar Dubey ordered a probe in various district treasuries. Young IAS officer Amit Khare raided the Chaibasa office of animal husbandry department and unearthed the scam.
Fake bills and vouchers were seized from various other district treasuries. Money was withdrawn using fake bills and vouchers against procurement of cattle feed. More than 80 employees of the Animal Husbandry Department were found involved and later made accused.
In one instance Shyam Bihar Sinha, regional director of AHD, allegedly withdrew Rs 50 lakh personally against a fake bill. His close association with Lalu Prasad Yadav created a political storm.
Besides the two ex-chief ministers, former MP RK Rana, three former IAS officers — Phoolchand Singh, Beck Julius and Mahesh Prasad — are also accused in the case.
The other accused in the case include former Bihar minister Vidya Sagar Nishad, former Public Accounts Committee chairmen Jagdish Sharma and Dhruv Bhagat.
A chargesheet was filed against 38 persons on October 27, 1997.
Eleven of them died and three turned approvers while two other accused confessed to their crime and were convicted in 2006-07, a CBI official said.
The accused are facing charges under IPC sections 120B, 409, 418, 420, 467, 468, 471, 477 (A), 201 and 511 and under Prevention of Corruption Act section 13 (1) D read with 13 (2).
The order was reserved on December 13. Lalu faces three other fodder cases.
Get the best of News18 delivered to your inbox - subscribe to News18 Daybreak. Follow News18.com on Twitter, Instagram, Facebook, Telegram, TikTok and on YouTube, and stay in the know with what's happening in the world around you – in real time.
| Edited by: Nitya Thirumalai
Read full article