Fodder scam: I am innocent, CBI did injustice to me, says Lalu Prasad
<p>RJD Chief Lalu Prasad Yadav, who was released on bail, on Monday said he was innocent and the CBI had done injustice to him in its probe into the Rs 950 crore fodder scam case that was unearthed during his chief ministerial term in undivided Bihar.</p>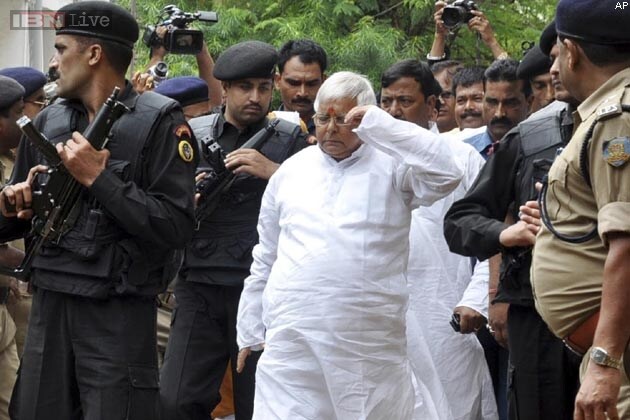 <p>RJD Chief Lalu Prasad Yadav, who was released on bail, on Monday said he was innocent and the CBI had done injustice to him in its probe into the Rs 950 crore fodder scam case that was unearthed during his chief ministerial term in undivided Bihar.</p>
RJD Chief Lalu Prasad Yadav, who was released on bail, on Monday said he was innocent and the CBI had done injustice to him in its probe into the Rs 950 crore fodder scam case that was unearthed during his chief ministerial term in undivided Bihar.
"Mine is a no evidence case...the CBI has done injustice in every case," Yadav said soon after walking free from the Birsa Munda Central Jail where he was lodged from September 30 after being convicted by a special CBI court in the fodder scam case involving fraudulent withdrawal of Rs 37.7 crore from Chaibasa Treasury.
"I won't tell much as the case is before the court," he said, adding he has full faith in the judiciary.
Lalu is also facing charges in four other fodder scam cases pertaining to alleged fraudulent withdrawal of varying amounts in treasuries of Dumka, Chaibasa, Deogarh and Doranda, now in Jharkhand.
Lalu, who visited Deori temple, is scheduled to visit 'Chhinmastika" temple at Rajarappa on Tuesday before leaving for Patna, RJD's state unit spokesman Manoj Kumar said.
Get the best of News18 delivered to your inbox - subscribe to News18 Daybreak. Follow News18.com on Twitter, Instagram, Facebook, Telegram, TikTok and on YouTube, and stay in the know with what's happening in the world around you – in real time.
Read full article