Foot Soldiers, Nerve Centres and WhatsApp: How Bharat Bandh Was Planned and Executed
"Everything is planned, even the smallest rallies and the meekest of speeches".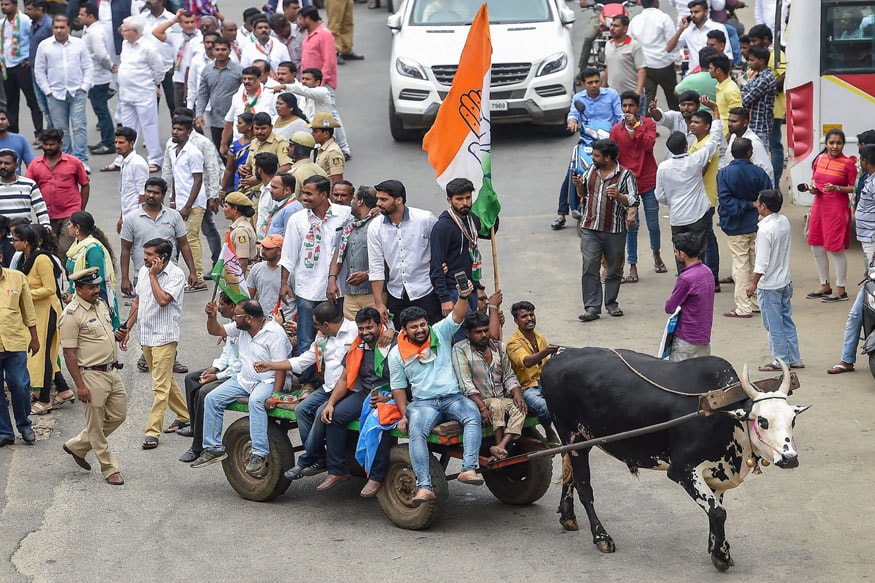 "Everything is planned, even the smallest rallies and the meekest of speeches".
When Congress general secretary Ashok Gehlot declared a national bandh on Thursday, regional party workers all over the country were alerted about long days and a working weekend ahead.
While the top leadership's task was to prepare speeches, curate videos and seek police permissions for sit in, grass-root level workers had to mobilise citizens along with maintaining peace.
The bandh, slated between 9 am and 3 pm on Monday, would include symbolic dharnas (sit in) at petrol pumps along with state-level rallies. The decision was taken after a meeting of top party leaders, including general secretaries, chiefs of state units and other senior functionaries.
The next major facilitator happened to be the mobile messaging application, Whatsapp.
"Executing bandhs are a daunting task. You need to keep everybody inside houses and at the same time, get as many party workers and sometimes others to be out on the streets, protesting. As soon as Gehlot sahab made the announcement, I started getting messages on my phone from district and state-chiefs about plans. Immediately, several WhatsApp groups were made and people were added," said Amit Sharma, a Congress party worker in Bhopal, Madhya Pradesh.
Congress workers had decided on symbolic protests at petrol pumps. (PTI Photo)
Sharma explained that after flooding their phones with "inspirational" messages and posts representing resentment, party workers are informed of a nodal point in their respective areas where most of the action would happen.
A case in point being Bhopal where a flower shop owned by Madhya Pradesh Chief Minister Shivraj Singh Chouhan's son Kartikey was chosen as the centre of the protest. Usually it is the state chief who decides the nodal points in close consultation with district party heads.
After the nodal point is chosen, party workers, among themselves, decide on four to five major points in the city or town where most of the workers are deployed. Here is where the mobilisation begins.
"After the major pockets are decided, party workers hire local vehicles and make public announcements about the bandh. They also reach out to shop owners and public transport drivers and request them to keep operations shut," said Madhya Pradesh Congress spokesperson Pankaj Chaturvedi.
Pamphlets in huge numbers are printed and flexes are designed. Party office remains accessible 24*7 till the day of the bandh. Each worker, in his personal capacity, convinces people around him to join the rally in the respective area and support the cause but not to go to work. "They are, of course, aware of people with differing ideologies and do not seek help from them," said Sharma.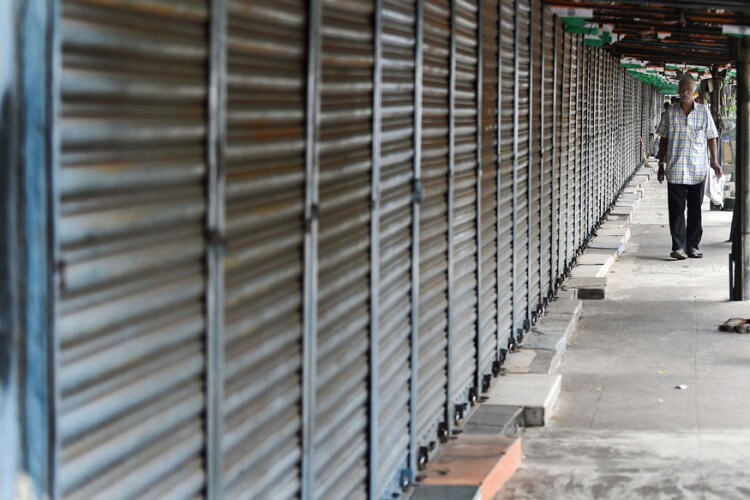 A man walks past closed shops during 'Bharat Bandh' protest in Chennai on Monday. (PTI Photo)
Once the workers are sure to have convinced the residents of staying indoors, they move to multiplying their strength. However, there is a persistent problem.
"Whenever the police fear disturbance, they detain a number of people as a precautionary measure. Some of them happen to be our workers as well, and some who could have been helpful to us in executing the bandh. This affects the numbers but we manage," added the Congress's state-worker.
This was the case in Jharkhand where more than 1,000 persons were taken into preventive custody during the bandh and 5,000 extra forces were deployed
However, on D-day, while the Congress called the shutdown successful, the ruling BJP accused the former of adopting "anarchic" ways to intimidate people to enforce the bandh.
Several Congress leaders led rallies asking people and shopkeepers to participate in the shutdown and there were also reports of party workers trying to forcibly shut fuel pumps and other commercial establishments in Ujjain.
Meanwhile, things went out of hand in Bihar where several cases of violence and arson were reported. A two-year-old girl died on her way to Jehanabad civil hospital as the vehicle carrying her allegedly got stuck in a road blockade caused by Bharat Bandh supporters on Monday afternoon.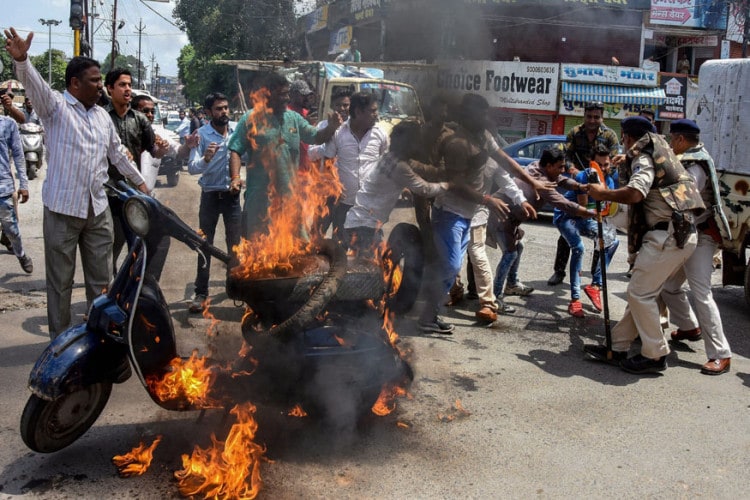 Congress party workers set a scooter on fire during 'Bharat Bandh' protest in Jabalpur on Monday. (PTI photo)
While the empirical structure of planning remains the same in all states, the execution differs in those where the ruling government does not support the bandh but is politically inclined to the cause. For example, in West Bengal, Trinamool Congress (TMC) agreed to join the agitation, but decided not to be a part of the call for Bharat Bandh.
"Our job was to ensure that people reach to work safely and nobody is intimidated into observing a bandh. Our party's stance was very clear, we are against rising petrol prices and falling rupee and would not want to jeopardise everyday life because of it," said Jayant Roy, a TMC party worker in Kolkata.
As planned, public life and vehicular movement in Kolkata and most of the districts remained normal on Monday. The two nerve centres of Kolkata and Howrah district-Sealdah and Howrah Stations- witnessed regular crowd of passengers in the morning.
Bus services around the two key rail stations was also normal. Large police contingent was deployed at the two rail stations to prevent any untoward incident. Later in the day, TMC workers staged protests in Kolkata's Moulali without indulging in violence.
Rajesh Kumar, RJD worker from Patna summed up bandhs when he said, "it is of course an opportunity to portray political prowess. Everything is planned, even the smallest rallies and the meekest of speeches and its foot-soldiers like us who are in the greenroom for this."
| Edited by: Aakarshuk Sarna
Read full article
Countdown To
Elections Results
To Assembly Elections 2018 Results