GET Stock

Quotes


For an Expat, Home is the Time Before His Visa Expires: Deepak Unnikrishnan
Deepak Unnikrishnan's novel on 'people from elsewhere' who live as perpetual foreigners, often in fear, has been hailed as one of the best works on expats in Middle East. (PHOTO CREDIT: Philip Cheung)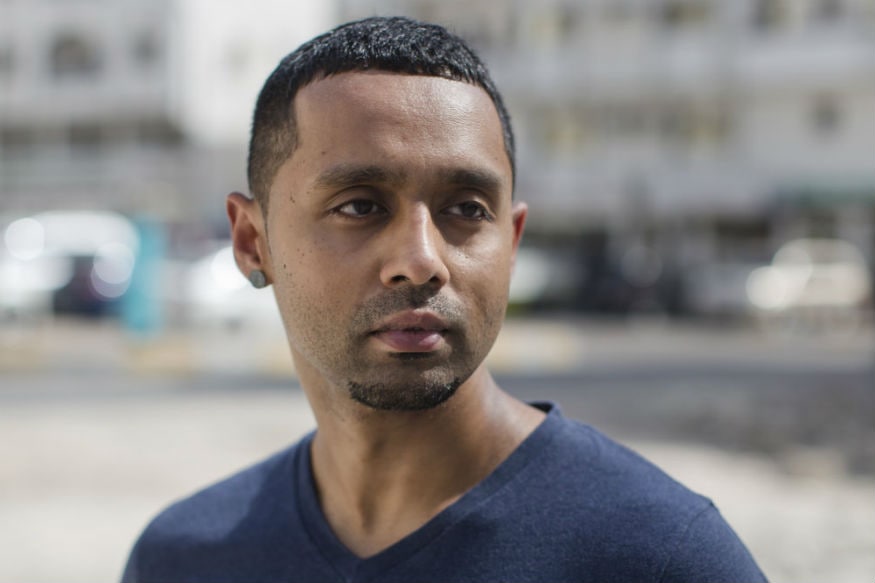 Deepak Unnikrishnan's novel on 'people from elsewhere' who live as perpetual foreigners, often in fear, has been hailed as one of the best works on expats in Middle East. (PHOTO CREDIT: Philip Cheung)
The crisis between Qatar and other Gulf countries has once again exposed how vulnerable the expats are. One day, they are riding success, the next day they might face uncertainty. And even if they make it big, eventually they would have to return. Deepak Unnikrishnan's novel, Temporary People, on 'people from elsewhere' who live as perpetual foreigners, often in fear, has been hailed as one of the best works on expats in the Middle East. It won the inaugural Restless Books Prize for New Immigrant Writing, awarded to a "first-time, first-generation American author or resident." In an email interview with Aishwarya Kumar, he says, "Temporary People are people who are aware of time. They rarely live in the present because their future or the future of those they are working/living for are always in their sights. But they are also vulnerable people."
Please tell us a bit about your childhood, family and education.
When you say childhood, you are asking me to recall where I learned to speak, read, walk, run, fight, and hide. That would be Abu Dhabi, the city that raised me.
To recall family, I will need to speak about my parents, who have lived in the Gulf longer than they have lived in the country of their birth. Then there is my sibling, and my partner. For the moment my immediate family enjoys the luxury of proximity. Our bodies are simply a phone call and a cab ride away. For example, I can drop in on my mother to check on her, or simply to grab something to eat, unfathomable when I was living/studying/working in the States.
My education is a bit mixed. I started off as a student in the sciences, but I switched majors after four semesters of electronics. I have degrees in the arts, plus work experience at a non-profit TV station. But I learned so much more from jobs I barely had for weeks, or days, like house/dog sitting, and other gigs I won't get into now.
You started by writing Coffee Stains in a Camel's Teacup. How did you come about writing that book?

Coffee Stains
wasn't meant to be a book. I had just graduated from college in Jersey. That allowed me to apply for a one-year work permit in the States. This meant I couldn't leave to see my parents, because we were all paranoid that US Immigration and Customs Enforcement wouldn't let me return to the States. And the interviews I had lined up weren't going well. I was upset, homesick, and broke. I needed some sort of release, so I began to write a few things. My roommate at the time was an interesting woman from Sri Lanka who was convinced whatever I was writing had substance. 'Just give me the right to shop it around, and I'll see if I can get it published,' she said. Sure, I said. By then I was used to her ways, but even I was surprised when she told me she found a publisher in Colombo. I found out later that she had put her own money into the venture. The print-run was tiny, but the book got reviewed. It was quite surreal, all of it. In a country I still haven't visited, half a dozen people read my work. Two people reviewed it. At the time, that was good enough. Post-writing, life returned to normal quickly. I remained the fresh graduate who was looking for work. Then I became the nine-to-five man who wrote in his spare time. But I had a day job, as I still do. Writing never paid the bills.
Your new book, Temporary People, has won a series of awards and has been reviewed widely. You have said it's a work of fiction set in the UAE, where foreign nationals constitute over 80 per cent of the population. It's a nation built by people who are eventually required to leave. Now, when you look back, do you think you could have done something different with Coffee Stains?

I am a different kind of writer now: more precise, harsher. Certainly a much more informed reader. And I was homesick when I wrote
Coffee Stains
, so I didn't overthink anything, but that also meant I eschewed brevity. I could have learned to write less, sure — some of the sentences in
Coffee Stains
take forever to end — but the book's barely 40 pages long. So I guess you could say I didn't have much to say or write about either. But I didn't give a damn at the time. I wrote to release my thoughts into the world, or to understand my world. I wrote with the kind of freedom I'd like back. So no, I don't think I would have done things much different, because Coffee Stains gave me hope, and ambition, but true credit for that ought to go to the writer Carl Muller who reviewed it. But
Coffee Stains
also deluded me into thinking I had a promising writing career ahead of me, so I wrote other book-length works, none of them publishable. But when the book came out in Sri Lanka, way before I thought I could write, it made me feel I had something to say that was worth reading. I am not sure why I felt that way at the time, but sometimes such delusions are useful.
There has been a long gap between your two works. Was it an intentional and calculated move?
I didn't start off wanting to be a writer. There was no five or 10-year plan to become one either. I had to find a job in the States to be able to function as a legal resident. There was also the small matter of being able to send money home. That was the hope anyway, but I barely made enough to cover paying interest on the education loan my parents had taken for me to cover my first year of tuition and housing expenses in the States.
Temporary People are people who are aware of time. They rarely live in the present because their future or the future of those they are working/living for are always in their sights.
On top of that, I needed time to write something decent, because I was writing whenever I could. More importantly, I was reading a hell of a lot, as well as watching a bunch of films, and learning. When I was certain I had something to write about, I applied to fellowships and art schools, because as much as I wanted time, I needed someone to fund me.
Temporary People deals with all kinds of races, castes and communities. Is this your attempt at creating a different meaning of the people who work in the UAE? How do you define temporary people?
With narratives about the Gulf, especially the UAE, I have always been bothered by the certainty with which writers/people labelled the cities of the Khaleej (Gulf) or its people. These pieces spoke about were men and women who came from tribes with a past wedded to the region, or they were referencing others who came much later, like my parents, or earlier, like the traders or oilmen of the past.
Often, these reflections had a line or two about what these people were — expats, guest workers, foreign nationals, blue, white, or pink collar — or how they lived their lives. But I wanted more. I wanted to know more than just what these people did, whether they were construction workers, or bankers. I wanted to know what they thought about their homes, where their homes were, whether they were temporary or permanent residents. And I wanted to read about the people I grew up around. I wanted to smell the city I knew and hear the various languages in play. I suppose you could say the book is asking readers to think of temporary residents in the UAE as people with lives beyond what they do for a living. And these people who appear in my fictional world(s) have their own understanding of the Khaleej that's far more nuanced that what most observers I'd wager could write, or talk about. It's possible their stories, or tales about people like them, may not play a part in future narratives about the place/region, but they've played a part in building these countries in the Khaleej from the ground up. And for some of these people, I'd reckon, that's enough, because they're busy living their lives. They are home, you see. And often, home is a feeling.
Home's where the bed's going to be, where food's to be eaten. And if you are lucky, where your people are, where they've lived and died, bickered and/or hoped, and dreamed and/or retreated from past promises.
But you are also asking me to explain the title. So here's my take on what I believe some of these people to be: Temporary People are people who are aware of time. They rarely live in the present because their future or the future of those they are working/living for are always in their sights. But they are also vulnerable people, temporary people. They are wedded to documents, paychecks, or family members and/or partners. And all of them, every single one of them, have names. And maybe one suitcase/backpack they could pack in a pinch.
Temporary People also talks about failure of those who come to another country in search of success. What is our sense on that?
When I was a little boy in the 80s, how you went to Kerala for vacations mattered. A week before our departure, my parents would go shopping. At the supermarket, our trolleys would bloat with perfumes and chocolates, Tang, Nido milk powder, and bras and panties and VHS tapes.
There would be a list my mother would be working from, gifts for relatives, and other requests that needed to be honored too, and then we would buy a VCP or a VCR, some booze at Duty Free, and be received by my grandmother at Arrival.
And visitors at home would question my parents about their lives, then they would wonder about ours, whether my sibling and I were Malayali or Indian enough. But when my parents fell on hard, very hard times, when my father couldn't afford the trip to Kerala, or have money for relatives, few people in the homeland understood how someone who had spent decades in the Gulf had nothing in the bank account.
I also wanted to explore/examine/scrutinise what the place had done to the children and families of people like my uncles, men who never had the opportunity to watch their children grow, their wives age.
And then there were those in the Gulf, my parents' friends, who couldn't fathom why my parents had failed, in the sense that they didn't have a house, or an apartment, or foreign passports, or kids in high-paying jobs who didn't go to the best schools. And that broke my parents, I think, because they felt they messed up, that they could have done better. But the truth is people in the Gulf, Malayalis especially, are often afraid/hesitant to talk about not making it, because they don't know how to begin. There's so much shame and stigma, and that needn't be the case, because the odds are tough. And not everyone's going to return to the homeland with loot/prestige/retirement cash/investments.
But such expectations of workers who moonlight as residents are prevalent in other countries too. Take the United States for instance, where you have the myth of the American dream, a capitalistic fable that toys with so many people. Part of the problem lies in equating success with money, because that's what the mythologies are peddling, and that's a lot of pressure on any person who comes from elsewhere to work on foreign soil that becomes less foreign as the years go by, and honestly, an unreasonable request.
Your parents have been in Abu Dhabi. Has your family's experience influenced your work?
I wrote the book for my parents and for people like my parents, individuals who left their homes on a whim, for themselves, or on behalf of others. I also wrote the book for myself. I needed to know what the city had done to me, and to others like me, the children of people like my parents. I also wanted to explore/examine/scrutinise what the place had done to the children and families of people like my uncles, men who never had the opportunity to watch their children grow, their wives age. And the women too, women from all over who come to work like the men, women like some of my teachers in high school, or the mothers of friends. And women I would never come to know, but would see in various professions.
So you could say I have never allowed myself to forget what my parents did on behalf of my sibling and me. They prioritised us over their own parents. They borrowed money to put food on the table, to put us through school. That kind of debt cannot be repaid. If my father had to pick between writing and providing for his family back in the day — and this is a hypothetical example — my father would have chosen our wellbeing over his in a heartbeat. When I was put in a similar situation not too long ago, with my father begging me to look for something that paid more in the States, I ignored his pleas because I didn't want to compromise my ambition or my idealism.
And finally, I also wanted to pay homage to the languages that raised/made me.
Your stories are all vividly described, with importance given to very fine details.
I pay attention to things, and sometimes I don't, but I'd like to think I don't think about every detail in my day-to-day existence. That would make me a pain in the ass and extremely difficult to be around. But it's true, I'm hyper aware sometimes.
You've used satire in your stories. Any specific reason/influence?
Satire allows you to play with worlds, the one that occupies the page, and the one that the writer has left behind, or resides in. It's also fun. But not every chapter in Temporary People uses satire. The book is a mix of the real, the surreal, and the unreal. Every piece plays a part because in my head the book's a composition of different notes. Every word and image has a purpose. Man that sounds so hoity-toity but it's the truth. And my influences range from Malayalam comedies from the 80s and 90s to stand-up comedians like George Carlin and Richard Pryor, to cartoons and fables/mythologies, to writers/filmmakers/musicians who are wizards with words/form. The Seminary Co-Op Bookstore in Chicago wondered about influences too when I was in the States in March for the book tour, and I provided them a list of names and titles, which should be accessible online.
You've lived in quite a few cities. What is your definition of home?
Home's where the bed's going to be, where food's to be eaten. And if you are lucky, where your people are, where they've lived and died, bickered and/or hoped, and dreamed and/or retreated from past promises. Home is also a concept/state that you take with you no matter where you go, memories that you've pocketed for future reference. And home can also be about feelings, and ownership, of claiming people/spaces. And home, most often than not, is a luxury, knowing that you can call something your own. But home, to me at least, has always been about time, about knowing how long I've got before the lease or the visa expires, because I need to be ready in order to figure out how to leave.
(Get detailed and live results of each and every seat of the state Assemblies in Madhya Pradesh, Rajasthan, Telangana, Chhattisgarh and Mizoram to know which candidate/party is leading or trailing and to know who has won and who has lost and by what margin. Our one-of-its-kind Election Analytics Centre lets you put on the psephologist's hat. Know interesting facts and trivia about the elections. Elections = News18)
| Edited by: Nitya Thirumalai
Read full article
Countdown To
Elections Results
To Assembly Elections 2018 Results