For Saina Nehwal, it is always about playing for India
"I don't think anyone would not want to play for the country. Everyone would wants to play for the country," said Saina.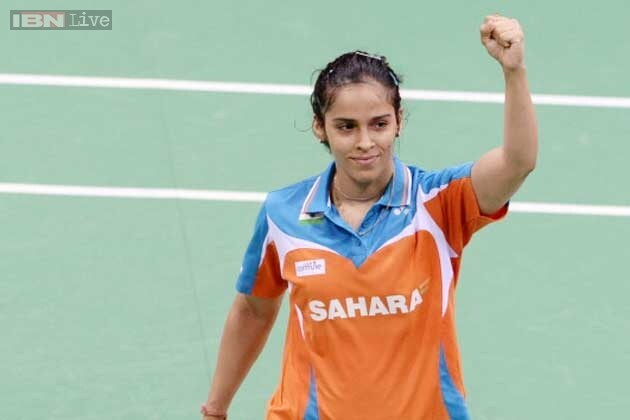 "I don't think anyone would not want to play for the country. Everyone would wants to play for the country," said Saina.
In the wake of Sports Ministry's diktat of not to extend financial help to athletes who prefer professional commitment over representing India, ace shuttler Saina Nehwal on Thursday insisted her first priority would always be to play for the country.
"I don't think anyone would not want to play for the country. Everyone would want to play for the country. Sometimes you can't ignore that there is injury or a player goes through some difficult situation. Otherwise, I am sure everyone would want to play for the country and for the pride of the nation," said Saina.
The ministry's diktat came after top tennis players like men's number one Somdev Devvarman, veteran Leander Paes and Rohan Bopanna refused to participate in the 2014 Incheon Asian Games, citing loss of rankings points on the ATP circuit.
Asked how difficult is it to balance playing for the country and prize money events, the London Olympic bronze medallist said, "In the prize money event also you are not going there just as a player. You play at the state level, then national level and finally you reach the international level. So at that level, you only play for the country. It is not about prize money or medal, it is only about your country."
Saina, however, refused to comment when asked specifically about top tennis players' decision to opt out of the Asian Games to compete in ATP and WTA events.
"I can only talk about myself and for me it is very important to play for the country," she insisted.
Meanwhile, Saina said she was extremely happy with the year 2014 where she won two titles -- India Open Grand Prix Gold and Australian Open. "I have done very well this year. I have two titles and obviously the players whom I have lost to are only the top three players in the world and there is no one else who have defeated me this year.
"I am sure one good win and next year will be even better. But if I get some three to four weeks of training, there would a lot of change in my game," said Saina.
The star shuttler from Hyderabad, who climbed up a place in the latest BWF women singles rankings to be fifth, said she was the only one who had been giving a tough challenge to the top Chinese players consistently.
"There are a lot of Chinese players in top three and all of them are very very fit. It is not easy to break them and go and win titles, because they are the ones who won all the Super Series titles this year. I am the only one who is giving them tough fight. Now, I am waiting for that one win.
"In the French Open, it was very very close (against World No. 2 Shixian Wang of China). I was 15-7 up (in the deciding set in quarterfinals) and I never lose such kind of matches... It was a surprise for me also. But I have to learn a lot from that mistake. I should have taken a break in between. But sometimes when you play in tension you just tend to forget some things. I have to learn from those," she explained.
Asked if training with coach Vimal Kumar is a long-term option, Saina said, "It is not about long term or short-term, I am there (with Vimal) for the improvement of my game. In two weeks you can't improve from World No.10 to one. I am training there to just see how it goes. The results will come.
"I wanted a little bit of a change. I had been training with Gopi sir (Pullela Gopichand) for almost 10 years now, so just wanted a little change to see if there is any improvement in my game," Saina said.
"The way I am playing my matches, they are all going very well. Of course, you need some more time to win matches. There is nobody who is going to be as consistent as me. I am very happy that I have been consistent and have gone up in the rankings. Now that I am World no. 5 shows that my consistency is good.
"Obviously that win will come. It is not far away. I know that amount of hard work I am putting in," she added.
Get the best of News18 delivered to your inbox - subscribe to News18 Daybreak. Follow News18.com on Twitter, Instagram, Facebook, Telegram, TikTok and on YouTube, and stay in the know with what's happening in the world around you – in real time.
Read full article