For Peace, Vajpayee Was Ready to Talk to Man Behind Kargil War
Some hope was revived when Prime Minister Narendra Modi made a surprise stopover in Lahore to meet his then counterpart Nawaz Sharif. But since then, multiple terror attacks and military confrontations have led to worsening relations.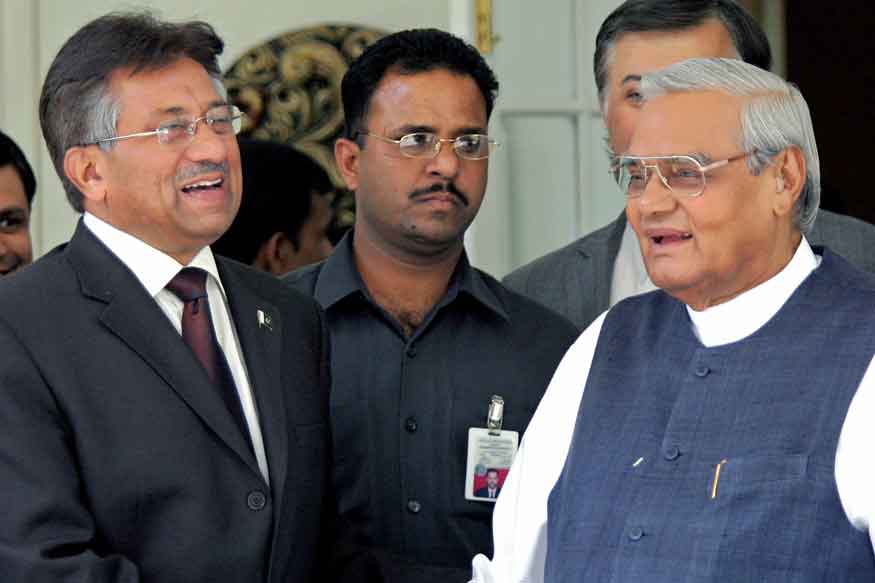 In April 18, 2005, file photo, Pervez Musharraf (L) shakes hands with Atal Behari Vajpayee (R), after their meeting in New Delhi. (Image: Reuters)
New Delhi: History remembers the Agra Summit as one of the greatest missed opportunities of India-Pakistan relations.
Former Pakistan Foreign Minister Khurshid Mahmud Kasuri, in his book 'Neither a Hawk nor a Dove' wrote the "solution to Kashmir was in the grasp of both governments". Why, then, did the solution slip away from both New Delhi and Islamabad? Different sides have different theories. But starting a dialogue with India's most bitter adversaries is seen as one of the greatest diplomatic triumphs of former Prime Minister Atal Bihari Vajpayee.
Then Pakistan President Pervez Musharraf had proposed what was called the 'Four-point solution' to Kashmir. According to different accounts, the solution was, in principle, acceptable to Prime Minister Atal Bihar Vajpayee but the deal fell through hours before the signing ceremony.
The Musharraf plan's four points were:
1. Demilitarization or phased withdrawal of troops
Millions of troops, on both sides of the Line of Control (LoC), are stationed in Kashmir. According to Musharraf, both India and Pakistan would have scale back its troops in the region for a lasting peace. Whether this would be gradual, phased withdrawal or not had to be worked out by the two sides.
2. There will be no change of borders of Kashmir. However, people of Jammu & Kashmir will be allowed to move freely across the Line of Control.
The LoC is effectively a ceasefire line, which both sides accepted in the Shimla Agreement of 1972. However, neither India nor Pakistan accepts it as the International border. Both nations claim all of Kashmir. If Musharraf's plan were to be accepted, India would have to accept Pakistan's sovereignty over Pakistan Occupied Kashmir (which Pakistan refers to as its province of Azad Kashmir) and in return, Pakistan would accept Indian suzerainty over the part of Jammu and Kashmir on India's side of the LoC. The ceasefire line would then become the International Border and both sides would give up claims over the other half of Kashmir. However, the people of Jammu and Kashmir would be allowed to move freely to the other half of the region.
3. Self-governance without independence
Pakistan has long been an advocate of what it calls 'Kashmiri self-determination' but Musharraf was willing to give that up in favour of a greater measure of autonomy. Vajpayee would likely not have too many objections with this clause of the agreement because the Indian Constitution already allows autonomy for J&K under Article 370. While this would have meant that the BJP would have to give up one of its core ideological positions, the repeal of Article 370, it would put an end to Pakistani support to pro-independence Kashmiri insurgents.
4. A joint supervision mechanism in Jammu and Kashmir involving India, Pakistan and Kashmir.
Musharraf's decision to include local Kashmiri leadership in the supervision mechanism would have given him a greater chance at selling a potential Musharraf-Vajpayee accord to the people back home in Pakistan.
Years after the Summit fell through, Musharraf had claimed that the Indian side had gone back on the agreement even though a draft resolution was ready to be signed. "I was told that the Indian Cabinet had refused to give its nod," Musharraf had said at an event in 2004.
But according to one account, there was only one man who became a roadblock in the peace deal – separatist leader Syed Ali Shah Geelani. Kasuri wrote in his book, "He (Geelani) described President Musharraf's four-point agenda as vague, and criticized the president's statement on UNSC resolutions' relevance to Kashmir." He added, "Fortunately, other Kashmiri leaders I met recognized the need for unity in the ranks of Kashmiris. They were more pragmatic and by and large unwilling to go along with Geelani's rigid approach."
But there were roadblocks within the Indian establishment as well. Former Research and Analysis Wing (RAW) Chief AS Dulat said in a 2015 interview that it was then Deputy Prime Minister LK Advani who derailed the Agra Summit. "The Advani of Delhi and the Advani of Agra were different," Dulat said in an interview to Rediff. "He raked up the issue of Dawood Ibrahim at a dinner hosted for visiting Pakistan President Pervez Musharraf on the eve of the Agra summit. Musharraf was taken aback and told Advani, 'Let us at least go to Agra'."
Whether it was the adversarial stance of Advani and Geelani that derailed the Summit or whether it was Vajpayee's mistrust of Musharraf, since the Kargil War took place just months after his Lahore Bus Yatra, the two-day Agra Summit ended in failure and Musharraf flew back to Islamabad without an agreement being signed.
Some hope was revived when Prime Minister Narendra Modi made a surprise stopover in Lahore to meet his then counterpart Nawaz Sharif. But since then, multiple terror attacks and military confrontations have led to worsening relations. But the key to a lasting solution, many believe, still lies in the Agra Summit.
Point number 2 of the four-point plan had already been mooted by Vajpayee in 1999, when he visited Lahore. Former J&K Chief Minister Farooq Abdullah had told a newspaper in 2015 that Pakistan would accept the Vajpayee formula today. "Today, they [Pakistanis] are ready to accept that [Mr. Vajpayee's offer] with one provision — that there should be autonomy here and they [Pakistani government] will do the same there," Abdullah had told The Hindu.
Get the best of News18 delivered to your inbox - subscribe to News18 Daybreak. Follow News18.com on Twitter, Instagram, Facebook, TikTok and on YouTube, and stay in the know with what's happening in the world around you – in real time.
Subscribe to Moneycontrol Pro and gain access to curated markets data, trading recommendations, equity analysis, investment ideas, insights from market gurus and much more. Get Moneycontrol PRO for 1 year at price of 3 months. Use code FREEDOM.
Read full article