Everybody loves Chhota Bheem
A younger version of a mythological character has captured the hearts of kids across the country and its producers are now cashing in on his popularity.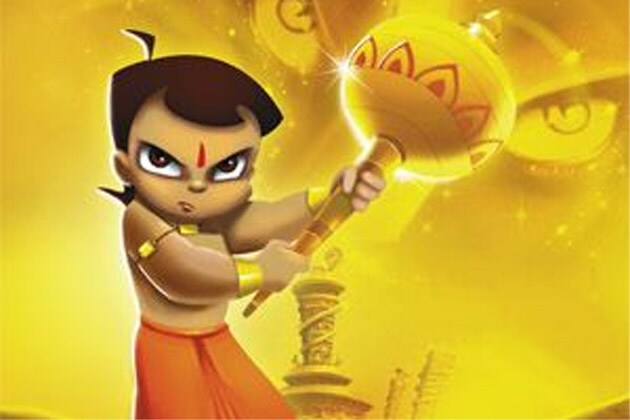 A younger version of a mythological character has captured the hearts of kids across the country and its producers are now cashing in on his popularity.
The residents of Dholakpur are a resilient lot. They regularly brave demons, robbers, evil wrestlers and various other calamities, big and small. They have a timid, but benevolent king in Raja Indraverma and a beautiful princess in Indumati. And of course, they have Bheem because of whom they emerge unscathed from various assaults.
Bheem is the nine-year-old protagonist of Pogo TV's wildly successful animated show Chhota Bheem that runs for four to six hours every day. Created by Rajiv Chilaka's Green Gold Animation, 130 episodes have already been shot and on an average one new episode is released every week. The show has beaten Disney's Doraemon to emerge as the number one show on kids channels in India, consistently averaging a TV rating of over 1. The animated movie, Chhota Bheem and the Curse of Damyaan, released in May 2012, has grossed close to Rs 5 crores.
Launched in 2008, Bheem is easily the most popular and bankable character to come out of the Green Gold stable. Run by Chilaka, 38, who holds a master's degree in computer science from the University of Missouri, Green Gold is one of the few animation houses in India that has tasted success of this sort. You cannot miss Bheem today. He is at every spot that kids frequent. His face pops up on apparel, school products, comics and will start popping up on fans, umbrellas and biscuits as well.
Chilaka knew he had to expand the brand beyond TV if he wanted to be a serious player in the Indian animation circuit. But he needed a compelling character to sell. He couldn't do that with Krishna Balram. "We couldn't put Krishna on shorts and baniyans. The merchandise model wasn't workable with that show." He had to create a new character. "India wasn't ready to accept a completely new superhero. It had to be someone from mythology but also someone who was secular," he says. And so Bheem was born. Within eight months of Bheem's debut on TV, Bheem comics, DVDs and apparel hit the streets. Green Gold had a simple logic. Children were not going to obsess about their favourite character if they didn't see him everywhere they went.
Siblings Rahul, 7 and Asha Bharti, 5, from Mumbai own Bheem bed-covers, comics, shirts, shorts et al. Their mother Shubha says, "It's tiring. I have to keep an eye out for anything new. God forbid, if they see some other kid with a Bheem T-shirt first, they throw tantrums."
Twenty stores across the country sell Bheem clothing, school kits, stationery, apparel and accessories. Twelve of those stores are franchisees and the rest are company-owned and operated. Pepsi uses Bheem to sell Notty, its energy drink for kids. Usha Fans will be using Bheem to launch a new range shortly and John's Umbrellas has started using Bheem as its mascot for rainwear. Talks are on for Bheem biscuits and even ladoos which are a source of strength for Bheem. Ladoos could be to this generation of Indian kids what Popeye and spinach were for millions of kids in an earlier time.
Chilaka thinks that Bheem could be India's equivalent to Mickey Mouse. "How many kids today have seen a Mickey Mouse cartoon? Hardly any. But all of them buy Mickey products. That's what will happen with Bheem as well." Forty per cent of Bheem's revenues are derived from merchandising and licensing. Unofficial estimates say Bheem rakes in Rs 15 crore for Green Gold.
What's the reason behind Bheem's popularity? "Kids like superheroes, they think he's their personal superman. You either need humour or super-powers to make kids love you. And Bheem does that," says Piyush Pandey, Executive Chairman and National Creative Director, Ogilvy & Mather.
Another aspect to Bheem's success is the way the broadcasting model works in India. It's no secret that the animation quality in Bheem is nowhere as good as animated shows in the West. "The broadcasting model here is largely ad-supported," says Krishna Desai, director, content, South Asia, Turner International India. "There's hardly any revenue from subscription. We can't create GE level of content. What you are left to capitalise on is the fact that your target audience will have a churn of four to five years only. This way you keep getting new kids who will come back and watch the movies," he says.
The churn is both an asset and a liability for Bheem. There is a possibility that five years from now, kids won't like Bheem. "Right now Chhota Bheem is riding on the peak of its popularity. The peak will be there for two to three years more," says Chilaka. But does that mean goodbye to Bheem and with that to Green Gold as well? Hardly.
Green Gold has built quite a large distribution chain and controls most of it. "We distribute merchandise to multi-brand outlets including Reliance Retail. Indian retail is disorganised. When most of it is organised, we won't have to start from scratch then," says Chilaka. "If we assume that some new company comes out of nowhere and has a big hit we will support them with our merchandising and licensing expertise."
Read full article