Former CM Yeddyurappa stages night long dharna in Karnataka Assembly over marriage scheme
<p>Former Chief Minister B S Yeddyurappa staged a night-long dharna in the Karnataka Assembly and continued it on Tuesday demanding the government to extend the marriage scheme of providing Rs 50,000 assistance to all communities as given to poor Muslim girls.</p>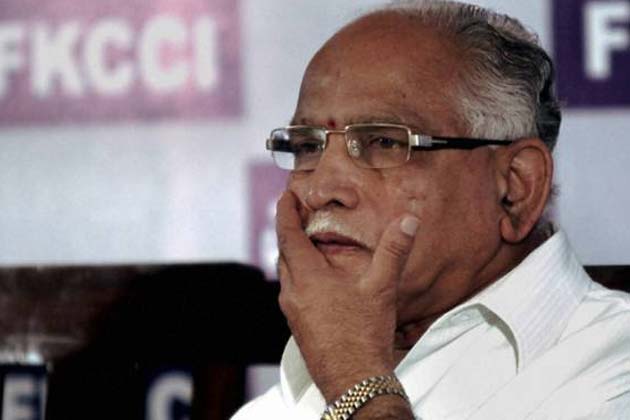 <p>Former Chief Minister B S Yeddyurappa staged a night-long dharna in the Karnataka Assembly and continued it on Tuesday demanding the government to extend the marriage scheme of providing Rs 50,000 assistance to all communities as given to poor Muslim girls.</p>
Former Chief Minister B S Yeddyurappa staged a night-long dharna in the Karnataka Assembly and continued it on Tuesday demanding the government to extend the marriage scheme of providing Rs 50,000 assistance to all communities as given to poor Muslim girls.
"I will continue to sit on dharna in the well of the House unless the Siddaramaiah Government extends Shaadi Bhagya Yojana to all communities," Yeddyurappa, who is the Karnataka Janatha Paksha supremo, told reporters here before the house assembled. As the house met on Tuesday, Yeddyurappa continued his dharna, even as the proceedings went on.
Yeddyurappa had staged a 26-day-old dharna in Bangalore and shifted his protest to Belgaum, where the Legislature session is now being held. He refused to come out even after the House was adjourned Tuesday evening. Yeddyurappa said neither Siddaramaiah nor his cabinet colleagues met him to find a solution to the issue.
However, on the first day of Assembly session yesterday, Siddaramaiah had assured that the demand to extend the scheme will be looked into by the government. He had appealed to Yeddyurappa to drop the dharna as it was against the decorum of the House.
Yeddyurappa said he was neither opposing "Shaadi Bhagya Yojana" nor was he against the minorities, but wanted extension of the scheme to all the communities.
Get the best of News18 delivered to your inbox - subscribe to News18 Daybreak. Follow News18.com on Twitter, Instagram, Facebook, Telegram, TikTok and on YouTube, and stay in the know with what's happening in the world around you – in real time.
Read full article