French Prez's India Visit: Macron-Modi to Strengthen Defence, Energy Ties Amid Asian Power Struggle
French President Emmanuel Macron, who is travelling with a delegation of French companies that includes EDF, Dassault Aviation, Schneider Electric and Suez, will also inaugurate a solar plant built by Engie in Uttar Pradesh.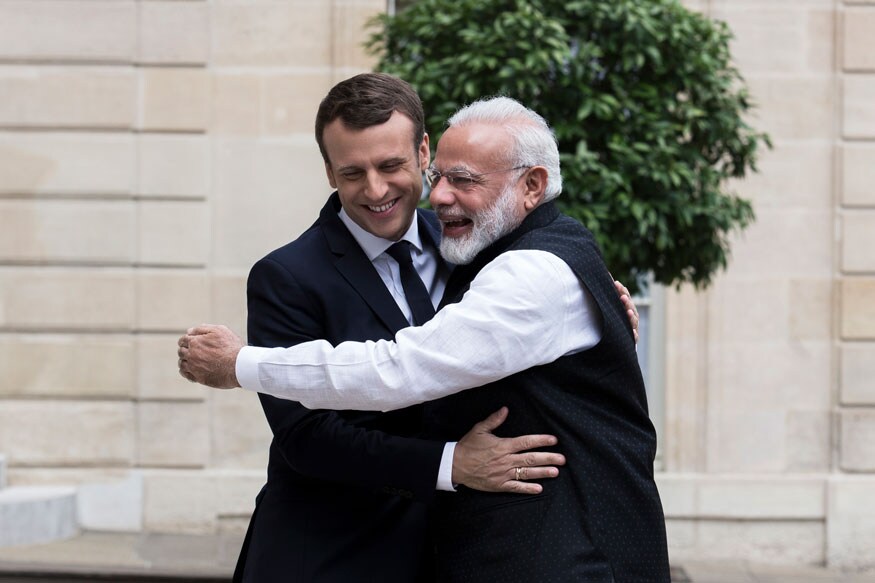 File photo of French President Emmanuel Macron (left) is hugged by Prime Minister Narendra Modi before their meeting at the Elysee Palace in Paris, France. (Image: AP)
New Delhi:
French President Emmanuel Macron will be landing in India on Friday for a four-day trip — two years after his predecessor Francois Hollande attended the 2016 Republic Day celebrations as the chief guest.
Macron took charge as France's President in May 2017, which was followed by Prime Minister Narendra Modi's visit to France.
The two nations have, over the last couple of years, strengthened their relationship with a slew of agreements ranging from solar power, nuclear energy to defence. Macron's visit, too, is as strategic as it can get, with agreements expected to be signed with an aim to strengthen bilateral cooperation and association.
The 40-year-old president, who is travelling with a delegation of French companies that includes EDF, Dassault Aviation, Schneider Electric and Suez, will also inaugurate a solar plant built by Engie in Uttar Pradesh.
AIR DEFENCE
Rafale is probably the most talked about defence deal that the country has seen in many years. There have been allegations surrounding the purchase of jets and the opposition slamming the Indian government on its silence regarding the expenditure. The multi-billion dollar deal was signed during Hollande's term. Commenting on the controversy in India around the deal, Macron, in an interview to an Indian media house had said that while it was not usual to disclose details of such a deal, he was okay if the Indian government wanted to share the details of it with the opposition.
As part of the Rafale deal, the Dassault Reliance Aerospace Limited (DRAL) is also expected to be a huge part of the talks. The foundation stone of DRAL was laid in October 2017, when the French Minister of Armed Forces Florence Parly visited India.
SOLAR POWER
International Solar Alliance (ISA), a treaty-based organization, was the first ever in India and was launched by Modi and Hollande in 2015 on the sidelines of the 2015 Climate Change Conference.
It became India's trump card in the whole climate change debate. It is even more significant now after the United States famously backed out of the Paris Agreement on Climate Change.
The ISA is one of the major initiatives between the two nations and the agreement has already been signed by 56 countries, with an aim to provide affordable solar energy to people, thereby curbing the emission of greenhouse gases.
Macron will be co-chairing the inaugural session of the ISA that is all set to host more than a dozen leaders and Modi is expected to hold bilateral talks on the sidelines.
WATER DEFENCE
Earlier this year, Macron had said that France will strike Syria if it was found that chemical weapons were being used in the country against its civilians. His statement followed reportedly by a call to Russian President Vladimir Putin, was enough for people to talk about France's interests in Asia.
Last year during Parly's visit, she emphasized on the need for maritime cooperation in South and Southeast Asia. While he has made no concrete statement on France's fresh interests in the Asian global order as one sees it changing, Macron is expected to sign deals that will allow Indian vessels access France's Indian Ocean ports and vice-versa.
Considering India's initiative to bring together Australia, Japan and the United States of America or the 'Quad' as they are known and China's open declaration of expanding and strengthening its maritime power, Indian access to French ports in the Indian Ocean would be of great significance.
| Edited by: Sanchari Chatterjee
Read full article
Countdown To
Elections Results
To Assembly Elections 2018 Results