Frenzied Protests, Casualties Expected at Sabarimala if Women Are Allowed, Kerala HC Told
Special Commissioner for Sabarimala M Manoj also informed that the protests may lead to chaos in Sabarimala, Pamba, Nilakkal and Erumeli during the three-month long annual season.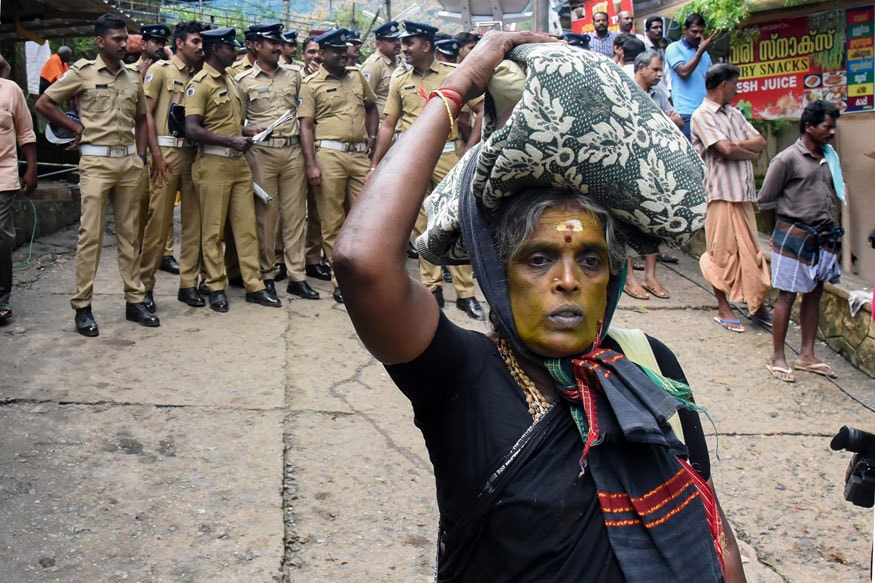 An elderly woman on her way to Sabarimala Temple as police personnel stand on guard, in Pathanamthitta. (Image: PTI)
Thiruvananthapuram: Frenzied protests by Lord Ayyappa devotees leading to possible stampede and casualties is expected against the entry of menstrual age women into the Sabarimala temple during the annual pilgrim season starting November 16, the Kerala High Court was informed on Tuesday by an official.
Special Commissioner for Sabarimala M Manoj also informed that the protests may lead to chaos in Sabarimala, Pamba, Nilakkal and Erumeli (key entry points to the holy hills) during the three-month long annual season. He was appointed by the court to submit periodic reports on matters related to the hills and the shrine.
"During the festival season, there will be large crowds in places connected with Sabarimala pilgrimage and these type of protests by frenzied devotees and protesters may lead to crowd turbulence and stampede which may lead to injuries to pilgrims, police and others and loss of life," Manoj said.
The report was submitted a day after the shrine closed at the end of the five-day monthly puja during which frenzied devotees of Lord Ayyappa, the eternally celibate deity, prevented around a dozen women in the 10-50 age group from entering the shrine.
Since October 17 when the shrine opened for the first time after the Supreme Court lifted a long-standing ban on women of 10-50 age group, its complex and nearby areas had witnessed protests against permitting women in the menstrual age group to trek the hill shrine.
Several organisations of Ayyappa devotees and political parties had launched protests in the form of prayer chanting processions against the permission granted by the top court to all women devotees to offer prayers at Sabarimala.
The protesters had set up tents in Nilakkal and gathered there in large numbers and began checking vehicles. As the situation grew tense by October 17, the Pathnamthitta district collector imposed prohibitory orders in areas falling under the radius of 30 km from the Ayyappa temple, the report stated.
Police had so far registered 16 criminal cases against the protestors, it added.
Tracing the events since last week, the report said on October 17, the law and order situation deteriorated at Nilakkal when a section of the crowd blocked women journalists, damaged their vehicles and resorted to stone pelting.
The crowd also damaged state-run KSRTC buses and police vehicles following which police used force to disperse the protesters. To ensure law and order, ADGP South Zone and Range IG, Thiruvananthapuram camped at Nilakkal.
The report also said there was unconfirmed information that some protesters of political parties were camping in and around the 'Sannidhanam' (temple complex) to protest and prevent the entry of women.
Read full article