'Accepting' Bribes to 'Aiding' Cattle Smugglers: What CVC Report Says About Ex-CBI Boss Alok Verma
The six-page report, accessed by News18, shows that the commission had investigated 10 major allegations of misconduct on the part of the CBI chief, out of which four were found to be substantiated based on circumstantial evidence.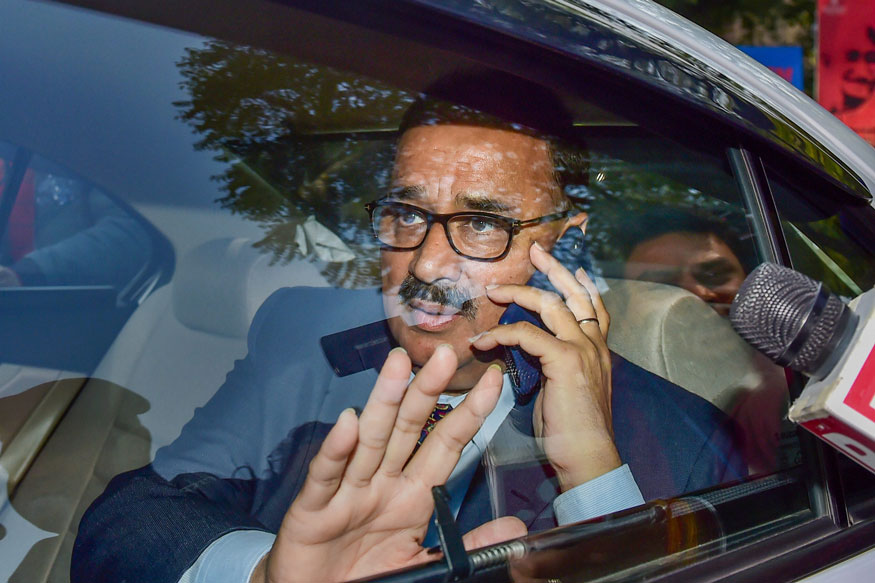 Alok Verma was removed from the post of CBI director by a high-powered committee chaired by PM Modi on Jan 10, 2019.
New Delhi: Alok Verma was on Thursday removed unceremoniously as the CBI director after a high-powered panel led by Prime Minister Narendra Modi found that he had not been functioning with integrity expected of him.
Several charges of misconduct against the now removed CBI Chief Alok Verma were probed by the Central Vigilance Commission that formed the basis of PM Modi-led high-powered committee to recommend Verma's removal from the post.
The six-page report, accessed by News18, shows that the commission had investigated 10 major allegations of misconduct on the part of the CBI chief, out of which four were found to be substantiated on the basis of circumstantial evidence - from allegedly shielding accused in the IRCTC case to 'helping cattle smugglers'.
Five additional charges levelled by a CBI officer posted in Lucknow were also probed. These allegations were levelled against Alok Verma by Rakesh Asthana.
Allegation #1 Accepting bribes from Moin Qureshi
Accepting Rs 2 crore from meat exporter Moin Qureshi through a middleman – Satish Babu Sana – who is a key witness for CBI and enforcement directorate (ED) against Qureshi.
CVC comments
'It prima facie establishes that the conduct of Shri Alok Verma, Director, CBI, is circumspect/suspicious. There is, however, no direct evidence on the allegation of payment of bribe of Rs 2 crore…In the light of substantial circumstantial evidence the entire truth in the said allegation will come out if a thorough criminal investigation is ordered by Supreme Court.'
Allegation #2 Influencing IRCTC case in which Lalu Yadav is named
"Undue interference" and "efforts" to exclude the name of one Rakesh Saxena from the IRCTC scam FIR in which Lalu Prasad and his son Tejashwi have been named.
CVC comments
'This amounts to a serious misconduct and warrants disciplinary and other actions. However, the allegation that Alok Kumar tried to call off the searches at Patna is not substantiated.'
Allegation #3 Ranchi Bank Fraud
IPS officer Rajiv Singh, a Joint Director with CBI, was a guarantor in one of the bank loans taken by his brother Sanjay Singh from the Allahabad Bank. And for availing the loan Rajiv Singh had submitted false documents to the bank.
CVC Comments
'There is inordinate delay in finalising the Investigation Report by the CBI. Shri Alok Verma as Director CBI, being the head of the organisation should have ensured completion of investigation and further action within prescribed timelines. Failure to do so appears to have led to the allegation of favouring Shri Rajiv Singh.'
Allegation #4 Favouring the accused officer
Alok Verma transferred the case to the Economic Offences Wing in Ranchi, while Rajiv Singh was also given a position that allowed him to monitor the developments and influence the investigation of the case.
CVC Comments
'The allegation is not substantiated'
Allegation #5 Not sharing with other agencies crucial intelligence inputs against two industrialists
CVC Comments
'The allegation is not substantiated'
Allegation #6 Haryana Land case
According to a media report CBI had registered a preliminary enquiry in a matter of land acquisition in Nangli, Umarpur, Tigra, Ulhawas and other villages in Haryana for the purpose of building residential sectors in Gurgaon. Asthana reportedly alleged "the then-director of town planning and a real estate company owner were liasoning (sic) with joint director A.K. Sharma and Alok Verma."
CVC Comments
"The enquiry regarding this allegation requires sustained efforts and due to paucity of time this allegation could not be looked into except the perusal of the file."
Allegation #7 Helped gold smuggler
CVC Comments
"The allegation is partially substantiated."
Allegation #8 Helping cattle smuggling
CVC Comments
"The allegation is not substantiated."
Allegation #9 Appointment of 'tainted' officers
Asthana reportedly claimed in his letter to the Cabinet Secretary that Verma pushed for the induction of two officers – RP Upadhyay and Rajeev Krishna – against whom internal inquiries had reportedly revealed "adverse conduct" and "integrity issues" respectively.
CVC Comments
"The allegation is substantiated"
Allegation #10 Interference in an ED case
Asthana alleged that Alok Verma discouraged him when the former tried to probe the involvement of one ED officer, whose allegedly disproportionate assets were being probed.
CVC Comments
"Allegation partly substantiated and part of allegation requires further detailed investigation."
Apart from these 10 allegations, which were forwarded to the cabinet secretary by Rakesh Asthana, five more allegations were levelled by Sudhanshu Khare, additional SP, CBI, Lucknow.
These include 'protection of accused persons in NHRM case', 'protecting officers of UP police' in a suicide case, protecting accused in bank fraud case, 'cover up in leakage of internal emails on Nirav Modi in Rs 13,000 crore PNB fraud case', 'dilution of Look Out Circular regarding accused Vijay Mallya' in bank fraud case, and 'Dilution of Look Out Circular regarding accused CA Sivasankaran (former owner of Aircel) in IDBI bank fraud case'.
According to media reports, Alok Verma, in his response to a list of questions by the CVC, had called allegations against him "baseless" and contended that his deputy complained only after the CBI booked him in a corruption case.
Alok Verma had alleged, reportedly, that "majority of queries raised are for actions taken after August 24, 2018 and seem to be from an October 18, 2018 letter by Mr Rakesh Asthana to the CVC."
"…the CVC seems to be on a roving expedition to cast aspersions on my integrity and impartiality, which have never once been questioned in the last 39 years of my career in which I have headed police forces across four states/union territories and two institutions (including the CBI). I am surprised that the line of questioning being adopted by the CVC is as if I am already guilty and have to prove my innocence rather than the other way around," Verma reportedly wrote in his response to the CVC's questions.
Get the best of News18 delivered to your inbox - subscribe to News18 Daybreak. Follow News18.com on Twitter, Instagram, Facebook, Telegram, TikTok and on YouTube, and stay in the know with what's happening in the world around you – in real time.
Read full article