GET Stock

Quotes


From Coal to Education to Babri Masjid, How Anil Swarup Has Been Firefighting Crisis After Crisis
This isn't the first instance that Anil Swarup has had to face a major national-level crisis. He was the District Magistrate of UP's Lakhimpur Kheri during the time of the Babri Masjid-Ram Janmabhoomi agitation. When the mosque came down for the second time, it gave him sleepless nights.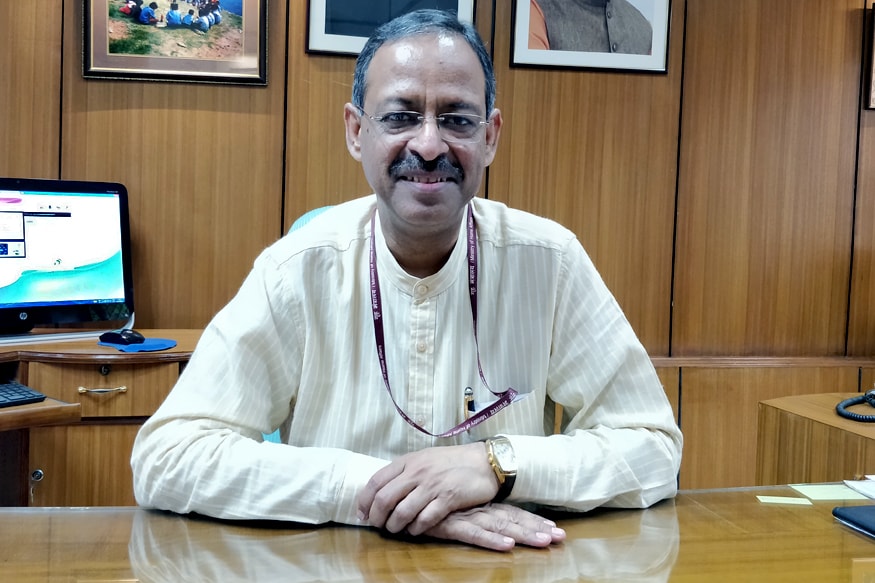 File photo of Secretary of School Education and Literacy Anil Swarup. (News18)
New Delhi:
When the heat was turned up on CBSE chairperson Anita Karwal during a media briefing on the Class X and Class XII paper leaks, it was Secretary of School Education and Literacy Anil Swarup who stepped up.
Questions like "Ma'am, do you take moral responsibility?", "Why haven't you resigned yet?" and "Why were you not in Delhi when the incident took place?" were handled by Swarup, while Karwal was sparse in her response.
Not one to blame a person before a thorough inquiry, Swarup's modus operandi is simple — investigate, find the cause and make a roadmap for a foolproof system.
This isn't the first instance that the HRD Ministry official has had to face a major national-level crisis. He was the District Magistrate of UP's Lakhimpur Kheri during the Babri Masjid-Ram Janmabhoomi agitation. Swarup was working under then chief minister of UP Kalyan Singh. Asked about the time when Babri Masjid was demolished, Swarup said, "You can read about it in the book I am writing on my experiences in public service."
OPPORTUNITY IN CRISIS
While working as the Secretary of Coal Ministry, Swarup was at the centre of reforming the coal auction process. Employing similar skills in the Education sector, Swarup and his team have taken charge of changing the examination system using technology to plug any future leaks. Swarup would want to wrap up this office by the time he leaves office at the end of June 2018.
When questions were raised about why Class X students did not have to sit for a re-exam, Swarup answered, "When the leak did not impact the result, why should 14 lakh children suffer?"
Being a strong decision maker, the bureaucrat dealt with voices claiming differential treatment with ease and said, "Implication of Class X exams is different from Class XII. In the latter, you graduate and go to a college, marks have an important bearing there. In Class X, you are still in the same system. It is more of a self-assessment than an evaluation for a different system."
Every crisis comes with an opportunity to change things. With the re-examination process underway, Swarup is now focusing on a government panel, headed by former higher education secretary VS Oberoi, to come out with recommendations for making the examination system foolproof.
When News18 talked to the bureaucrat's colleagues in Coal India, one of them said, "He leads from the front and looks for a solution. If he has said it, he will work towards a solution."
HOMEGROWN SOLUTIONS
When he was given charge of the education ministry, a sector he had not exclusively worked for before, Swarup travelled across the country to find solutions. He had heard about models in places like Finland and The Netherlands, but the education secretary knew it was important to find success stories within India and explore possibilities of replicating the same. "If you have homegrown solutions, the chances of scaling the solution are much higher than using ones which have been imported," he said.
Swarup travelled to Sukma, Bastar, Goa, Pune, Srinagar, Leh and Gangtok, among many other cities to observe how the education system worked on the ground. In Pastepada, 120 km north of Thane district, the bureaucrat visited a government primary school, which did not have an electricity connection but was still digital.
The school teacher, Sandeep Kund, took the initiative to install solar panel and charge batteries of tablet computers to make the school digital. Funds for the same were raised from the local community. It was an incredible experiment and was working well for the school. Swarup adopted the model and scaled it to 60,000 schools in Maharashtra. It is now being expanded to Gujarat and Rajasthan as well.
Through his travels, Swarup adopted 111 workable models, like the one in Sikkim where the Anganwadis (rural mother and child care centres) were being brought to schools.
The secretary also ensures that regional workshops are being held to find the best workable models that can be replicated.
'TWITTER IS LIKE NUCLEAR ENERGY'
If one browses through Swarup's Twitter timeline, they are sure to find #NexusofGood being used in multiple posts. Picking a pejorative term like 'nexus', the education secretary clubbed it with the word 'good' to counter the negativity attached.
"District magistrates, teachers and people doing good work have been profiled on my account. The purpose is to incentivise the work of those who don't have other incentives. These people continue to work towards changing the system," said Swarup, adding that "Twitter is like Nuclear energy".
The bureaucrat bats for digitisation and was able to bring changes in the coal block auction through the same. He made the system transparent and encouraged the same in HRD ministry as well, where digital portals like DIKSHA are now present for teachers' training.
The solution, Swarup believes, lies in will and technology.
| Edited by: Aditya Nair
Read full article