From Nellore to New Delhi: The Political Journey of BJP V-P Pick Venkaiah Naidu
The race went down to the wire but BJP settled for Venkaiah Naidu as he has roots firmly moored to the BJP's ideology.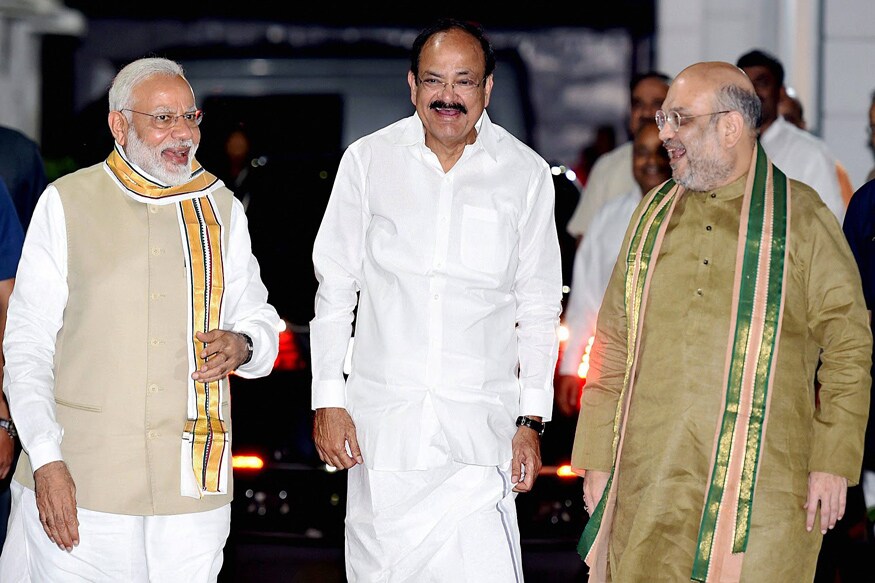 Union Minister M Venkaiah Naidu with Prime Minister Narendra Modi and BJP President Amit Shah. (PTI File Photo)
New Delhi: The race for NDA's vice-president pick went down to the wire. Maharashtra governor Vidyasagar Rao was a strong contender till the end. Since he is a native of Telangana, his nomination would have been a strong political statement in a state where BJP sees itself on the threshold of breaking through - a la Assam of sorts.
But on Sunday evening the scales tilted firmly in favour of another Telugu bidda from neighbouring Andhra Pradesh. BJP president Amit Shah called M Venkaiah Naidu to inform him of the party's decision. The union minister apparently told Shah that he would prefer to remain with the people and work in active politics.
But the BJP settled for someone with roots firmly moored to the ideology; and someone who had a long legislative experience to run a House where the government lacks majority.
The matter was sealed on Monday morning when Prime Minister Narendra Modi told Naidu that his elevation would be a personal loss and he would be losing a valuable colleague in Naidu's nomination.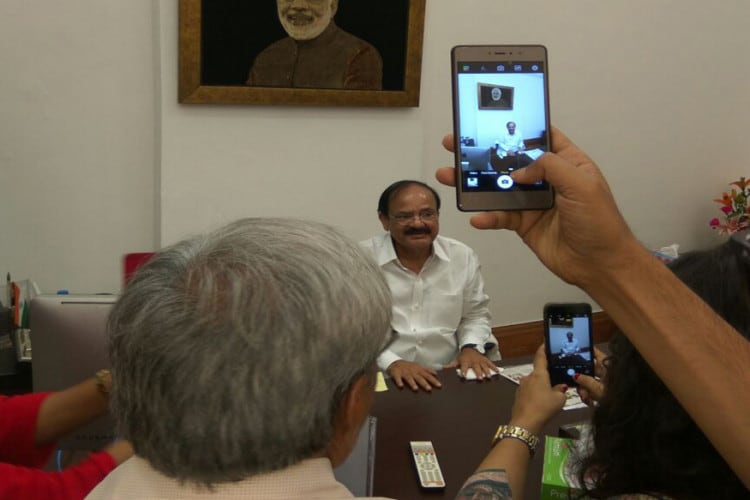 Venkaiah Naidu in his office at the Parliament House. (Photo: News18)
In his office at Parliament House in the afternoon, Naidu reminisced about his journey from Jan Sangh days. But for a prompt clarification by an RSS leader many decades ago on the dietary habits of Sangh, Naidu's politics may have had taken a different trajectory.
"I was told by a Congress leader that Jana Sangh was a party of north Indians. That did not bother me. He then tried to dissuade me by saying it was a Brahmin-Baniya party, even that did not ruffle any feathers. But when he talked about staunch vegetarianism in the Jana Sangh-RSS fold, I spoke to a local RSS leader who made it clear there were no dietary restrictions," Naidu says.
He gets emotional remembering his mother who passed away when he was one-and-half years old. He also reminisces of seventeen months behind the bars during the Emergency, of days as a legislator in Andhra Pradesh Assembly sharing the bench with Jaipal Reddy and Salauddin Owasi of MIM.
At 51, Venkaiah was the youngest president of the BJP. From someone, who as a young party functionary used to make arrangements for Vajpayee's rallies, he became a leader who shared the dais with the Prime Minister. It was from one such dais that he made that famous 'loh-purush, vikas-purush' comparison between LK Advani and Vajpayee, forcing the latter to settle the matter then and there by alluding to his retirement from active politics. For days, BJP and its top leaders scurried for cover even as they attempted to placate a piqued Prime Minister.
His affiliation to the Advani camp was quite natural. It was under the former deputy PM's patronage that Naidu and others, including Arun Jaitley, Sushma Swaraj and Ananth Kumar found their feet in national politics. The famous D-4 or Delhi-four - as they came to be called - was later rejected by the RSS in 2010 by installing Nitin Gadkari as the BJP national president.
In national politics, Naidu has been one of the most vociferous and prominent voices of the BJP. His one liners, alliterations and ditties, both in Hindi and English, are legendary - the inspiration came from the late Jan Sangh leader Jagannath Rao Joshi. Naidu's rapport with both national and vernacular media is just perfect; his relations with even his fiercest political opponents cordial.
In the middle of heated exchanges in the Rajya Sabha he could stand up and interrupt CPM General Secretary Sitaram Yechury saying the Left is not always right. "Only Sitaram could understand the political barb, he recalls with a mischievous wink," he said.
Get the best of News18 delivered to your inbox - subscribe to News18 Daybreak. Follow News18.com on Twitter, Instagram, Facebook, Telegram, TikTok and on YouTube, and stay in the know with what's happening in the world around you – in real time.
| Edited by: Aakarshuk Sarna
Read full article