From Pani Puri to Chocolate Idols, Devotees Up Their Game This Ganesh Festival
The growing environmental concerns have led to the innovation of eco-friendly idols that don't undermine the celebratory spirit and at the same time, dont cause damage to the environment. This year several devotees across the country have taken up eco-friendly idols to celebrate the occasion.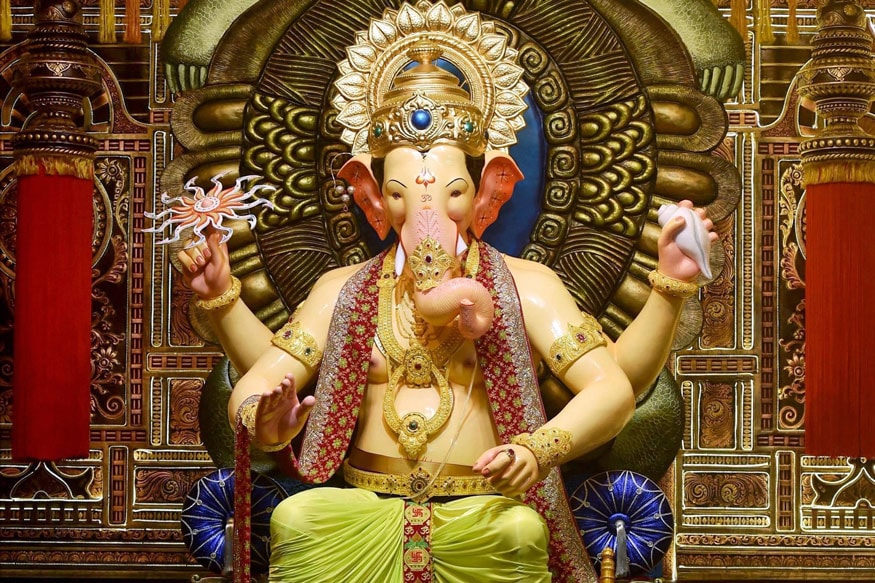 (Image: PTI)
Ganesh Chaturthi, which is one of the most awaited festivals in India is finally upon us. The Hindu festival dedicated to the Lord of new beginnings, Ganesha is marked with the installation of the deity's idol at home and at elaborate pandals. Colourful processions, festive songs, and energetic dance mark the streets of the country.  The festival ends with the final immersion, also called the Visarjan of Lord Ganesha's idol.
However, Ganpati Visarjan has been a matter of concern, since it contributes to several environmental hazards. Idols that generally made of Plaster of Paris (PoP) are immersed in the water bodies, disturb the aquatic ecosystem and is a major cause of water pollution.
The growing environmental concerns have led to the innovation of eco-friendly idols that don't undermine the celebratory spirit of the occasion and at the same time, dont cause damage to the environment. This year several devotees across the country have taken up eco-friendly idols to celebrate the occasion.
Here's a look at some of the most jazzy and amazing ideas:
Paani Puri Ganesha
Installed inside a shop called 'Ganesh Bhel' in Pune, this Ganpati idol is made up of 10,000 pani puris and bamboo sticks. The idea was to keep up with the eco-friendly theme and was thought of by the shop owner after he saw an idol made up of biscuits.
"Since our business is of chaat, I came up with this idea. In 2011, we had a Ganpati made of all the 'Bhel' material. We thought of making it with paani puris this time," Ramesh Gudmewar, owner of Ganesh Bhel told ANI.
The concept of the idol is that Lord Ganesh himself is distributing bhel to the people with the aid of his mouse. The sun behind the idol symbolizes energy which the owners of the shop would require to maintain the shop.
Speaking about the idol, artist Prashant Salunkhe who made it, told ANI, "I made it from 10,000 puris; it took me almost 100 hours of work to build this. To prevent it from turning bad, I have used a hardener on the puris. All the materials used in this are eco-friendly."
Pani Puri fans, here's a Ganesh made of 8000 Puris. Ganesh Bhel, Pune. Innovative Prasad as well. pic.twitter.com/lursryPaBi

— Hetal Rach (@heytal) September 15, 2018
Ganesha with a Social Message Yuva, an organization that focuses on social outreach has come up with the most out-of-the-box idol that uses magnetic sensors, thermal printers and Raspberry Pi device to create a Mechanical Ganesha. This mechanical idol writes socially relevant messages for its devotees, for real. The heritage locality of Fonte Phoenix at Fontainhas that houses this idol is thronged with thousands of people who wait to catch a glimpse of the mechanical ganesha. In an interview with TOI, founder of Yuva and recipient of Goa State Youth Award, Raghuvir Mahale said explained that when a devotee rings the bell, the idol's arms begin to write on a piece of paper while the head of the diety moves, indicating that Lord Ganesha is 'typing'. Once the process is finished, the idol produces a social message that the devotees can take with them. What's even more amazing is, keeping in mind this year's eco-friendly theme, the YUVA organization created the entire idol and set out of chalk sticks. The Idol produces relevant social messages on issues like pollution, consumption of plastic in our daily lives, road safety and women empowerment. Banana Ganesha Reportedly, in Goa, a village has prepared a huge Ganesha idol using bananas and bamboos. After 10 days celebration of the festival, when the fruits will ripen, they will be distributed among the village people.
This is from SAMBALPUR (Odisha) not from Gao. And yes the bananas were distributed among all the people as a Prasad! PS- This Ganesh je's idol was made during the previous year not this year. pic.twitter.com/fVORvyyV9u — Mahi Virat (@Mahivirat8) September 14, 2018
Fish Friendly Ganesha
The Fish Friendly Ganesha idols are the newest growing trend. The idols made out of clay are filled with fish-friendly food including dried corn, spinach, and chickpea powder. When these idols will be immersed in water bodies, they will easily dissolve in the water and provide food for the fishes.
@FarOutAkhtar @TheJohnAbraham @BeingSalmanKhan @iAmVJAndy we made eco friendly n fish consumable Ganesh Ji..🙏🙏😊✌💐 pic.twitter.com/Y2nykqH7aU

— MONVI (@MONVI4) September 17, 2015
Chocolate Ganesha These Ganeshas made out of chocolate cannot be immersed in water but its visarjan can be done in an even better way: by eating it! There is a very high demand of these completely edible chocolate Ganeshas in the market this season, with several idol artists across the country designing chocolate Ganpati in various styles.
These gentlemen made a Ganesh out of chocolate - and instead of the Sea will dip it in Milk & serve it to poor and starving kids - wow ...now what will it take for millions more to think of religion - of God - of wealth and Laxmi in a real sense ... that takes in your prayers too pic.twitter.com/p82YsJIHDo — Ronnie Screwvala (@RonnieScrewvala) September 12, 2018
Sui-Dhaga Ganesha, Bollywood Style
Varun Dhawan and Anushka Sharma, who will be sharing on- screen space for the first time in Sui Dhaaga: Made in India, which highlights the skills of Indian artisans, are promoting the idea of eco Ganesha too.
Varun in an interview with After Hrs said, "Our Ganpati is made of clay and vibrant threads in truly Sui Dhaaga-style. It's beautiful and I love how colourful it is."
Anushka added, "The artist (Abhishek Sawant) worked tirelessly and has created a beautiful idol that is truly representative of how immensely talented the craftsmen of our country are."
View this post on Instagram
Get the best of News18 delivered to your inbox - subscribe to News18 Daybreak. Follow News18.com on Twitter, Instagram, Facebook, Telegram, TikTok and on YouTube, and stay in the know with what's happening in the world around you – in real time.
Read full article