GET Stock

Quotes


From Paying Extra to Tutors to Taking Exam for 5th Time, the Struggle of 2 CBSE Students
His brother, Suraj Tiwari, will also be appearing for the re-examination. Both of them are not happy with what has transpired in the last few days.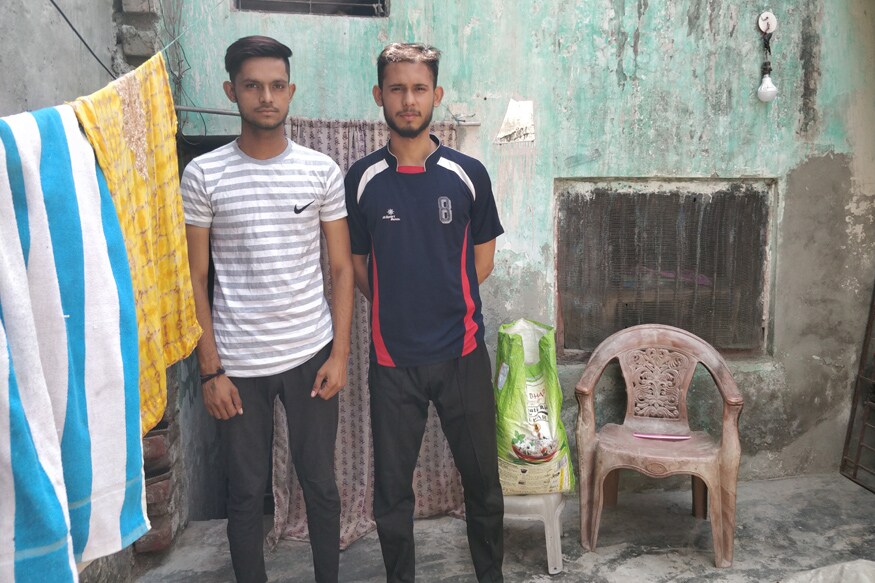 18-year-old Pankaj Tiwari, a national level athlete, along with his student Suraj at their home in Badarpur (News18)
New Delhi: The 'Re-Exam Warrior' belong to a certain class in our stratified society where opportunities are disparate and resources available are only for the chosen ones. In this society riven with inequalities, the call for the re-examination is received depending upon the parents' salary slip.

News 18.com met 18-year-old Pankaj Tiwari, a national level athlete, at his home in Badarpur. This class 12 student will be appearing for the re-examination of Economics on April 25. Upset over the announcement, he joined the march against the CBSE's decision.

"The place from where we come, even a smallest error threatens our dreams of having a better life. Just look at our house. Our parents are worried; they are not supporting our protests because they think we will be punished for it while the rich children might escape using their wealth," Tiwari said.

His brother, Suraj Tiwari, will also be appearing for the re-examination. Both of them are not happy with what has transpired in the last few days. "Every day we hear about the paper leak. By the time the news gets clarified, our parents have already skipped a heartbeat thinking we might be stuck for a year," he said.

Expressing their desire to join civil services, they said, "Because we know the ground realities of people who come from our walk of life, we want to make things better for people like us."

RE-EXAM IN TESTING TIMES

His father, Keshav Tiwari, is an Uber driver. On a good month, he earns Rs 30,000 and if performance is average, he earns Rs 25,000. Talking about his father's monthly earnings, he said that half of the money he gets goes for the repayment of the car loan, which is Rs 15,000 and then from the remaining amount, he finances their education. "He works very hard to educate us, but we don't know if the next Economics paper will be as good as the last one. They are very worried," Suraj said.

Both the brothers take tuition for Economics and with the announcement of re-examination, they will have to go to the tutor again and pay Rs 1000. "The place we live is full of noise. The bikes continue to zoom throughout the day. There is no respite from the disadvantaged environment we live in.

It was not like this before, as they lived in the servants' quarter at Panchsheel Park. Their father changed the job and they are now living in Badarpur.

"The system of examination hits the disadvantaged differently and a re-examination hits harder," said the brothers. The road to their school, St Columbia, is not as smooth. "We change many stops and reach our school. There are students from wealthy family as well," they said.

In the past one year they have had four prelims - August, October, December and Februrary. Exams were about to get over but then the paper got leaked. "Since our class 9th we have not gone to our village in UP. Our parents do not want to take any risk that can take us away from making progress in life – every day is important here."

TO PROTEST OR NOT PROTEST

Keshav Tiwari was not home, but he spoke over the phone and said, "We work hard all day – our children prepared well for the exam, and now there will be a re-exam. I have to make sure they do well. But we keep hearing about the paper leaks, if this continues then will our children only be giving tests after tests after tests."

The brothers say that their parents are not happy with joining the protests over exams re-schedule – "My mother fears that protests might make CBSE take action against us and we might not be allowed to sit for exams. But we want to protest because the exam preparations are not the same for everyone – we have to do an extra bit."

They add, "You can see, where we live, you have the toad that we take daily for school, my mother thinks the protests are meant for the rich people's kids, who can find their way out if questioned for protesting, but people like us might not be able to salvage the situation and be forbidden to give the exams."

There is regular argument between parents and children regarding their participation in the protests.

DISPARATE SYSTEM

Professor Education in Delhi University, Anita Rampal said, "The whole system of examination and not just re-examination is disparate. We need to see that the exams are not just about abilities – it brings into the play the role of resources and exposure available."

She added that every child lives a different life but compete in the same exam. As the world is getting commercial, "It is also widening the gaps of inequalities, we cannot deny that good economic status buttresses the child's preparation for exams or re-exams but it does not work the same way for the children from the disadvantaged background," she said.

As the society is stratified, it turns out to be unfair to these children. The scene was not the same when we moved to an advantaged South Delhi. The re-exam is just about delaying the long break from studies.
Read full article
Countdown To
Elections Results
To Assembly Elections 2018 Results