GET Stock

Quotes


From Solving Neighbourly Disputes to Gathering Tip Offs on Militants, CRPF's Emergency Helpline in Kashmir Does it All
When the 1411 service started, CRPF got a lot of calls seeking career counselling, medical assistance, transport services and intervention in neighbourly disputes. Those calls haven't stopped coming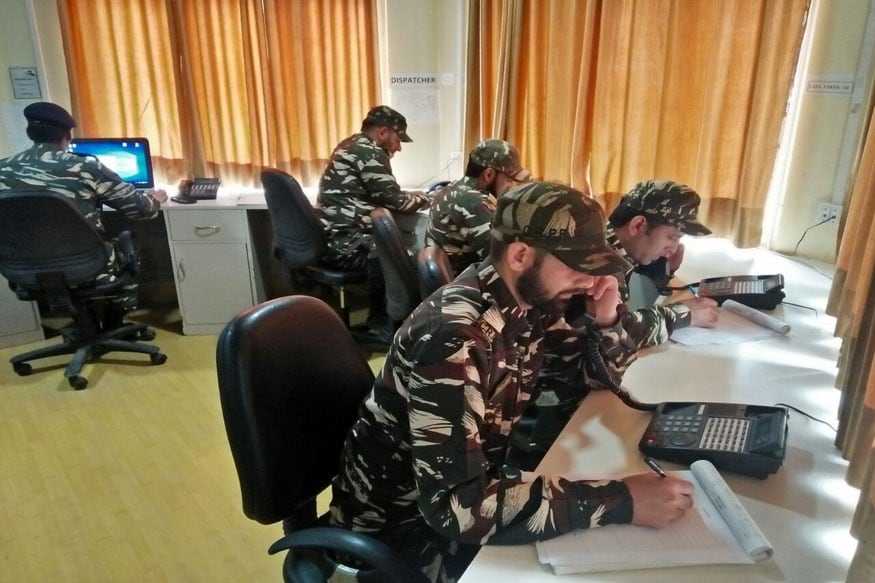 Madadgaar helpline has received 1.33 lakh calls since it was started in July last year. (Photo: News18)
It is the only helpline of its kind in Kashmir. People reach out to it when their drains aren't working, when they're fleeced shopping online, when they notice suspicious movements in their neighbourhood, and when some of them are looking for ways to shun their guns and surrender.
CRPF's Madadgaar helpline (1411) was conceived in July 2016 when following the death of Hizbul Mujahideen commander Burhan Wani a blizzard of protests in the valley snapped almost every communication link between people and the state.
There were two reasons for introducing an outreach programme during that sustained period of mistrust, Zulfiqar Hassan, IG (Operations) CRPF, who was the brain behind the initiative told News18. He said it helped end the temporary blockage of essential supplies like water and ambulance services, and prevented miscreants from taking advantage of the growing divide between state and the people.
"Essential services had remained blocked for some time and this, as we saw, led to common public becoming disillusioned with the administrative machinery, fuelling further law and order problems. When we started this outreach programme, there was some mistrust about our motives but over time I think we have been able to win their trust," Hassan said.
When the 1411 service started, CRPF got a lot of calls seeking career counselling, medical assistance, transport services and intervention in neighbourly disputes.
"Those calls haven't stopped coming. Very recently we received a call from someone who complained about his farm getting flooded. Now this is something we can't help since his farm is close to the river," said Gul Junaid Khan, assistant commandant, who is in-charge of the Madadgaar scheme. He handles the helpline with five other officers from CRPF.
"We have received calls about a former politician wanting security, about a person who claimed to have been fleeced online, a mentally disturbed child who used to make prank calls, and a doctor who had got addicted to drugs, to name a few cases. We intervened in all these cases successfully. Much to the surprise of many," Khan said.
Apart from these day-to-day issues, the Madadgaar helpline also gets calls by locals giving tip-offs of local militants to the CRPF and of militants who wish to surrender and are trying to make their minds up. Though the officers manning the helpline refused to divulge information about how many calls of such nature have been received by them.
Madadgaar helpline has received 1.33 lakh calls since it started in July last year. They get between 12,000 and 15,000 calls a month.
Given the varied nature of distress calls it gets from the locals, CRPF's Madadgaar helpline is a one-of-a-kind outreach in the Valley. And perhaps because of its unique nature (the only other option being local police's 100 emergency number and army's helpline, both of which deal with mostly law and order problems) Madadgaar has begun to claim its own space in the Kashmiri society.
"Yes it has created its own space I would say. The increasingly encouraging attitude by the locals towards our initiative tells us that somewhere we're on the right track. This helpline, which we initially conceived of as an emergency outreach, has become bigger than we had thought. And for this reason we will keep supporting it in future as well," Hassan says.
| Edited by: Aakarshuk Sarna
Read full article