From Tharoor to Kejriwal, Judge Who Will Hear MJ Akbar Case Today is No Stranger to Big Names
Anyone who has been in Judge Vishal's courtroom can swear by his calm and composed demeanor, even when the courtroom overflows with journalists and litigants alike.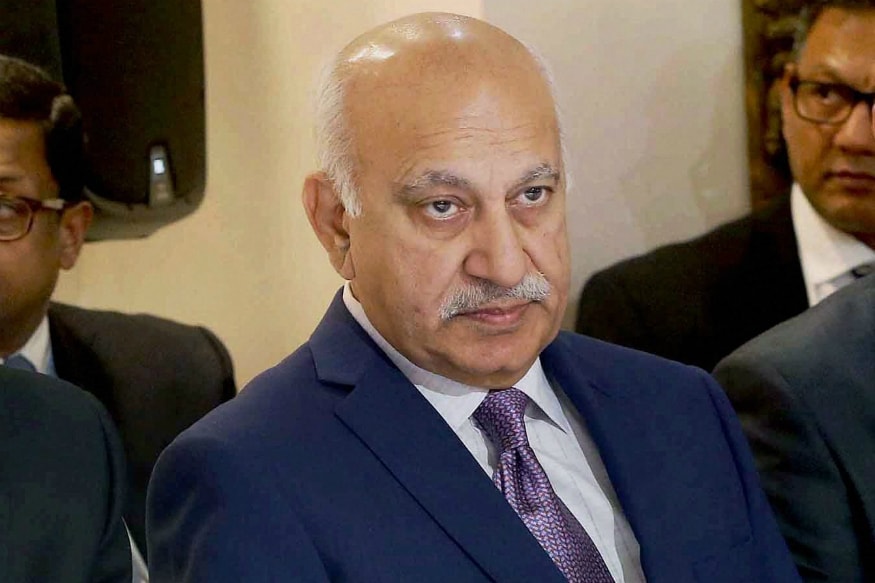 MJ Akbar has been accused of sexual harassment by several women. (File photo)
New Delhi: Former Union minister MJ Akbar's defamation case against journalist Priya Ramani will begin on Thursday in the courtroom of Additional Chief Metropolitan Magistrate Samar Vishal, a judge who has not only dealt with high-profile defamation cases, but has also been under the constant media scrutiny for orders in cases dealing with political leaders.
Anyone who has been in Judge Vishal's courtroom can swear by his calm and composed demeanor, even when the courtroom overflows with journalists and litigants alike.
On February 26 this year, the Delhi High Court had set up two special courts in the capital city's Patiala House Courts premises to deal exclusively with cases against lawmakers. One courtroom is under Special Judge Arvind Kumar and the other is under judge Samar Vishal.
The High Court order came in the backdrop of Supreme Court's December 2017 order asking state governments and High Courts to set up 12 fast track courts to deal with cases against lawmakers.
Though Akbar's case will be up for the first hearing on Thursday, judge Vishal's courtroom is certainly not new to political faces.
Akbar, who has filed a criminal defamation case against journalist Priya Ramani for alleging sexual harassment and causing an "irreparable damage" to his reputation, will face a judge who has handled a defamation case Delhi Chief Minister Arvind Kejriwal as well.
In 2015, a constable, identified as Taneja, had filed a criminal defamation case against Kejriwal in Delhi's Saket court for referring to the state's policemen as 'thulla'. However, the Vishal discharged the Delhi CM over his alleged remark and called the plea not maintainable as the whole police force cannot be treated as an individual for the purposes of the act.
Judge Vishal had also found the word 'thulla' not "prima facie defamatory."
The judge at the Patiala House Courts complex had also disallowed a request for a polygraph test on students of Jawaharlal Nehru University during the investigation into the mysterious disappearance of JNU student Najeed Ahmad. Judge Vishal, who was heading the designated CBI court, had stated that "These persons are not willing to go for the polygraph test. Since a polygraph test cannot be done without the consent of the person whose polygraph test has to be done, this application thereof cannot be allowed at this stage."
Another high-profile case which judge Vishal is currently handling is that of Congress leader Shashi Tharoor, who has been charged under sections 498A (husband or his relative subjecting a woman to cruelty) and 306 (abetment of suicide) of the Indian Penal Code (IPC) in connection with the death of his wife Sunanda Pushkar. A few days ago, the judge had directed the Delhi Police to hand over certain documents to Tharoor.
Long before judge Samar Vishal became the Additional Chief Metropolitan Magistrate, he had protected the rights of an inter-caste couple as a civil judge.
In 2009, he had ruled that "runaway marriages and inter-caste weddings are manifestation of general changes in the caste-ridden Indian society which should not be looked down upon" and that "law enforcing agencies should protect such couples from harassment".
The parents of a forward caste girl, who had married a Scheduled Caste boy, were restrained from interfering in their life.
The judge had also dealt with the plea of advocate Prashant Bhushan seeking a transfer of the defamation case filed by Amit Sibal against Bhushan. The lower court had, on September 20, 2014, put Arvind Kejriwal, Manish Sisodia, Shazia Ilmi and Prashant Bhushan (then an AAP member) on trial for charges under section 500 (defamation) of the IPC as filed by former Union minister Kapil Sibal's lawyer-son Amit Sibal.
Judge Vishal had rejected Bhushan's application, saying it did not have the jurisdiction to transfer the case.
He is also famously known for acquitting 19 AAP MLAs, including Arvind Kejriwal, Manish Sisodia, Kailash Gahlot, Asim Ahmed Khan and Kumar Vishwas, in several cases.
Among the reasons cited for the acquittals were lack of evidence, "inordinate delays" in registering FIRs, filing chargesheet on the "basis of presumption" and "groundless allegations".
In February this year, judge Vishal's courtroom dealt with a case where it was to be seen whether a violation of the Model Code of Conduct could be punished as a disobedience to order duly promulgated by public servant under Section 188 of the Indian Penal Code. However ruling in the negative, the court said that the MCC was only a guideline for political parties and there can be no "stretch of imagination" which can imply that it could considered an offence under the IPC.
Get the best of News18 delivered to your inbox - subscribe to News18 Daybreak. Follow News18.com on Twitter, Instagram, Facebook, Telegram, TikTok and on YouTube, and stay in the know with what's happening in the world around you – in real time.
Read full article