From The Land of Dreams to a Living Nightmare, How African Students Survive India Amidst Rising Hostility
From the heights of excitement to the depths of depression and despair, this is how dreams of many students from African countries crash when they start living in India.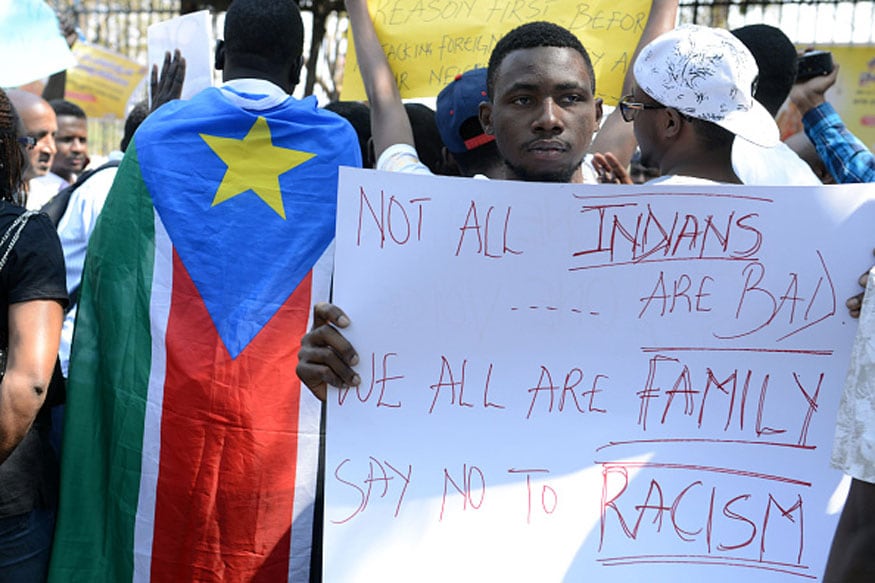 In this February 6, 2016 file photo, members of the African Students Association show placards in Hyderabad as a mark of protest against growing attacks on Tanzanian nationals in Bengaluru. (Photo: AFP)
New Delhi: From the heights of excitement to the depths of depression and despair, this is how dreams of many students from African countries crash when they start living in India. That is what photographer Mahesh Shantaram found when he travelled to meet and photograph African students in different Indian cities.
"India is their land of dreams, they see it in movies and they're so excited before they get here," said Shantaram, "but from the moment they land, they're forced to ask themselves, why does everyone hate me here?"
This hate bubbled over again in a horrific attack on Nigerian students in Greater Noida, outside of New Delhi, on Monday, after a family complained that five Nigerians had cannibalised their son. The boy was later found to have died from a suspected drug overdose. Since then, reports have been coming in of Nigerian students being attacked, and a video surfaced of a mob attacking a lone African man in Greater Noida mall.
Shantaram's work, The African Portraits started a year ago, after a mob in Bengaluru attacked a Tanzanian woman and her friends, after a Sudanese man ran over and killed a local woman.
"Rage and logic don't go together," said Shantaram, "the mob just wants to catch hold of the first black person." Travelling over Bengaluru, Hyderabad, Manipal, Delhi, NCR, Jalandhar, and many more cities documenting African students, Shantaram found that nothing riled them up as much as how their countries seemed to not matter to Indians. The Indian communities, he realised were deeply racist and threatened by black skin, but the concept of race and racism was unknown to them.
ALSO READ: Locals And Africans share a tense relationship in Bengaluru, sometimes innocents bear the brunt
"We lack the education to understand the idea of race," he said, "but we are united in our racism." No city, he found, could claim to be innocent of racism and hostility to anyone who is the other, who doesn't conform.
"Imagine being black and a woman in a small Indian town like Jalandhar. The students are fighting for their dignity, but they feel themselves being exploited by their colleges and universities."
Community architect and social designer Swati Janu, who has been working on migrant groups in Delhi's Khirki colony with the art collective Khoj Studios, is also confronted with casual racism in her work. Khirki is a hub for African communities in the capital. It became infamous after Aam Aadmi Party leader Somnath Bharti led a midnight raid here in January 2014 against African women, accusing them of running a prostitution ring.
The residents, for a long time remained grateful to Bharti, saying he had made their area safer. Janu recalls an incident where an Indian man in Khirki told her that he knew only a few Nigerians were bad but since they all looked the same, he treated them all the same. When Janu tried to point out how wrong this statement was, the man laughed it off.
"People don't realise they're being racist in everyday life," she said, "that's why dialogue is more important than confrontation. To create empathy and show people that they're not so different from each other."
Through her projects of running a phone shop in Khirki, Janu has been able to observe the area at close quarters, and found that people treat Nigerians with more hostility as they came across as physically more intimidating, economically better off and Nigerian women dress in western clothes. This breeds resentment. This, she found, contrasted with the comparatively better treatment of Somalis, who were mostly refugees, Muslim and conservative, with many women wearing burkas.
"The only people standing up for African residents here are the real estate agents, who can charge them higher rents than they can Indians," said Shantaram. He marked out a trajectory that he found in too many African students in India, from excitement to anxiety at having to spend many years studying in such a hostile environment, to withdrawing in their shells with only other African students for friends and no Indians.
The events of the past two days have only confirmed Shantaram's views, that Africans have an agency in India. The frenzy of the mob, it's "animalistic nature" as Janu calls it, seizes on anyone who is most vulnerable. "Africans on Indian streets can't even defend themselves, as no one here will stand up for them," Shantaram said.
ALSO READ: Nigerians Attacked: Sushma Swaraj Promises Action, Speaks to UP CM
| Edited by: Bijaya Das
Read full article
Countdown To
Elections Results
To Assembly Elections 2018 Results