Key Takeaways From PM Narendra Modi's Speech: 'Gaali And Goli Won't Solve Kashmir Issue'
The PM also condoled the deaths of 63 children at a government hospital in Gorakhpur.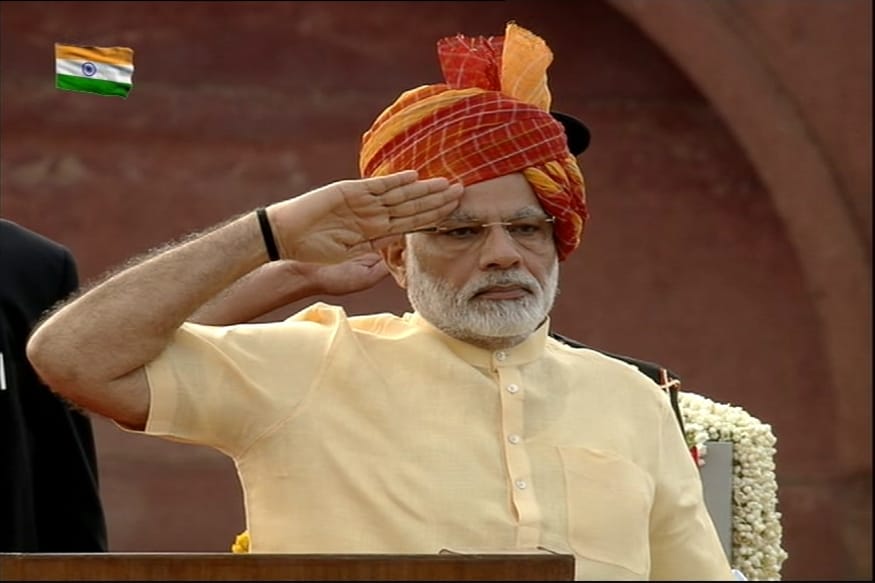 Modi at the Red Fort on Tuesday
New Delhi: Prime Minister Narendra Modi, in his Independence Day address, touched on the Kashmir issue and said this age-old dispute can only be resolved with compassion. He said, "Na gali se na goli se, Kashmir ki samasya suljhegi gale lagane se."
Here are some key takeaways:
• People of India stand shoulder to shoulder with those affected due to natural disasters and the tragedy in Gorakhpur.
• We have to leave this 'Chalta Hai' attitude. We have to think of 'Badal Sakta Hai' — this attitude will help us as a nation.
• We have pulled up Rs 800 crore benami properties. This nation is for the honest. No place for corruption.
• The nation stood with the women who spoke out against triple talaq. We stand by women who protested against it.
• Every one of the 1.2 billion population will work towards a new India in 2022, to celebrate the 75th year of Independence. No one is small or big in our country.
• All our security forces, our bravehearts have never faltered in protecting the country, be it protecting the nation against terrorists or during the surgical strike or helping those affected in natural calamities.
• India is self-sufficient to protect itself from all outside forces.
• Cooperative federalism has taken a new leap with GST implementation. People are amazed at how India could implement GST across the nation so successfully and across sectors.
• The poor and tribal people have received gas connection, they have been empowered.
• The young unemployed population were given loans. The homeless have been given assistance to build homes.
• Other nations are with us in fighting external threats and terrorism. I thank all nations who are helping us in doing so.
• Along with the Kashmir government, it's also the nation's concern to develop J&K and its youth. The Kashmir issue cannot be solved with either bullets or abuses, but with love. We are committed to restoring Kashmir's status as 'heaven on earth'.
• I was a chief minister for a long time. I know how important the states are for the nation's development. We've empowered the states with cooperative federalism. The Centre is successful in walking shoulder to shoulder with the states.
• We have fulfilled 21 of the schemes that I announced in last year's address. We will soon fulfill the other 50 schemes left. We cannot leave out farmers in the road towards development. We've taken forward the idea of FDI, in food processing. This will change the lives of our farmers for betterment.
• We have empowered the youth with funds so that instead of seeking employment, they are in a position to give employment.
• Our future depends on the future and security of our female population.
• This is the land of Buddha and Gandhi. There is no place for violence here. We will not tolerate violence in the name of faith. There can be no room for divisions. We have to move forwards together. No place for violence in the name of faith (astha). Casteism and communalism will not help the nation.
• We have successfully taken back all illegal money into the formal economy. Rs 3 lakh crore has come back into the economy after demonetisation. Over Rs 2 lakh crore is under scrutiny. Around 56 lakh new individual taxpayers filed Income Tax returns between April 1 and August 5. At least 3 lakh companies have been found to be shell companies doing hawala transactions. Of these, we have shut down 1.75 lakh companies.
• We have built airports, railway stations. The entire eastern India has huge potential to take the country to new heights. This includes West Bengal, Odisha and Northeast India. We must tap into this potential.
• Highway movement has eased. GST has fast tracked transportation across Indian highways. It takes 30% less time now to move on the highways.
• We will work towards a new india in 2022, when everyone will have a house, job. Every youth, woman will get an opportunity to fulfill their dreams. Corruption free. We'll create a clean and new nation.
• The upcoming January 1 is not an ordinary date. Those born in the 21st Century will turn 18 next year. They are the ones who will chart the course of this century. India invites them to come and write a new future, design a New India.
Get the best of News18 delivered to your inbox - subscribe to News18 Daybreak. Follow News18.com on Twitter, Instagram, Facebook, Telegram, TikTok and on YouTube, and stay in the know with what's happening in the world around you – in real time.
| Edited by: Sanchari Chatterjee
Read full article