63,000 People Evacuated, Schools and Colleges Shut as Tamil Nadu Prepares to Battle Cyclone 'Gaja'
At the time of landfall, wind speed of 80-90 kmph gusting up to 100 kmph and heavy rains were likely along the region.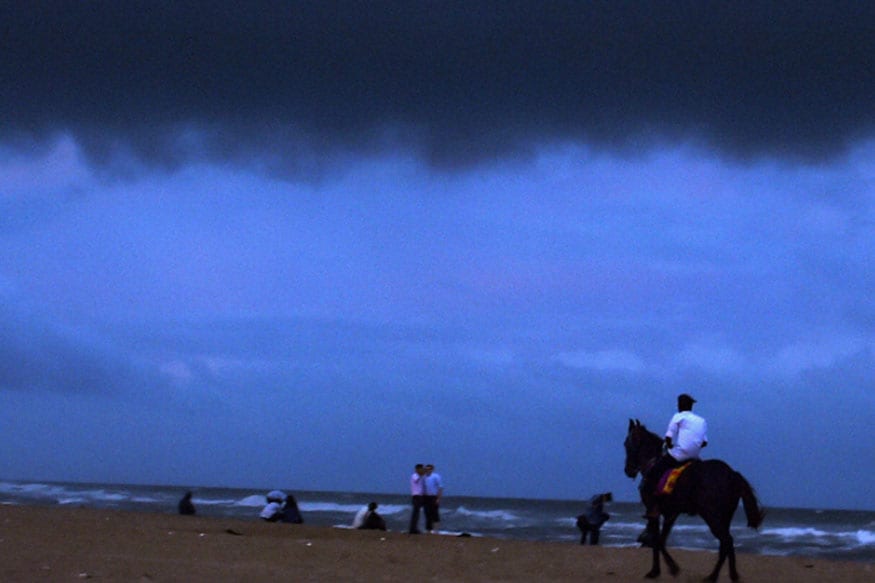 Dark clouds hover over Marina beach before the arrival of cyclone 'Gaja', in Chennai, on Thursday. (Image: PTI)
Chennai: Tamil Nadu was on high alert on Thursday as it prepared to deal with Cyclone 'Gaja', which is expected to cross the state's coast between Pamban and Cuddalore in the early hours of Friday.
The state government, which has put its machinery on alert, said a total of 63,203 people have been evacuated and housed in 331 relief centres in six districts, including Cuddalore and Nagapattinam.
A holiday has been declared for educational institutions in seven districts, while private firms and establishments have been advised to send their employees back home early so they can reach before 4pm.
Earlier, an India Meteorological Department bulletin at 7.50pm said the outer band of the system has already entered the coast and rainfall has commenced over coastal areas of Tamil Nadu.
Police have also been advised to intensify efforts to bar people from going near beaches to witness the cyclone or click selfies. Four teams each of National Disaster Response Force personnel have been deployed in Nagapattinam district while two teams of the state disaster response force in Cuddalore district, officials said. The state disaster management authority has also released an animated video aimed at creating awareness on the do's and don'ts during cyclone.
The government has announced helpline numbers 1070 (state-level) and 1077 (districts) for those who may need assistance. In view of the cyclone, the Southern Railway announced cancellation of four trains, including three from here to destinations in Nagapattinam, Tiruvarur and Thanjavur districts, scheduled for departure on Thursday. It also diverted four express trains bound for southern districts, a release said.
A report from Puducherry said Chief Minister V Narayanasamy reviewed the preparations by various departments of the union territory government to meet the situation and expressed satisfaction. Agriculture Minister R Kamalakannan was camping in Karaikal, about 20km from Nagapattinam, he said, adding relief centres had been opened in the areas likely to be impacted by the cyclone.
The Coast Guard and Navy personnel were keeping a close watch on the coastal areas in and around Rameswaram and Pamban. Local fishermen said the sea off Danushkodi was 'dead silent' through the day, adding it was unusual and expressed concern.
Meanwhile, Tamil Nadu Revenue Minister R B Udaya Kumar inaugurated an 'Early Warning System' on a trial basis in Nagapattinam and Cuddalore districts. It envisaged timely evacuation of people from vulnerable areas and help prevent loss of lives during times of disaster.
(With PTI inputs
Get the best of News18 delivered to your inbox - subscribe to News18 Daybreak. Follow News18.com on Twitter, Instagram, Facebook, Telegram, TikTok and on YouTube, and stay in the know with what's happening in the world around you – in real time.
Read full article