Ganguly appeals to cops after sting op at restaurant
TV channel claims scantily dressed dancers employed at his property.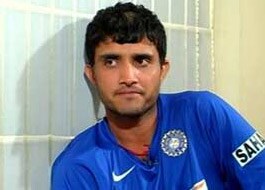 TV channel claims scantily dressed dancers employed at his property.
Kolkata: Former Indian captain Sourav Ganguly on Friday approached the Kolkata police chief and also sought legal opinion about a purported sting operation by a private Bengali television channel that claims to have shot visuals of scantily dressed woman dancers at his bar and restaurant in Kolkata.
"I have taken legal opinion and also met police commissioner Goutam Chakraborty asking him to conduct an investigation into the entire matter," Ganguly told reporters at the Eden Gardens after his maiden appearance at the Cricket Association of Bengal (CAB) Annual General Meeting (AGM) here.
The Channel 10 sting operation showed women dancing in the restaurant--Sourav's The Food Pavilion--located in the upmarket Park Street in the central part of the city.
The Kolkata police said it has obtained CDs of the footage.
"We have got the CDs and are studying them. And then we will decide what is to be done," Deputy Commissioner (detective department) of city police Jawed Shamim told IANS.
The police authorities said engaging professional dancers in hotels was illegal as licence was given only to singers.
Ganguly's elder brother Snehashis earlier said the hotel had the required licenses.
Sourav Ganguly, however, said the sting operation has not left him embarrassed. "These things are part and parcel of life. There is nothing to feel embarrassed about. We will deal with it (the sting operation issue," he said.
Get the best of News18 delivered to your inbox - subscribe to News18 Daybreak. Follow News18.com on Twitter, Instagram, Facebook, Telegram, TikTok and on YouTube, and stay in the know with what's happening in the world around you – in real time.
Read full article