Gatecrasher 'screw up' won't happen again: Obama
A Virginia couple attended the state dinner without an invitation.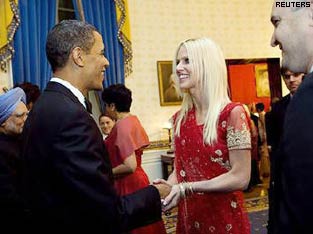 A Virginia couple attended the state dinner without an invitation.
Washington: US President Barack Obama said no more uninvited guests will be getting into the White House after an embarrassing security lapse that allowed a pair of gatecrashers to slip into his first state dinner.
"I was unhappy with everybody who was involved in the process. And so, it was a screw up. It won't happen again," Obama said.
The US Secret Service, the agency responsible for protecting the president and his family, has taken the blame for letting the Virginia couple, Tareq and Michaele Salahi, into the November 24 state dinner for Indian Prime Minister Manmohan Singh without an invitation.
Obama, who was photographed smiling and shaking hands with Michaele Salahi at the event, said he was angry when he found out the two had crashed the dinner, but shed no new light on how they got past security.
"What I know is what everybody knows, which is that these people should not have gotten through the gate," Obama said.
Some Republicans have said White House social secretary Desiree Rogers could have prevented the incident by stationing someone from her office at the gate with the Secret Service agents.
Asked if he was unhappy with Rogers, Obama said he was unhappy with everybody involved in the lapse.
The House of Representatives homeland security committee voted last week to subpoena the Salahis to testify before the panel on January 20.
The couple contended in a television interview that they were invited guests. But they are expected at the hearing to invoke their constitutional right against self-incrimination.
Get the best of News18 delivered to your inbox - subscribe to News18 Daybreak. Follow News18.com on Twitter, Instagram, Facebook, Telegram, TikTok and on YouTube, and stay in the know with what's happening in the world around you – in real time.
Read full article