Gauri Lankesh Murder: A Case That Kept Police on Their Toes For a Whole Year
A year after activist Gauri Lankesh's murder, the special investigation team created to crack the case has not only almost solved it, but also blown the lid off a network of radicalised men trained to kill and spread terror.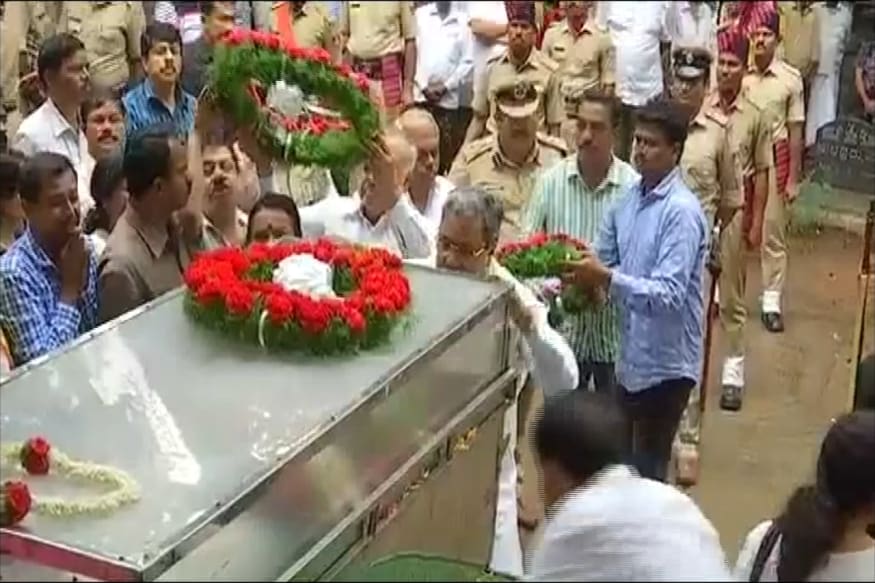 Thousands of people bade tearful farewell to renowned Kannada journalist-activist Gauri Lankesh as she was laid to rest with full state honours in Bengaluru. (Photo: News18.com)
Bengaluru: On September 5 last year, Bengaluru was shaken by a tragedy that would keep police on their toes for an entire year. Gauri Lankesh had just reached home and was about to enter when, at about 8pm, four bullets ripped through the calm of city's Rajarajeshwari Nagar and hit the 55-year-old. The firebrand journalist and activist died on the spot.
As locals and police rushed to the scene, all they knew was what was caught on the CCTV placed outside Lankesh's house. Two men on a bike, the pillion rider wearing a white shirt, stopped to shoot her as she got off her car to open the gate after returning from work. The CCTV footage was not clear as the lights at her home were switched off and the killers wore helmets. The four witnesses who rushed out of a shed across the road said they barely caught a glimpse of the killers.
There was not much to go with, except for the same pattern in the killings of rationalists and activists like professor Kalburgi in Dharwad, Narendra Dabholkar and Govind Pansare in Maharashtra — people whose killings Lankesh had herself held agitations over. The government soon designated a special team to probe the case.
It was technology that came to the aid of the Special Investigation Team (SIT), as it grappled with the clues. A European artificial intelligence software was designed to closely analyse over 75 terra bites of footage from hundreds of CCTVs along the route that Lankesh took from her office to home. It showed two previous recces by the killers. Hundreds of witnesses were questioned and officials in plainclothes spread out to check every lead they got.
All killers make mistakes, they say, and it was a boastful remark by one of the conspirators to his friend about the bullets he was hoarding that gave police their first breakthrough. They realised the killers were planning to strike again and zoomed in on their first arrest of KT Naveen Kumar, a Hindu activist from Chikmagalur.
A year on, the SIT is on the brink of not just cracking this case, but perhaps solving all the others as well.
"The son of Narendra Dabholkar (Pune-based rationalist who was killed in August 2013) had met me. He was quite disappointed that no developments were made in his father's case. But a hint was given that may be it will all be solved with Gauri's case. So I am happy in a way and I hope all of them get justice," said Kavitha Lankesh, Gauri's younger sister.
The SIT headed by IG BK Singh has, as of today, arrested 12 people, including the suspected shooter and those who were part of the murder planning and logistics. The dragnet has spread to Maharashtra too, where a crackdown on a suspected hindutva terror network is on, a network whose lawyers are working double time to invalidate the police theories.
Amruthesh NP, a defense lawyer appearing for three of those arrested by the Karnataka SIT, says that the SIT has not acted correctly and this whole case is a false one hoisted against the hindutva activists. "So many people are demanding that the SIT investigate the Naxalite movement or a family dispute angle, but it hasn't gone into that line. Someone, somewhere has given the direction and on that basis they are attacking hindutva activists and calling them saffron terrorists."
An important aspect of the arrests is the links the accused have with the Sanatan Sanstha and groups like the Hindu Janajagruti Samiti (HJS), many of which don't have registered memberships and where anonymity of the members is an advantage too. But these anonymous networks have prompted the police to invoke the more serious control of organised crime act (KCOCA) against the accused.
Amrutesh believes that the SIT doesn't have enough evidence, which is why it hasn't formally come out and filled a detailed chargesheet. "Why haven't they filed the chargesheet till today? For the purpose of this grudge against Hindu activists, they want them to stay in jail for longer, so they have now invoked KCOCA. Just before the 90-day period could get over they invoked KCOCA, which now gives them 180 days."
Amid all this, Bengaluru is observing Gauri Day today, where known faces such as Girish Karnad and professor KS Bhagwan, who were allegedly next on the hit list of right-wing groups, will participate. At a time when questions are being raised on the arrests of activist across the country, many of them will be using the Gauri Day platform to raise their voices.
"They thought that have silenced one Gauri, but instead they have created 100 Gauris. We will not be silenced. The freedom of expression cannot be suppressed at any cost. The support from people on top is what is encouraging these people and this has to stop," said Narendra Naik, another rationalist whose name was on the hit list.
In fact, Kavitha Lankesh said that the loose usage of the term 'Urban Naxal' would have unknowingly been used for Gauri had she been alive. "I'm sure Gauri would be the first to be labelled an 'Urban Naxal'. But I am happy that today more and more people are coming and speaking up. The 'I am Gauri' Movement is travelling across the country and her death has become a catalyst which will spread wide," she said.
Read full article
Countdown To
Elections Results
To Assembly Elections 2018 Results