Three unseemingly, but characteristic "monuments" greet us at major bordering locations (Ghazipur from East, Bhalswa on North and Tehkhand in South) while we enter the national capital. Not to forget stench of decaying garbage, a large flock of predatory birds (Black KiteMilvus migrans); I am unsure if we were so prepared to visually witness our disdains for urban ecosystem health. I talk of city's waste digesters, major landfill sites operated by municipalities for over 50 years.
A lax technique to channelise secure removal of waste from middle of a city, these landfills admirably characterise burying one's head in sand. Of course, we never imagined hitting a roadblock, exhibited in our frailty to comply with decade-old warnings of the honourable High Court, decommissioning further usage of these sites. For urban growth in India, amidst dazzle of global importance around Gross Domestic Product (GDP), waste management is its dark shadow.
Landfills, the cut-paste solution for typical European cities, were conceived around the idea of having a core and outskirt city system. Unfortunately, these "outskirts" have become market and transport hubs (e.g. Ghazipur) in present megacities.
Somewhere, in our inability to fathom the TNT (an explosive mixture) of population explosion, industrial growth, and boom in trade, common sense eluded while we have had sophistication of remote sensing. It took news around smoking waste during the "odd-even event" in the beginning of 2016, and recent loss of lives under tonnes of garbage (read about part of Ghazipur landfill caving in), to begin minding urban bane of garbage hillocks.
These mega-structures are rather casual deed of brushing things under the carpet, hoping to allow nature to take its course through slow decomposition. As mandated, a thin layer of soil is to be spread over daily garbage to prevent leaching/seepage of garbage juices to water table.
Presently, this "carpet of urban convenience" has resulted in 50 metre plus soring bulges on three corners of the capital. If only we could fathom the "nature" of Nature in response to our exasperating impacts on human and non-human resources! Sadly, we build aerial castles, amusingly termed heaven/home by real estate developers.
"Nature of humans" (greed to exploit economic dividends of garbage) and "humans of nature" (resilient poor and oppressed) have, over time, built a fragile component of urban consumption. An average mega dump in developing countries is ideally associated with establishment of poor immigrants to cities, subsisting on selling the choicest segregations of garbage. Ensued microcosm is organic over finding successive value in garbage, promoting unimagined and undocumented web of human-animal interactions.
We are a group of enthusiastic youth from myriad disciplinary expertise, committed to decode the fine print of what promotes and balances
a) Persistence of continued apathy of government towards urban waste disposal
b) Continued service from the urban poor, under forces of social exclusion. This giddy attitude has alienated the ticking garbage time bomb of Delhi, as far as creating political arenas in their valiant attempt to shift the baton of responsibility to sanitise.
Unsegregated waste, in tune of 5,000 tonnes of routine garbage, is left for partial treatment by removal of valuables (scrap metal and plastic), and otherwise by scavenging guild of animals (kites and other birds, rodents, dogs, pigs, cows, etc.). The latter invade this garbage system, opportunistically capitalising over meat remains and subsisting in numbers not otherwise encountered in middle of the city.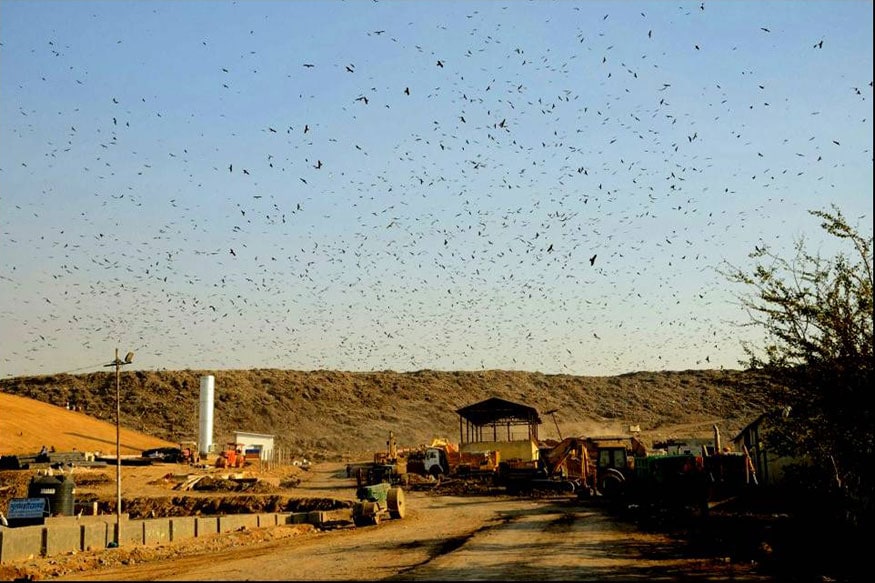 Many obvious of i. cancer causing pollutants and breeding pathogens in unsegregated rubbish ii. metabolism of biodegradable waste by animals and human scavengers in a shared urban space iii. absence of credible places to from new landfills (Delhi, though spacious, seems to struggle to find one) and iv. preparations to displace colonies of human scavengers in gentrifying townships, call for proactively studying city's drain pits.
With "muscles of the city" (working populations) residing in vicinity of these landfills or likewise situations, there is no place functionally free of rippling effects of poorly managed waste. Negligence of daily waste integrates into havoc in situations of major downpours, ensuing floods and associative catastrophe.
We have failed to foresee the responsibility of completing altered energy cycles in urban ecosystems. Issues are grave when human actions caused recent catastrophic decline of vultures, nature's master scavengers.
National 'Five year plan' documents, and 'Master plans of Delhi' have regularly factored the need to deal with growing quanta of waste, promoting ideas to support innovative solutions in using combustible waste for electricity and harvesting methane formed of decomposition.
However, road to urban salvation is far. Till the nation gains efficiency of waste segregation from non-point sources (individual homes), we can't rely on copy paste mechanical solutions of western cities which have altogether different socio-cultural identities. From a broad ecological analogy, each city is a unique organisation, ought to possess local coordinating forces, working for larger good, under basic establishment of their own sustenance.
In this light, immediate government attention to waste would demand acknowledging unorganised private units of society collecting garbage in colonies, and ones which segregate it on landfills. Ensuring health and educational services, and using their outreach to advocate basic garbage segregation should be primordial.
These ephemeral ecosystems also suffer between economic jaws of powerful contractors and administrative apathy, promoting their indulgence in practices of alcoholism and drug abuse. As our first line of defence against growing piles of garbage, studying their organisation to support a healthy sustenance would speak volumes about prudent steps needed to tackle an integrated man-animal issue.
I might be going far while suggesting a 'paleoecological' (evolutionary history) study of our urban growth in the sedimented layers of millions of tonnes of garbage. But it shall reveal imprints of our manufacturing and trade history in form of growing thickness of plastic layers.
Concrete and rubble might convey saga of appearance of monotonously built up spaces around 1980s. Not to talk of our irresponsible garbage disposal, capable of forming toxic leachate, melting from these hills of decaying urban sins, percolating layers of Earth, running off to the canals behind.
These landfills are sitting pots of halahal (most vicious poison which came out of Hindu mythological churning of Ocean by the gods and demons) of our urban vortex (perceived as smart move to optimise resource use). I wait to see civilised society and policymakers acknowledging presence of halahal and hypothetical Shivas (Lord Shiva volunteered to consume halahal to save the universe), our human and non-human scavengers, in a country which has boarded the wagon of free economy.
We might otherwise witness further avalanches down the peaks of eco-social disparity (e.g. rather regular Mumbai floods). I sign off by terming Ghazipur(s) as Delhi's 'Picture of Dorian Grey', inspired from Oscar Wilde's work, where the protagonist, a hedonistic aristocrat, remains young and handsome while a hidden portrait reflects his ugly soul.
(The writer is a Senior Research Fellow at Wildlife Institute of India, Dehradun. Views and opinions expressed are his personal)