GET Stock

Quotes


Girls Can't Consume Non-Veg, But Can be Beaten Up, Ask Banaras Hindu University Protesters
The Banaras Hindu University administration has now called for an early semester break and the students will be vacating the hostels by Sunday evening.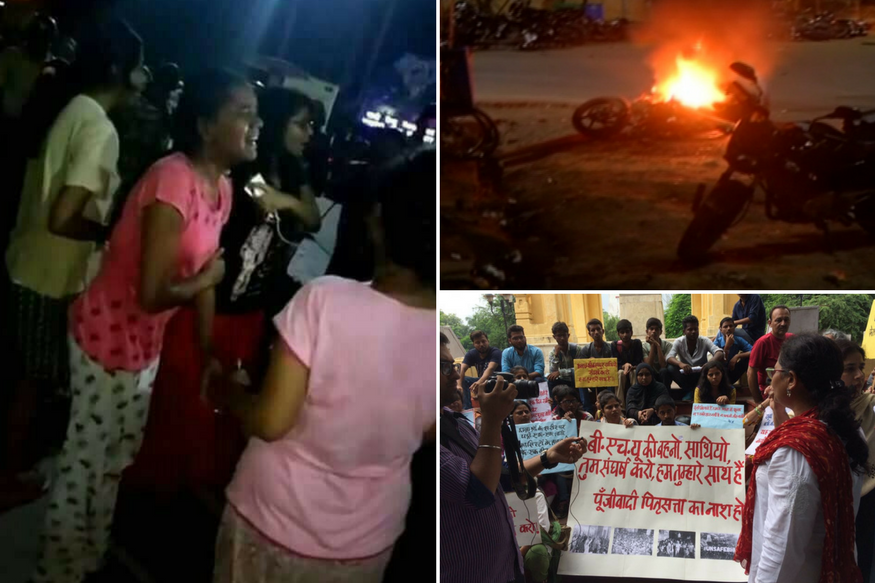 Clockwise from left: Visuals from Saturday's night violence outside the BHU campus, mediapersons sit on a dharna on Sunday morning.
New Delhi:
Prime Minister Narendra Modi's constituency, Varanasi, is simmering with tension. Several girls, protesting against the alleged molestation of a fellow student, were lathicharged on Saturday night.
Yet, the girls at Banaras Hindu University believe, the fight has just begun.
The girls are upset with Vice-Chancellor GC Tripathi, who failed to keep his promise of meeting them. Moreover, Tripathi was reportedly upset after some of the girls smeared a statue of Madan Mohan Malviya with black ink. The protesting girls are upset that he was bothered with the ink and not police violence.
"I was part of the delegation that met the V-C. He had all the security around him. He had police and CRPF at his disposal, yet, he felt unsafe because of our protests and didn't meet us," said Shivani Chaubey, an English Honours student.
She added, "Tripathi told us that he was upset with protesters smearing Malviya's statue with black ink. It is shocking that for our administration, girls being lathicharged is acceptable over black ink on a statue. He didn't prioritise us or our demands."
The university administration has now called for an early semester break and the students will be vacating the hostels by Sunday evening.
University spokesperson Rajesh Singh told News18 that the issue is being politicised and the "sensitive hostels will be vacated".
It all started when the BHU students sat on a peaceful protest against victim-shaming and were demanding action against the culprits who had allegedly molested a Triveni Hostel resident.
On Saturday night, the campus "saw the unexpected" and students were lathicharged. Many were injured and taken to the trauma centre.
News18 spoke to some of the girls who were a part of the delegation that tried to meet the V-C. Many said that the incident was waiting to happen as security of the girls is compromised here.
Adding to the issue, Shivani said, "We don't have equal access to the library because we have to return to our hostels by 8 pm and the library is open till 11 pm. This is unequal access to resources. Girls are not given non-vegetarian food because it is against Malviya Mulaya (principles of Madan Mohan Malviya), but is lathicharging the same girls part of these ideals?"
Chaubey was beaten up and her back is hurting. She will be leaving the campus with injuries.
BSc student Swati Singh said, "Stalking, eve-teasing is a daily problem here. We want the administration to hear us and we will have to wait now as the campus is going on a break and we will have to vacate the hostels."
Reacting to the protests, V-C Tripathi said it was "motivated". He said, "We have formed a high-level investigation committee to probe the incident and they will submit a report within a week. Yesterday's incident was tragic and it was a planned keeping in mind PM Modi's visit in Varanasi."
The BHU administration has said that these protests are politically motivated and timed with PM's visit. Condemning the university's stand, BSc student Mineshi Mishra said, "There is no political angle to our protest, neither do we have a student body election."
She added, "Yet, I see a positive change. The girls who would passively acknowledge the daily sexism here, are now desperate to fight against it. Since there are no active democratic bodies in BHU, many had given in to the normalization of sexism. This time we have women from across political ideologies coming together and the solidarity is strong."
Rajesh Singh said, "All these allegations are baseless and we provide security to the girl students. The action that was taken last night was to keep away the outsiders who are playing politics here. We are shortlisting the sensitive hostels where outsiders come and cause disharmony. These hostels would be vacated."
Also Watch
| Edited by: Sanchari Chatterjee
Read full article