'Golmaal 3' might just be a winner this Diwali...
...so say the trade pundits. 'Action Replayy's' future rides on Akki's popularity, 'Guzaarish' is a film for a niche audience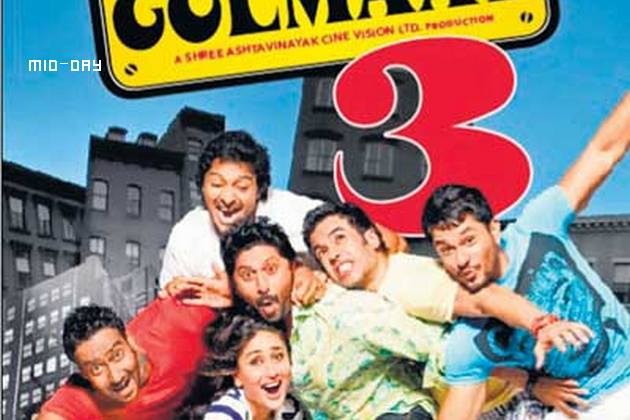 ...so say the trade pundits. 'Action Replayy's' future rides on Akki's popularity, 'Guzaarish' is a film for a niche audience
Diwali season has traditionally been the bumper season for Bollywood releases. Understandably, the biggest movies release during this time. This year two big films Golmaal 3 (Starring Kareena Kapoor, Ajay Devgn, Tushar Kapoor) and Action Replayy (Starring Akshay Kumar and Aishwarya Rai) will release on 5th November, a day before Diwali.
And a fortnight later, on 19th Novermber Sanjay Leela Bhansali's Guzaarish (Starring Hrithik Roshan and Aishwarya Rai) is slated to release. The trade analysts think that Golmaal 3 might be a bigger hit than Guzaarish and Action Replayy.
Trade analyst Amod Mehra says, "Traditionally fun films that prove to be family entertainers do well during Diwali. In the past we have witnessed that the Diwali festivities can boost the business of an average film as well. But if the film is good, it can benefit more from the festive season." He adds, "I think that Golmaal 3 will be able to take the fullest advantage of Diwali. The prequels of the film have done very well and people are waiting for the third sequel. Also it looks like a fun film. And people want to seek fun, joy and laughter during Diwali."
Taran Adarsh, Editor, Trade Guide, adds, "The curiosity among audiences to watch Golmaal 3 is enormous and hence it must do good business."
Vajir Singh, Executive Editor, Box Office India, is of the same opinion. "The movie Golmaal 3 has a strong backing of the Golmaal brand. And it is sure to receive a great opening.
But they are not undermining Akshay Kumar's popularity either. Singh says, "Akshay Kumar's films usually get a great opening and hence Action Replayy should also do good." Mehra and Adarsh are also of the opinion that Akshay's fan following and Aishwarya's popularity should do the trick for Action Replayy.
However, the pundits are not sure of the fate of Guzaarish, though. Mehra says, "The promos of the film look like that of an art film. Also, except the song Udi Udi, all other songs of the movie sound depressing. It doesn't look like a film for the masses." According to Singh's observation the audiences curiosity for watching Guzaarish is building up and hence it might do well. But he also says, "I have to say that it looks like a film for niche audience."
However, Adarsh opines that people will want to watch Aishwarya and Hrithik together again. He says, "There is no formula to success. If the film clicks, it should do well. And the fact that it is a Sanjay Leela Bhansali film starring Hrithik and Aishwarya will tempt people to go out and watch it."
Get the best of News18 delivered to your inbox - subscribe to News18 Daybreak. Follow News18.com on Twitter, Instagram, Facebook, Telegram, TikTok and on YouTube, and stay in the know with what's happening in the world around you – in real time.
Read full article