Google's Android One phones come to India at Rs 6,299: Micromax Canvas A1, Karbonn Sparkle V, Spice Dream Uno
The dual-SIM Android One phones have a 4.5-inch display, 5 megapixel rear camera, 1700mAh battery, 1GB RAM and run Android 4.4 operating system.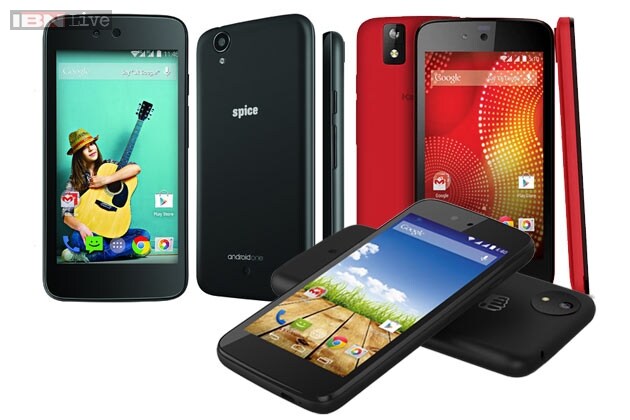 The dual-SIM Android One phones have a 4.5-inch display, 5 megapixel rear camera, 1700mAh battery, 1GB RAM and run Android 4.4 operating system.
New Delhi: The first Android One phones have arrived. Google has launched the first set of three phones under its Android One project in India at a price starting at Rs 6,299. The first Android One devices to be available in India are the Micromax Canvas A1, Karbonn Sparkle V and the Spice Dream Uno.
The dual-SIM phones have similar specs and come with a 4.5-inch display, 5 megapixel rear cameras, 1700mAh battery, 1GB RAM and run Android 4.4 operating system. The phones are powered by a 1.3GHz quad-core MediaTek Cortex A7 processor.
While Flipkart and Snapdeal are exclusively selling Android One smartphones from Spice and Karbonn, respectively, Amazon.in is selling handsets from Micromax.
The Spice Android One Dream UNO Mi-498 is priced at Rs 6299 on Flipkart, the Karbonn Android One Sparkle V is available for Rs 6399 on Snapdeal and the Micromax Canvas A1 is listed on Amazon.in at Rs 6,499.
With Android One Google is attempting to get a firm hold on the low-cost segment of the world's fastest growing smartphone market.
The Android One phones will have a two-year software support from Google, which means that Android One phone users will be assured of updates to the newer versions of the Android operating system.
Google has also partnered with Airtel to offer upgrades to Airtel users to the latest version of Android without using any data for the download. Also any apps that Airtel users download from the Google Play Store wouldn't count against your data usage either (up to 200MB per month).
After launching in India, Google said it plans to expand Android One to Indonesia, Philippines, Pakistan, Bangladesh, Nepal and Sri Lanka will by the end of 2014 and in more countries in 2015.
Google is also expanding Android One programme with Acer, Alcatal OneTouch, Xolo, HTC, Lava, Intex, Asus and Lenovo. It has also roped in Qualcomm for the chipsets.
In June, Google had announced the launch of the Android One project, which aims to boost demand for low-end Android smartphones by vastly improving their quality.
Currently, many cheap emerging market smartphones run different and somewhat customised versions of the Android operating system, which along with the many variations in hardware make apps on those phones prone to glitches.
India is seen as a lucrative market for low-cost smartphones because many people are buying the devices for the first time. Just 10 percent of the India's population currently owns a smartphone, brokerage Nomura said in a recent research note, and that figure is likely to double over the next four years.
Google, however, is not the only company jostling for a share of the Indian market.
There are at least 80 smartphone brands in India and analysts say the Android One phones must offer customers more than just affordability if it wants to compete with similarly priced devices made by Samsung, Motorola and China's Xiaomi.
It is not the first time that device makers have partnered with e-commerce firms for launching their products. Motorola and Xiaomi have successfully launched their smartphones on Flipkart, while Spice, Micromax and Intex have launched their devices on Snpdeal.
Apart from apparels, electronics - especially mobile phones - are one of the highest selling items on e-commerce sites.
According to research firm IDC, smartphone sales in the country grew almost three-fold to over 44 million in 2013, buoyed by affordable devices made by local firms such as Micromax and Karbonn.
In the second quarter of 2014, 18.42 million smartphones were shipped in India. Though Samsung is the leader with a 29 per cent market share, Micromax (18 per cent), Karbonn (8 per cent) and LAVA (6 per cent) are close competitors.
While Android is the dominant operating system globally, other operating systems such as Windows and iOS are also gaining traction. Also, newer platforms like Firefox and Tizen may emerge as strong challengers to Google's platform.
Recently, Firefox (in partnership with Spice and Intex) launched two new smartphones, priced below Rs 2,300, aimed at those looking to upgrade from feature phones to smartphones.
Specifications: Karbonn Sparkle V, Micromax Canvas A1, Spice Dream UNO
- 4.5" FWVGA display
- Cortex A7 1.3 GHz Quad-Core processor
- 1GB RAM
- 4GB storage (expandable up to 32GB)
- 2x micro SIM
- Front and rear facing cameras (2MP and 5MP)
- Rechargeable lithium-ion, 1700mAh
- Android 4.4, KitKat (and gets the new version soon after it's released)
(With inputs from agencies)
####
Get the best of News18 delivered to your inbox - subscribe to News18 Daybreak. Follow News18.com on Twitter, Instagram, Facebook, Telegram, TikTok and on YouTube, and stay in the know with what's happening in the world around you – in real time.
Read full article