'Gory Murder of Hindu Woman By Muslims' in Kerala is From a Street Play
In the video, two men drag the woman out of her car and when she resists, they shoot her. The video has since then been tweeted hundreds of times. But is this what really happened?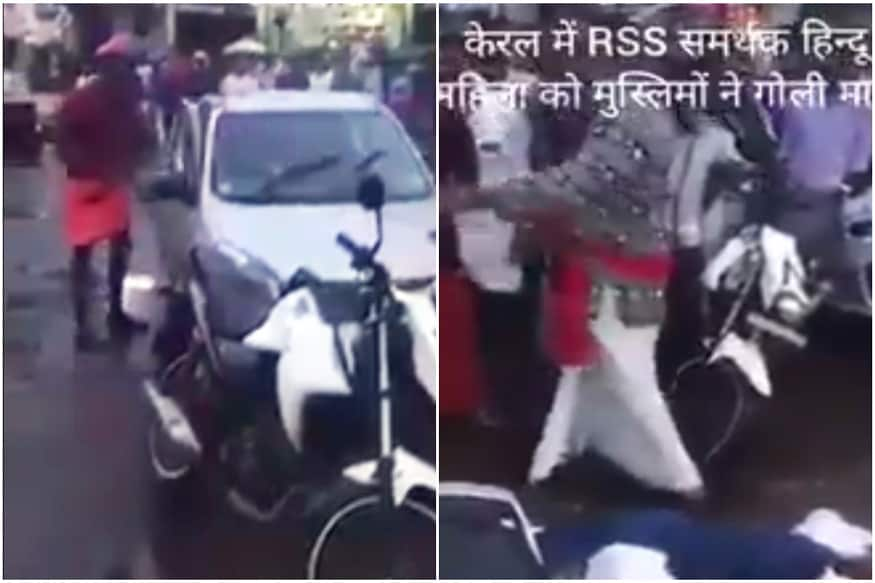 Screenshots from the video being circulated on Twitter.
Thiruvananthapuram:
A video circulated widely on social media as the "murder of a Hindu woman by communists and jihadis" in Kerala has turned out to be fake - in fact it was a scene from a street play.
The video tweeted out from handles of right-wing sympathisers was ironically from a street play organised by DYFI (Democratic Youth Federation of India ) against the murder of senior journalist Gauri Lankesh.
In the video, two men drag the woman out of her car and when she resists, they shoot her. The woman collapses in a heap and a man then addresses the onlookers in Malayalam. The only word non-Malayalam speakers can make out in this monologue is RSS.
The video surfaced on social media sites on Wednesday and has been tweeted hundreds of times. One of the first to tweet the video was a Twitter user called Amitesh Kumar, who called it "another gory murder in Kerala by Commie/Jihadi goons."
This another gory murder in Kerala by Commie/Jihadi goons of a lady supportive of BJP. @bdutt @ranaayyub @sagarikaghose @ShekharGupta pic.twitter.com/hgV8mQkaQk

— Amitesh Kumar (@AmiteshK01) September 12, 2017
However, DYFI said the video was a part of a street play held at Manjeri in Malappuram district of Kerala. According to the DYFI president PA Mohammed Riyas, their intention was to highlight the role of RSS in the attack on freedom of speech.
In the clip that was meant to be an enactment of the Lankesh murder, the man was actually saying that the "RSS murdered her for speaking against them." He goes on to say, "This is the real face of RSS. Traitors. They are a threat. Silence is dangerous. This silence, despite fascism making its way into your kitchen, is dangerous."
Instead, they ended up giving ammunition to the fake news brigade. "This is a planned campaign. They are trying to defame the state. This is part of the planned sangh parivar campaign to malign the state with the help of the central government," alleged Riyas.
DYFI has decided to file a complaint against those who are promoting such fake messages.
But some damage had already been done. Many twitter users fell to this bit of fake news, including a national news channel that later retracted the story.
Where is law? Is this Wild West? Free speech anyone? Shocking! Today Kerala, tomorrow any part of India! Wake up!

— Rajesh Kumar (@raje147) September 13, 2017
Shame shame shame on these communist criminals...Indian democracy had become hostage to this blood soaked left tirade

— Nation modern (@VivekSurana9) September 13, 2017
Sanghi being killed is Secularism, tolerance. Only Vitriolic #GauriLankeshMurder will hv protests of Intolerance , Freedom @vijayanpinarayi

— Ashok #NewIndia (@cashkumark) September 13, 2017
Many Twitter users, however, were quick to point out that this is not the real story and asked the authorities to take action.
cc @TheKeralaPolice. Street drama circulated as murder to incite riots. Take note of fake news and arrest this person.

— F R Choudhury (@ExpertAnalystix) September 13, 2017
What nonsense? This is a street drama against murder! What nonsense?

— Savithri Thekkumpat (@ammusavithri) September 13, 2017
What rubbish..posting a street play to protest against gauri lankesh murder as a RSS worker killed in kerala?

— Priya Shankar (@Ppriyacee) September 13, 2017
| Edited by: Aakarshuk Sarna
Read full article
Countdown To
Elections Results
To Assembly Elections 2018 Results