Centre is confused on legalizing homosexuality
Law Ministry is against legalisation, and health ministry is for it.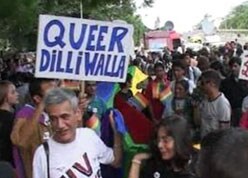 Law Ministry is against legalisation, and health ministry is for it.
New Delhi: The Law Ministry stated on Friday at the Delhi High Court that it is strongly against legalising homosexuality - in contrast to what the health ministry has been advocating.
Delhi, Kolkata and Mumbai, the queer community may have come out of the closet with the rallies. But the Centre has refused to scrap Section 377 of IPC and legalise homosexuality.
The Delhi high court on Friday sternly pulled up the government for having two views on the issue.
Earlier in the day, replying to a petition in the Delhi High Court, home ministry had said
"The Govt is violently opposed to decriminalising homosexuality. It's against the course of nature, and will cause harm to society and erode moral values. It will also cause more cases of HIV/AIDS"
Ironically, the Health Minister himself had come out in support of gay rights, just a few days back.
"This may be Ramadoss's own view but the govt is very clear that legalising homosexuality will create a law and order problem," says, Government Council, B P Singhal
Gay rights activists, like the Naz foundation which filed the PIL, have expressed shock.
"There is no reason why 10 per cent people like me should be treated like second class citizens. We are tax payers and voters and we need our equal rights. No matter how people look at us, but in the eyes of law we are also citizens," says Gay rights activists, Sunil Gupta.
Even as the contradictory stands of the home ministry and the health ministry reflects the dichotomy of on this issue. The gay community wants India to react to this issue as sensitively as is expected of a vibrant democracy.
Get the best of News18 delivered to your inbox - subscribe to News18 Daybreak. Follow News18.com on Twitter, Instagram, Facebook, Telegram, TikTok and on YouTube, and stay in the know with what's happening in the world around you – in real time.
Read full article