'Govt's Biggest Failure', Say Kin of Indians Killed in Iraq, Demand to See DNA Reports
Several relatives of the killed workers said they were not informed about their loved ones by any government authority and learnt about it from the TV.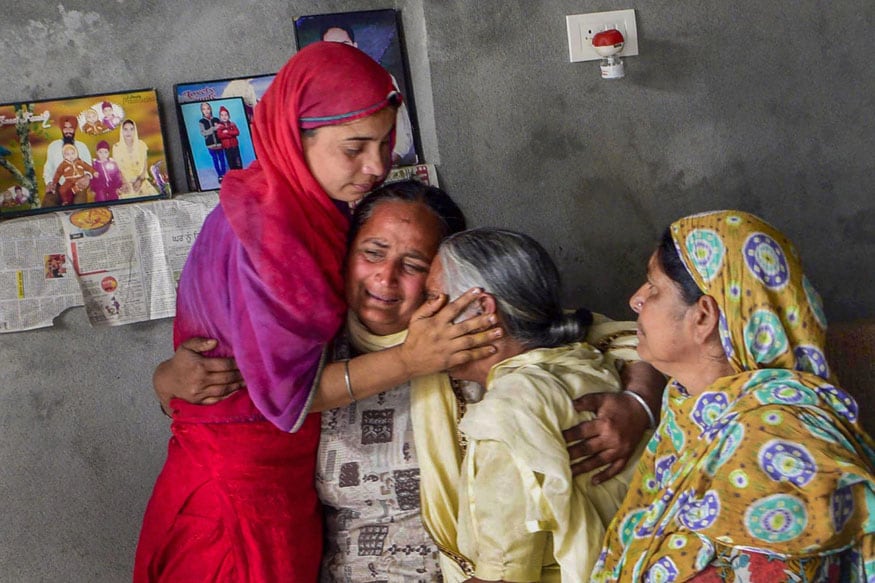 Family members of one of the 39 Indian workers feared killed in Iraq, grieve at their home on the outskirts of Amritsar on Tuesday. (PTI photo)
Fighting off their tears, family members of the 39 people whose deaths in Mosul, Iraq, were confirmed by external affairs minister Sushma Swaraj on Tuesday, slammed the government for keeping them in the dark for so long.
Several relatives of the killed workers said they were not informed about their loved ones by any government authority. "What do we say now?" asked a dejected Sarwan, whose 31-year-old brother Nishan was among those killed. "The government kept us in the dark all these years," he said.
Calling it the government's "biggest failure", he said that he had met Swaraj 11 to 12 times and was told that as per their sources, the missing Indians were alive.
"They have been saying that Harjit Masih, the lone survivor, is a liar. If your sources have been saying they were alive and now suddenly what happened. The government should have told us they have no information about missing Indians rather than making false statements," he said.
An inconsolable Gurpinder Kaur, whose 27-year-old younger brother Manjinder Singh was among the missing Indians also asked similar questions. "Initially, they were saying the Indians are alive. Now the minister today made such a statement," Kaur said, her voice choking. We were not even told about it, we came to know from the TV, she added.
With all hopes dashed, now anger seethed out. She demanded to see the DNA reports that the government said was the concrete proof it was waiting for to proclaim the 39 missing Indians dead.
"We demand the government provide us DNA reports. It's being politicised. We had been running from pillar to post since four years and now we're being told via TV that we lost one of our own," Kaur said.
Last year, the government of India collected DNA samples of the family members of the missing Indians. Among the 39 Indians who were missing, most were from different places in Punjab like Amritsar, Gurdaspur, Hoshiarpur, Kapurthala and Jalandhar.
At that time, they possibly did not know their biggest fear would come true within the next five months. "I had an intuition when the government asked us to go for DNA tests. I knew something serious has happened to my brother, but the government was not willing to (disclose the purpose of collecting the DNA samples). This news has crushed everything to the ground," Kaur said.
Swaraj had told Parliament on Tuesday morning that all 39 Indians, abducted by the ISIS in Iraq nearly three years back, were killed and their bodies were recovered.
As many as 40 Indians were originally abducted by terrorist organisation ISIS in June 2015 from Mosul in Iraq but one of them escaped by posing as a Muslim from Bangladesh, Swaraj said in a suo motu statement in Rajya Sabha.
The remaining 39 Indians were taken to Badush and killed, she said. Search operations led to a mound in Badush where locals said some bodies were buried by the ISIS. Deep penetration radars were used to establish that the mound indeed was a mass grave, she said, adding the Indian authorities requested their Iraqi counterpart to exhume the bodies.
Swaraj said the mass grave had exactly 39 bodies, with distinctive features like long hair, non-Iraqi shoes and IDs. The bodies were sent to Baghdad for DNA testing.
DNA testing by Martyrs Foundation established the identity of 38 Indians while there has been 70 per cent matching of the DNA for the 39th person, she said. Minister of State for External Affairs V K Singh will be flying to Iraq to bring back the bodies on a special flight, she added.
Later defending herself against a barrage of criticism, the minister said she had kept her word that she would declare them dead if she gets conclusive proof. Swaraj also asserted she did not keep anyone in the dark over the killing of 39 Indians in captivity in Iraq or give the families "false hopes".
| Edited by: Aakarshuk Sarna
Read full article
Countdown To
Elections Results
To Assembly Elections 2018 Results