Great Olympic moments, Part 4
Spitz's record haul, Peters' age-defying glory, Comaneci's immaculate performances in part four of Olympic moments.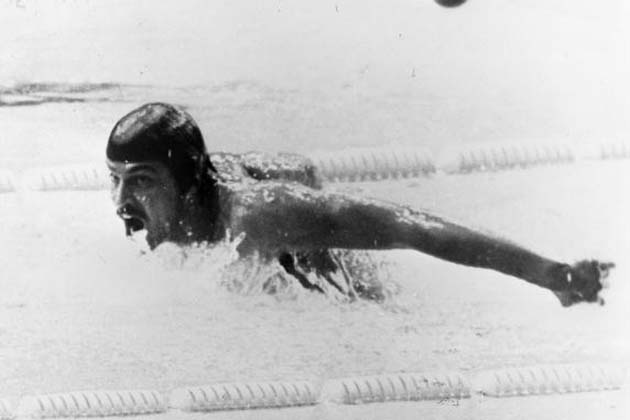 Spitz's record haul, Peters' age-defying glory, Comaneci's immaculate performances in part four of Olympic moments.
In the countdown to the 2012 London Olympics, we retrace some memorable achievements in the history of the Games. Today, a look at Mark Spitz's record haul in the pool in 1972, Mary Peters' age-defying glory in the same edition and Nadia Comaneci's immaculate performances four years later in part four of our Olympic moments recall.
1972: Mark Spitz rules the pool
In an era before today's waxed, hairless procession of swimmers, there was the mustached Mark Spitz. Briefly, albeit.
At the 1972 Munich Olympics, the American swimmer achieved a record medal haul – seven gold medals, all in world record times. In 1968, Spitz had predicted that he would win six gold medals but ended up winning two. Four years later, he was still as brash but this time went better by winning seven gold medals - the 100m freestyle, 100m butterfly, 200m freestyle, 200m butterfly, 4x100m freestyle relay, 4x200m freestyle relay, and the 4x100m medley relay.
That was the last time Spitz would swim professionally. After the Games he promptly decided to retire at the age of 22.
Spitz's seven gold medals remained the record – the literal gold standard – until Michael Phelps did him one better in 2008.
1972: Mary Peters sets a world record
In 1972, a 33-year-old secretary from Belfast won Britain's only athletics gold at the Munich Olympics. And she did it against the backdrop of violence to temporarily unite Northern Ireland.
The 1972 Games were overshadowed by the Munich Massacre, but Mary Peters somehow kept her focus to become an Olympic champion and break the world record in the process. Competing in her third Games, Peters set four personal bests in five events in front of a packed stadium to become the last Olympic pentathlon champion. The pentathlon competition was decided on the final event, the 200m, and Peters claimed the title by one-tenth of a second.
Recalling her success years later, Peters said it the shooting of 11 Israeli athletes by Palestinian gunmen put her victory into perspective. "I felt guilty for many years afterwards. I had been so full of my own achievements. I went back 20 years later to pay my respects to those who died in Munich and it helped me put things into perspective."
1976: Nadia Comaneci achieves perfection
At the 1976 Olympic Games in Montreal, a 14-year-old Romanian became a global star and crowned a golden era for gymnastics. Her name was Nadia Comaneci.
Before 1976, no athlete – male or female – had ever received a perfect score in any Olympic gymnastics event. At 4-foot-11 and 39 kgs, the diminutive Comaneci did just that, wowing the judges into awarding her not just one, but seven perfect scores. The first came after her dazzling showing on the uneven bars, and the additional six as Comaneci won three golds, one silver and a bronze.
Four of the seven perfect scores came on the uneven bars and earned her three gold medals. On the balance beam, considered one of the most difficult Olympic events, she recorded three perfect scores and her second gold medal. The final gold came in the all-round competition where Comaneci staved off the Soviet threat and led her squad to gold. On the floor competition she took home bronze.
Her precision and daring had never before been witnessed in Olympics gymnastic, and few female athletes in any sport had ever so captivated the Games.
Get the best of News18 delivered to your inbox - subscribe to News18 Daybreak. Follow News18.com on Twitter, Instagram, Facebook, Telegram, TikTok and on YouTube, and stay in the know with what's happening in the world around you – in real time.
Read full article