Gujarat Industries Stare at Losses After Hate Attacks Force Hundreds of UP, Bihar Migrants to Flee
Gujarat's jewellery and textile industries are likely to be worst affected due to the mass exodus.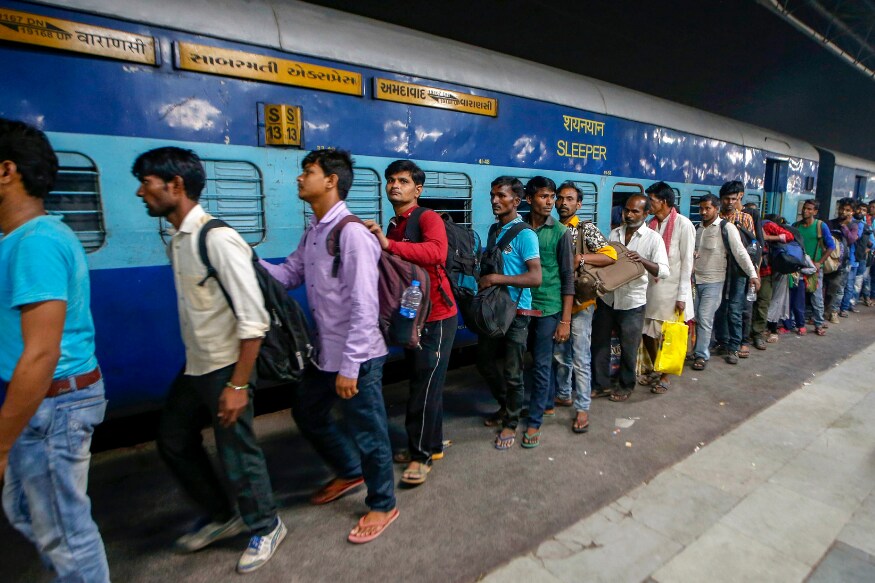 Migrant workers prepare to board the Sabarmati Express in view of protests which broke out over an alleged rape of a 14-month-old girl, in Ahmedabad, October 8, 2018. (PTI Photo)
New Delhi: The rape of a 14-month-old girl in Sabarkantha district of north Gujarat has triggered mass hate crimes against the Hindi-speaking people in the state. A TOI report indicates that the attacks on migrants from UP and Bihar have spread to the central parts of the state, forcing hundreds of migrant labourers to return to their native states.
Eight contractual workers were allegedly attacked at the 'Bal Amul' plant near Anand on Sunday. In total, there have been 56 cases of assaults on migrants belonging mainly from Bihar and UP. As per the report, at least 431 people have been arrested for being a part of the recent violence.
At least 100 migrants have fled from the state after the violent streak worsened. A tour operator, who spoke to the publication, said that at least 25,000 migrants have left Ahmedabad in the past two days.
The mass exodus of migrants from the state of Gujarat has badly affected industrial operations and has resulted in 20 per cent production loss ahead of the festive season, speaking to the publication, Ajit Shah, president, Sanand Industries Association (SIA) said over 12,000 labourers, employed in north Gujarat, have left for their homes.
While some industrial hubs such as Surat, Kutch, Morbi, Jamnagar and Rajkot remain unaffected, the government is still providing additional security to control the situation. It may be noted that the industries that would be worst affected in the state due to the mass exodus are jewellery and textile.
Get the best of News18 delivered to your inbox - subscribe to News18 Daybreak. Follow News18.com on Twitter, Instagram, Facebook, Telegram, TikTok and on YouTube, and stay in the know with what's happening in the world around you – in real time.
Read full article