Ahmedabad:
The Gujarat State Board has shot itself in the foot once again. In an embarrassing error, a Class 9 Hindi subject textbook of the board refers to Jesus Christ as a demon and goes on to say that stories of this 'demon' will be forever remembered.
Realising the blooper, the education minister and the chairman of the textbook board have said that the error will be rectified soon. Officials said that the mistake was caused by a misprint.
The reference to Jesus Christ as a demon is made in chapter 16 of the book titled "Bharatiya Sanskriti Mein Guru-Shishya Sambandh". This translates to the "relationship between a guru and his disciples in Indian culture".
On page 70, the line referring to Jesus Christ reads – "Iss sambandh mein haivan Isa ka ek kathan sadaa smaraniya hain." Translated, it means that in this context, an incident of demon Jesus will always be remembered.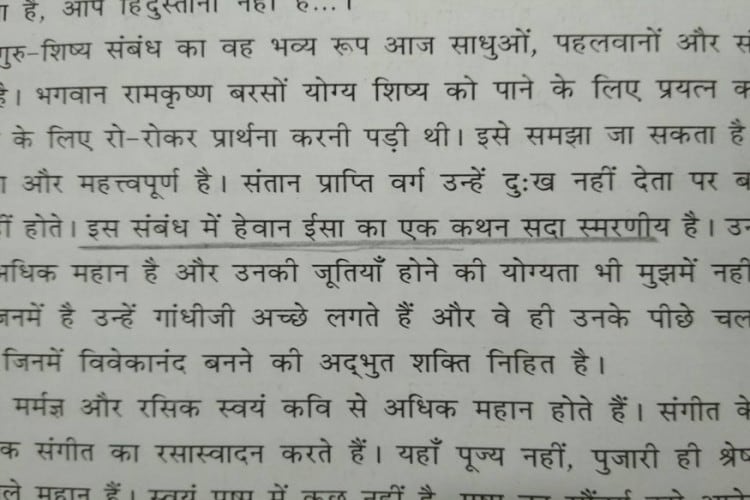 The underlined sentence translates to "an incident of demon Jesus will always be remembered."
Advocate Subramaniam Iyer, who noticed the mistake, says that the error attracts section 295 (a) of the IPC, which pertains to deliberate and malicious acts intended to outrage religious feelings of any class.
Speaking to News18, Iyer said, "Jesus is being portrayed as a demon to students. Quite clearly, this is a case that attracts section 295(a) of the IPC that pertains to hurting the religious sentiments of any class."
Iyer said that the error may be unintentional, but it can create a rift between communities and cause a law and order problem. "This simply is unacceptable and should be removed immediately," he said.
When contacted by News18, state education minister Bhupendrasinh Chudasama said he was aware of the error and added that it will be corrected.
Nitin Pethani, chairman of the Gujarat State Board of School Textbooks said that it was a typographical error. "The word "haiva", a disciple of Jesus Christ, got misprinted as "haivan", meaning a demon," he said, adding that "Aadam Isa" and "Haiva Isa" were the two disciples of Christ and an "n" inadvertently got printed in the book.
This is not the first time that errors have been pointed out in school textbooks published by the Gujarat State Board of School Textbooks. In the past, a textbook had claimed that Japan had dropped an atom bomb on the United States during the World War-II. In another instance, a book had got the date of Mahatma Gandhi's death anniversary wrong.