Pinky was 12 years old when she was handed a gun and asked to hunt Naxals. It was 2005. In order to finish off the Naxals, the state created and armed ragtag militias of tribals under its Salwa Judum campaign.
Like thousands of other tribals in Bastar, Pinky was enrolled in the program of which she neither knew the motives nor consequences.
"I was told that if I wanted a job, I should apply for an SPO (Special Police Officer). This is what I did. Nobody told us what the job was. I was 12 years old then. After I got enrolled I was put through a 45-day course in Dantewada where I was taught to handle guns and explosives."
Pinky was given a .303 calibre rifle, and put on patrol duties as a part of anti-Naxal operations. She risked her life and the lives of her family members for Rs 1,500 a month salary. In 2008, she had to take a three-day leave and that's when she was sacked.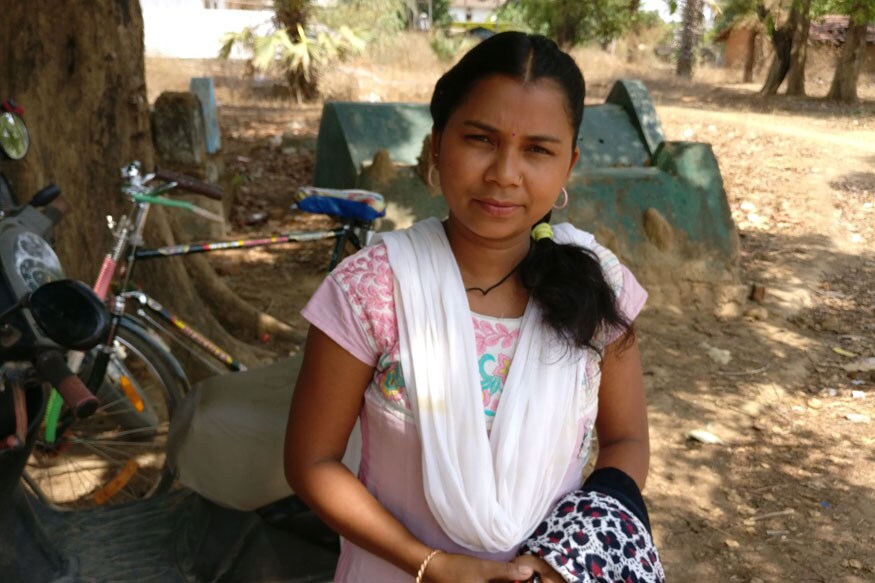 Pinky was 12 years old when she was handed a gun and asked to hunt Naxals. (Photo Credits: Suhas Munshi/News18.com)
Having somehow lived through the bloody Salwa Judum and Green Hunt campaigns, she is now trying to survive a day at a time. She is earning her living as a construction labourer these days.
Pinky lives in a close knit group, along with a dozen other people, all of who were SPOs once. They lost their jobs either due to whims of their seniors or due to the Supreme Court ruling in 2010, declaring Salwa Judum illegal.
All of them are doing odd jobs like her. These people who used to handle rifles, semi-automatic weapons and grenades in their formative years are now working as coolies, milkmen and labourers.
They stick together in fear because each of them has lost either a relative or a friend or whole family to Naxals, who have been on a mission of marking and killing everyone they think has ever collaborated with the state. Former SPOs and their families are top on that list.
"Police came to our village in 2005 and picked us up and forcibly enrolled us as SPOs. I was barely 18 that time. I was made to work as an SPO between '08 and '11, was involved in encounters with Naxals. During that time Naxals killed my father and my brother and burnt down our village. Sometime after I was sacked from my job, Naxals abducted my husband. But they released him alive after beating him," says Parvati, who used to live in Dharmapur.
Parvati and her husband cannot return to their village for the fear of being killed by Naxals. Neither can they live in Bijapur because they don't have a permanent source of income here.
Parvati's father and brother were killed and her village was set ablaze by Naxals. (Photo Credits: Suhas Munshi/News18.com)
Soni Sori, a tribal activist and an outspoken critic of both the state and Naxal excesses, has been trying to gather support for these abandoned state militia members.
"The government first forced them out of their villages and then pushed a gun into their hands. Now it cannot wash away the responsibility and pretend these people never existed. These people are, because of the state, caught between the Naxals who will kill them if they return to the villages, and hunger, which will kill them if they don't find a job. So we will fight for them till the state rehabilitates them," said Soni Sori, a tribal activist.
Apart from Pinky and Parvati, several other people in this tiny Bijapur group have similar stories to tell.
There is Sambati who was 19 years old when she was made an SPO, made to risk her life almost on a daily basis, and sacked when she fell ill for three days. She works as a coolie now.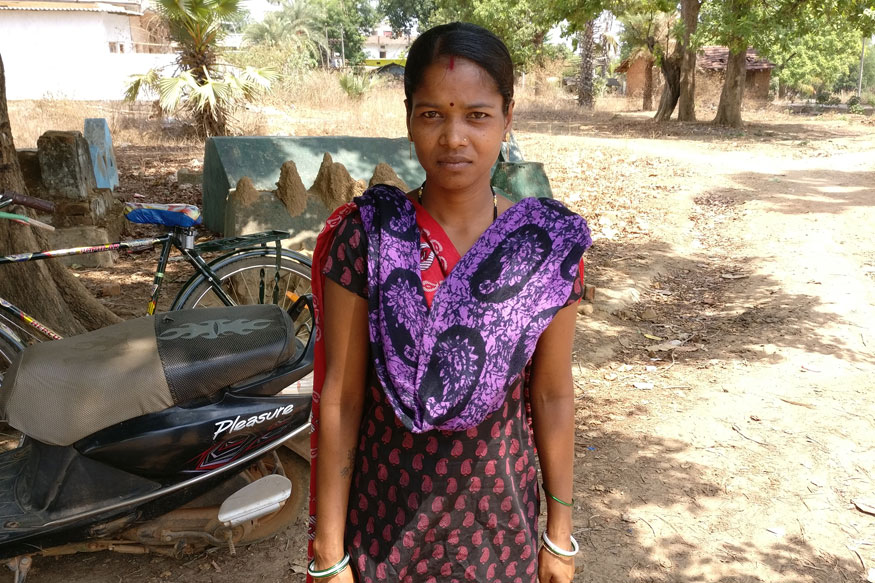 Sambati, who works as a coolie now, was made an SPO when she was barely 19 years old. (Photo Credits: Suhas Minshi/News18.com)
Raj Kumar Bhendke says he dug up 22 IEDs planted by Naxals and saved lives of several CRPF and state police officers and participated with state forces in 6 gun battles against Naxals. He works as a coolie now.
"We were the guys who were propped up by senior officers to march ahead. Several times I almost stepped on a land mine. But each time I located the mines and neutralised them well before the rest of the company arrived at the spot," says Bhendke.
Kishore Kumar, who was enrolled at the age of 20 and participated in around 10 gun battles claims he can open, clean and re-assemble any gun in less than five minutes.
"I have seen more encounters than most of the people in the state police. I can handle any gun," he says confidently. Like others he also was given Rs 1500 to risk his life for the state. These days he is a cook, a washerman and a coolie depending on what he is offered to do.
Senior police officers admit that the state did use these people to fight their wars but add that while the forces did try to accommodate some people, the others fell through the cracks.
"Yes, some of these people did fight for us during the period of Salwa Judum. But as soon as the Supreme Court put a stop to it, they lost their jobs. We did, as a force, create employment for them by creating an auxiliary constabulary but some 10 per cent people were left out. We are trying to see to it that everyone who helped us during that time is employed and no one is left behind," said P Sunder Raj, DIG, Bastar range.
At a time when the state is looking to open another Adivasi-led front against Naxals (CRPF is raising a battalion of 1000 local adivasis, which it has named 'Bastariya Battalion', to be introduced next year), it makes sense to account for what the state and its people have already lost in such battles irrevocably.
(More Sunday Features)