Hasmukh Adhia: PM Modi's Yoga Mentor, Man Behind Demonetisation and Now Finance Secretary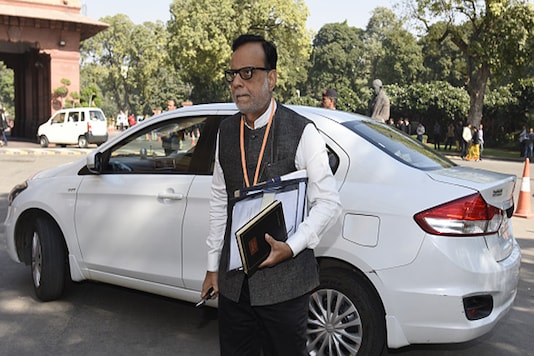 Hasmukh Adhia is a hard taskmaster and stickler for rules. (Photo via Getty Images)
Born in Wankaner in Rajkot district, 58-year-old Adhia is a 1981-batch Gujarat cadre IAS officer.
Last Updated: November 7, 2017, 11:59 IST
Edited by: Bijaya Das
FOLLOW US ON:
New Delhi: Revenue Secretary Hasmukh Adhia was appointed Finance Secretary late on Monday. The appointment of the 1981 batch, Gujarat cadre IAS officer to the post of the senior-most secretary in the finance ministry comes as Ashok Lavasa's term ended in October.
Considered as one of the most trusted lieutenants of Prime Minister Narendra Modi, Hasmukh Adhia is largely credited with delivering GST on time and being the man behind demonetisation.
Right after Modi announced demonetisation in a speech on November 8 evening, Adhia tweeted: "This is the biggest and the boldest step by the Government for containing black money."
Born in Wankaner in Rajkot district, 58-year-old Adhia is a 1981-batch Gujarat cadre IAS officer. He has served in a wide array of positions in his home state: Director of the Gujarat State Financial Services Ltd, managing director of Gujarat Industrial Development Corporation as well as finance secretary and principal secretary to the then Chief Minister, Narendra Modi.
It was perhaps yoga over which the then CM Modi and Adhia really bonded. Modi had just introduced chintan shivirs, brainstorming sessions for ministers, bureaucrats, and police officers. It was at one of these shivirs that Modi saw Adhia practising yoga before the crack of dawn. Legend has it that Modi came away so impressed that he chose Adhia as his yoga mentor. Adhia, who has a Ph.D. in Yoga from Swami Vivekananda Yoga University in Bengaluru, was ideally placed to propagate the art.
Soon, yoga became a regular feature at chintan shivirs. Years later, in 2014, the United Nations, at Prime Minister Modi's urging, declared June 21 as International Yoga Day.
No wonder, Adhia moved to Delhi in 2014 after Modi became Prime Minister. Here, his first posting was as Secretary in the Department of Financial Services in November 2014. He then took charge of the Department of Revenue in the Finance Ministry in August 2015. It is one of the five departments in the Finance Ministry, and the nodal agency for GST because of the Central Board of Excise and Customs (CBEC), the apex body in charge of indirect taxes, comes under its control.
A year after the Modi government came to power, the work to implement GST assumed a new urgency. The first big hurdle was having the Constitutional amendment passed in both houses of Parliament. And this was not possible without taking the concerns of states, including those ruled by Opposition parties, into account. While everyone saw key central ministers negotiating with leaders across parties, Adhia's team quietly worked on details to devise a middle path.
Adhia is a hard taskmaster and stickler for rules. Within political circles, he's a reputation of being blunt, of flatly refusing to entertain any request for transfers and postings. That aside, he is equally caring of his colleagues.
As government decided to hold one of the GST Council meetings in Srinagar, Adhia requested his team to bring along their spouses.
As Finance Secretary, Adhia will have to closely work with the five departments of the Finance Ministry — Expenditure, Economic Affairs, Financial Services, Revenue and Department of Investment and Public Asset management (DIPAM).
IAS officer Rajiv Kumar of 1984 batch is the Financial Services Secretary. Ajay Narayan Jha is Expenditure Secretary and Neeraj Kumar Gupta Secretary, DIPAM.
Subhash Chandra Garg, a 1983 batch IAS officer, is Economic Affairs Secretary.
Next Story