Hours After Protest by India, Maldives Says Presidential Elections in Compliance With Laws
India has repeatedly voiced its concern over the state of governance in Maldives and ties have hit an all-time low.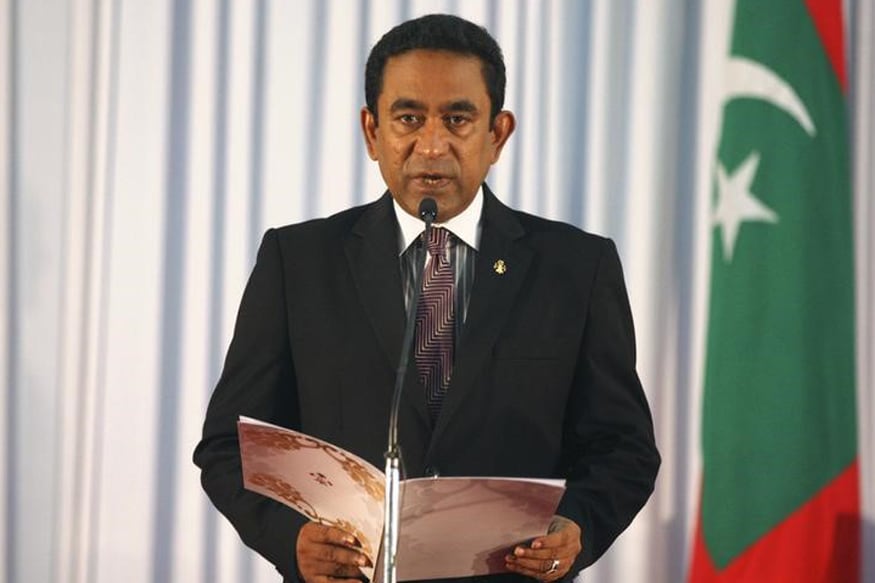 File photo of Abdulla Yameen. (Reuters)
new delhi: Hours after India voiced its concerns over the upcoming presidential elections in the Maldives, the Maldivian ambassador to India said things were being done with due regard to the law.
"Maldives foreign ministry will send a response to ministry of external affairs (MEA), assuring that things are being done in compliance with our laws," ambassador Ahmed Mohammed told News18.
Lodging a strong protest, India on Thursday said there was serious doubt over the credibility of the elections in Maldives later this year.
In a statement, the MEA said the government of Maldives had given long prison terms to the former President (Maumoon Abdul Gayoom) and the Supreme Court chief justice.
"This casts doubt on the commitment of the government of the Maldives to uphold the rule of law and will also call into question the credibility of the entire process of presidential elections in September this year," the ministry said.
It added that India had repeatedly urged the Maldivian government to allow institutions to function in a free and independent manner and to permit genuine political dialogue among all political parties.
"It reiterates its advice to the government of the Maldives to restore the credibility of the electoral and political process by immediately releasing political prisoners, including former President Gayoom and Chief Justice Ali Hameed, and creating the necessary conditions for the participation of all political forces in the presidential elections," India said.
In March earlier this year, a day before lifting the Emergency, the Maldivian government under President Yameen charged Gayoom with terrorism.
Along with Gayoom, senior judges and police officials have also been charged for 'attempting to orchestrate an act of terrorism'.
The nine other people charged are Gayoom, Supreme Court chief Justice Abdulla Saeed, Justice Ali Hameed, Gayoom's son and four other lawmakers. A former police commissioner has also been charged.
Yameen imposed a state of emergency on February 5 for 15 days to annul a February 1 Supreme Court ruling that quashed convictions against nine opposition leaders and ordered his government to free those held in prison.
He later extended the state of emergency for another 30 days with parliament approval, a move challenged by the opposition.
India has repeatedly voiced its concern over the state of governance in Maldives and ties have hit an all-time low.
Maldives has asked India to take back two of the copters it was gifted a few years ago.
Recently, a top Maldivian parliamentarian was denied entry into India for which the Indian envoy in Maldives was summoned. The parliamentarian, Ahmed Nihan, had termed India's actions as "bullying".
Get the best of News18 delivered to your inbox - subscribe to News18 Daybreak. Follow News18.com on Twitter, Instagram, Facebook, Telegram, TikTok and on YouTube, and stay in the know with what's happening in the world around you – in real time.
Read full article