GET Stock

Quotes


He Chose Honourable Death Over Listless Life, Say Parents of J&K Militant Who Refused to Surrender
The family alleged that had police not "harassed" him, he would not have joined militancy.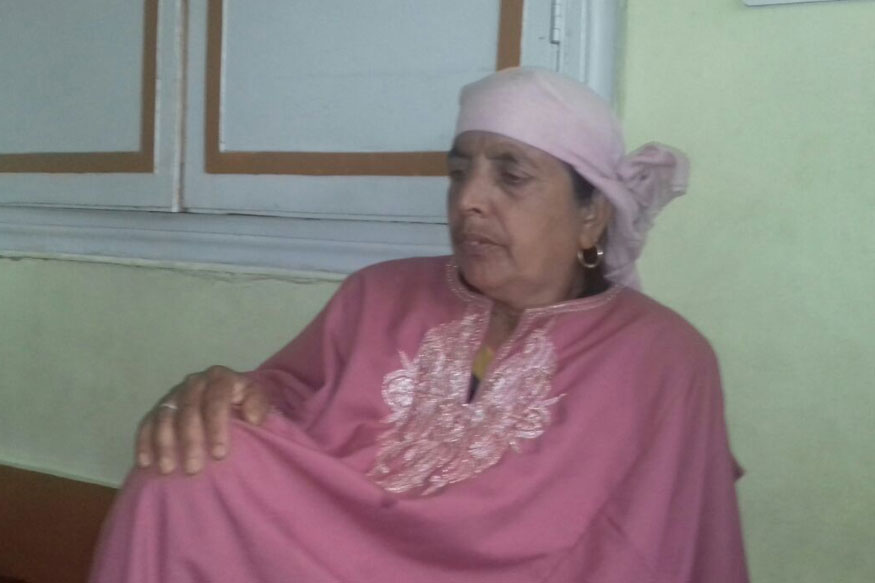 Rouf Khanday's mother Hajira. (Mufti Islah/News18)
Dehruna, Anantnag (J&K):
For the parents of Rouf Khanday, the last rendezvous with their militant son came as an unexpected relief, but it also brought out "the bitter mistrust that exists between young militants and police and political system".
Father Bashir Khanday and mother Hajira were given a rare opportunity by Anantnag police chief Altaf Khan to meet their son in the house ringed by troops in an effort to persuade him to lay down arms and walk out alive. But Rouf chose to take on the troops, eventually leading to his death amidst a hail of bullets and flames that reduced the structure to cinders.
"I did not pressurise him beyond a point. He had decided not to give up. There was no point. He chose an honourable death to listless life," Bashir Khanday, who is in his early 60s told News18 at his Dehruna home.
Bashir Khanday (right), the father of Rouf Khanday. (Mufti Islah/News18)
The elderly man, sporting a salt and pepper beard, was surrounded by mourners who kept trickling in for the next one hour. "No parent wants to carry the coffin of his son. It is very heavy. But I have no regrets. It was his wish," said the elderly man, defying emotions.
Sunday, in fact, saw three separate encounters spanning for hours in Anantnag and Shopian, at the end of which 20 people, including 13 militants, were killed.
Rouf was killed in Peth Dailgam village, 12 km from Anantnag, but not before SSP Khan ensured he first spoke to his parents over phone and later arranged a physical meeting if it helped secure a surrender and saved his life.
But the 21-year-old militant turned his parents away, refusing to quit.
They could hear the gunshot resonate in the area when police started the operation to take him down in the house, which is now a segregated heap of bricks, mud and broken wood pieces.
Khanday said he wanted his son to live like his other children, but had to give in when Rouf expressed his last wish. He said Rouf feared police might use him to get information about other militants and eventually "bump him off", a charge rejected by Khan.
"Why would we call his parents to meet him? I had promised them he will live with them forever. There was no such motive," Khan told News 18.
Khan had on Monday said he was moved to tears when he saw Rouf's mother "trudging back lifelessly from the house where she had a meeting for 17 minutes."
"I can't forget the walk and face of the mother. This has taken a huge emotional toll. This is one of the toughest operations I have ever faced," Altaf, considered a specialist in crack anti-militancy operations, said in a choked voice.
Inside a tent pitched in the compound to accommodate grieving family members and villagers, Khanday said, "With time, the family will gradually cope with the loss, but he is content that Rouf chose to die rather than be pawn in the hands of the police."
Inside the house, Hajira looked pale and numb. She hardly responded to mourners. In a feeble voice, she said she was lucky to meet her son just before his death. She said she had not seen him for the last three weeks, the time he went underground and joined the militants.
Hajira had kept offerings to be given to the poor if Rouf would return to her alive.
"So many boys with gun have been killed, but I consider myself the luckiest mother because I was given a chance to meet him," she said.
The family alleged that had police not "harassed" him, he would not have joined militancy.
Khanday said Rouf was arrested during the 2016 unrest and detained for 45 days after police found pictures of militants in his mobile phone during a surprise checking.
"He and his cousin were going on a motor bike when police intercepted them and arrested Rouf," he said, adding that the harassment "never ended" for months till his death on Sunday.
Altaf, however, said Rouf had been detained for his alleged links with militants.
Rouf, according to the family, disappeared on March 8 and the family kept looking for many days, but when he did not show up, they registered a missing person's report last week.
"We received a call on Sunday night from Rouf informing us that he was trapped in a security force cordon," Khanday said, adding, "later, police took me and my wife from home to convince him to surrender."
SSP Khan had sent an inmate of the house with a cell phone so that Rouf could talk to his family. In a telephone conversation, the audio of which is available with News18, Rouf is heard telling his family "that life could be hell for him if he surrendered."
"I will be jailed for life. It is far better to die as a martyr," Rouf is heard telling his family, who asked him to be steadfast and offer prayers for forgiveness from god.
As Hajira broke down, Rouf told her it was a "sin" to cry. "Do not weep over my death. I am satisfied (with my fate)," he said.
Khanday said that after they heard what their son had to say, he and his wife did not insist on surrender.
The family said Rouf had a pistol and a couple of grenades when he was trapped. The police strapped the house with explosives and blew it up.
"Had the police shown more patience perhaps he could have been alive and our house also saved from being torched," Imran Shah, an inmate of the ill-fated house told News18. He and his family members, including his old parents, had come out when police called to get the non-combatants out. An 'over-ground' worker of militants was arrested when he moved out of the house with the family.
Imran said their house was completely charred in the series of explosions during the encounter. "Had the police not rushed with the operation, both the militant and the house would have been saved."
"Our car and moped were also charred in the blaze," he added.
Villagers gather at the site to help the family in rebuilding the house. (Mufti Islah/News18)
Scores of villagers converged at the site to help the ill-fated family in rebuilding the house. News18 saw dozens of youth clearing the rubble and sifting burnt wood pieces from brick, stones and tin. Others brought in
taher
(yellow cooked rice) and
kehwa
(tea without milk) for the volunteers.
"We will rebuild the house without any help from government or public contribution. A better structure is ensured," said Mohammad Baktawar, a villager who is supervising the works.
(Get detailed and live results of each and every seat of the state Assemblies in Madhya Pradesh, Rajasthan, Telangana, Chhattisgarh and Mizoram to know which candidate/party is leading or trailing and to know who has won and who has lost and by what margin. Our one-of-its-kind Election Analytics Centre lets you put on the psephologist's hat. Know interesting facts and trivia about the elections. Elections = News18)
| Edited by: Ahona Sengupta
Read full article
Countdown To
Elections Results
To Assembly Elections 2018 Results