Delhi Breaks 70-year Record as Maximum Temperature Nears 40 Degrees in March
Village Bhira in Raigadh district of Maharashtra recorded an unusually high 46.5 degrees Celsius as several parts of the country reeled under sweltering heat on Wednesday.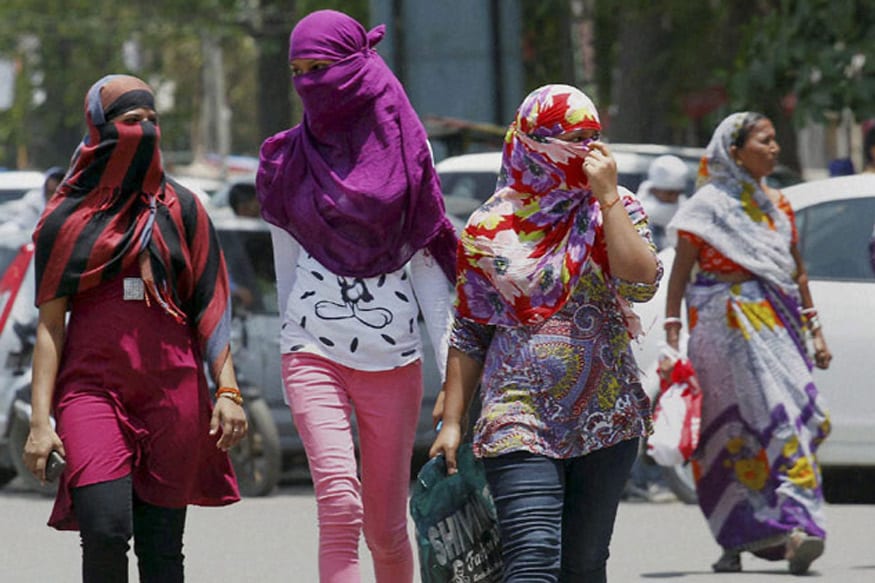 Girls cover their faces to beat the heat on a hot day. (File Photo/PTI)
If you're feeling Delhi's hotter than usual for this time of the year, you're not far off the mark. The temperature on Wednesday was close to the highest ever recorded in the month of march.
Delhi's maximum temperature on March 29 was 38.2 degrees Celsius, which is less than 2 degrees of 40.6 degrees Celsius recorded on 31 March, 1945. This is the highest ever recorded March temperature by the Met department's Safdarjung weather station.
The temperature on Wednesday was sweltering 6 degrees above normal. Other parts of Delhi sizzled at a higher temperature. Palam recorded 39.6 degrees C, while Lodhi Road, where the Met office is was 38.8 degrees C, seven degrees above normal.
The met department's weather forecasting unit characterizes this as "markedly above normal"and is predicting that these conditions will prevail for the next three days.
The near-heatwave like conditions in the national capital are also prevalent in the Northern, Central and parts of Southern India.
Rajasthan, Haryana, Madhya Pradesh, Southern Uttar Pradesh, Jharkhand, Chhattisgarh, Odisha, and parts of Karnataka, Andhra and Telangana are also experiencing high temperatures. Most of these states experienced temperatures above 40 degrees C, with a departure from normal of between 4-8 degrees Celsius.
The normal temperature in Delhi at this time of the year should be 32 degrees C. Even the minimum temperature is on the higher side. The temperature recorded in Delhi by all the weather stations of the met department was the highest so far of 2017.
Get the best of News18 delivered to your inbox - subscribe to News18 Daybreak. Follow News18.com on Twitter, Instagram, Facebook, Telegram, TikTok and on YouTube, and stay in the know with what's happening in the world around you – in real time.
| Edited by: Swati Sharma
Read full article