Hemant's last song for Dev Anand composed by SD
Kishore Kumar was the voice of Dev Anand till he became deeply involved in film production & multiple assignments.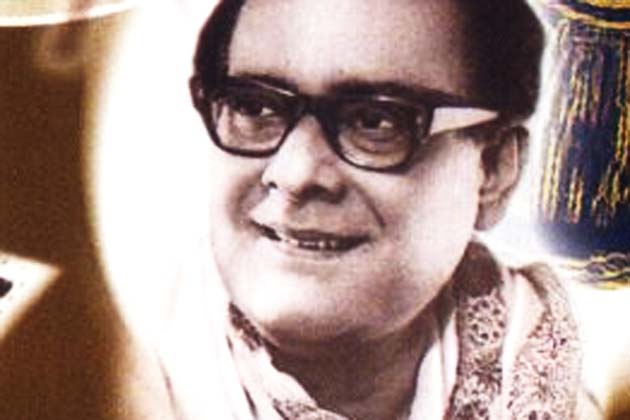 Kishore Kumar was the voice of Dev Anand till he became deeply involved in film production & multiple assignments.
In 2008, a prominent matrimonial portal carried the song 'Na tum hamein jaano' as a part of its advertising campaign. The song could have fitted the ad campaign of a private detective agency much better, really. Here's why. A view into the storyline of 'Baat Ek Raat Ki' tells a different tale about the positioning of this song in the film.
The scene was actually about a criminal lawyer trying to infuse sounds waves into his clients sub conscious mind; sounds that he surmised would unlock her mind and dissolve her inhibition to speak. These sounds belonged to a song from a 78 rpm shellac gramophone record – the only other witness (apart from a pet dog and a blind man) to what really happened that night when Ranjan (Chandra Shekhar) was murdered. Neela (Waheeda Rehman) believed she had killed him and admitted so to the judiciary.
Lawyer Rajeshwar (Dev Anand) is not convinced and makes one last attempt to establish the truth. The sequence is neither an unearthly one like Bees Saal Baad (1962) nor that of a duet of lovers on a stroll. SD Burman balances the mood of the core tune between the trigger to troubled memories on one side
and faint surrealism on the other. And Majrooh chose the words to near
perfection especially in the antara. 'Chup' is used twice in quick succession followed by 'Khamoshi' and 'Dastaan' – the inquisition into a suppressed truth, the story of the punishment that Neela wants to bring upon herself to bear.
One might notice that the interlude before the first antara consists of western flutes, faintly resembling a Salil Chowdhury composition. The interlude, worthy of being classified as a separate sub-composition in itself for its melody, crescendos into a symphony consisting of group violins before SD Burman silently merges it into the antara.
Na tum hamein jaano is a tandem song. A Suman Kalyanpur solo. And a Hemanta-Suman duet. In the duet, Hemanta delivered all the lyrics; and Suman Kalyanpur, one of the best remembered obbligatos in the history of Hindi film songs. One waits for it with a high Pavlovian anticipation the minute the song starts.
And she surfaces with her mystique when Hemanta returns to the refrain after the first antara when Neela is awaken from her sleep. She recognises the song and somehow wills herself to hum along. Suman Kalyanpur had won the Sur
Sringar Samsad award thrice in her career and was noted for her classical singing skills that she brought into popular music.
But no bigger tribute has been paid to her than the fact that Na tum hamein jaano, the duet version, a practically lyric-less song as far as Suman was concerned, is her most revered score. Just her voice. Just her mellifluous voice.
The overall impact of Dada Burman,Hemanta and Suman in Na tum hamein jaano leaves the listener slightly trance like after it ends; an almost semi-hypnotic effect. The Suman Kalyanpur solo version of Na tum hamein jaano too was used
as a song playing on a 78 rpm shellac gramophone record in the ultra modern living room designed by Sudhendu Roy at Mehboob studios. Midway through the song, Waheeda Rehman would join and sing along.
Alankar Chitra's Baat ek raat ki was started with the working title Main Akela. The story was written by famed lyricist and script writer Pranab Roy of Calcutta, one of Kazi Nazrul Islam's closest disciples. Film was directed by staunch Dev Anand follower Shankar Mukherjee, and understandably was like a showcase for Dev to exhibit his charisma.
The working title, derived from Dev Anand's signature song with a fishing rod, Akela hoon main, continued for quite some time, and the name was changed to Baat ek raat ki after the film was almost shot. Though Na tum hamein jaano surfaced as THE song from the film, it was a dance drama featuring Chandrasekhar and Waheeda which received media publicity during that time. Chandrasekhar, the only Indian actor who had a diploma in Ballroom dancing then, was to be seen in a spectacular dance alongside Waheeda in a song which SD had specially composed for the operatic sequence.
The song in question – Sheeshe ka ho ya pathar ka dil – a duet between Rafi and Lata was to become the first released song of Lata Mangeshkar after the split with S D during I S Johar's Miss India (1957) (as per Lata Mangeshlkar)/Sitaron se aagey (1958) (as per a report in the Filmfare in 1961).
The song sequence of Sheeshe ka ho ya pathar ka dil started with actor Bela Bose dancing to the lines of One Two Cha Cha Cha. R D Burman, the assistant music director, later used these words in his chartbuster from Krishna Shah's Shalimaar (1978). The meter of Sheeshe ka ho ya pathar ka dil was used by R D as Kuch tum karo, kuch hum karen in Umesh Mehra's Hamare Tumhare (1979).
Apart from his own compositions, the one single composer for whom Hemant Kumar had had majority of Hindi film hits was SD Burman. He had also blessed two of Kishore Kumar's films with their title songs – Door ka Rahi (1969) and Door Gagan ki Chaon Mein(1964). For such a canyon deep voice, with startling maturity and resonance, Hemanta remained the one of the most underutilised singer in Bombay film industry. There are a number of reasons. The most apparent reason seemed to be that he could never align to any one composer or a hero.
Mukesh was the third angle to the Shankar-Jaikishan/Raj Kapoor structure. Rafi was the stock choice for all Dilip Kumar and Shammi Kapoor starrers and a perennial favourite with composers Naushad, Madan Mohan and OP Nayyar, composers who were commercially viable during that time. Manna Dey was the Classical film song expert. Talat as the niche ghazal singer, ruled the late 1940s and the early 1950s, but lost his prolificacy starting the late 1950s. Kishore Kumar was the voice of Dev Anand till he became deeply involved in film
production and multiple acting assignments, after whci Rafi became the voice of Dev. That left very little for Hemanta – and it was courtesy the likes of composers S D Burman and Shankar Jaikishan that he got the stray opportunities for songs which demanded a deep baritone, and maybe a saintly overtone.
Secondly, perhaps his voice was too serious for a Ye chand sa roshan chehra (Kashmir k kali, 1964). He lacked the bubbly uninhibited zing of a Kishore Kumar , the feather-lightness of a Md Rafi, or the desolate in grief nuance of a Mukesh. His tonal maturity made him sound more like an elderly person. Lata Mangeshkar had gone on record likening his voice to that of a 'Sadhu'. The reality behind his 'limitedness' was not very far from the perception.
Also, Hemanta owed his first wave of fame to Bengali music in early 1940s. Plus, he was one of the main Rabindra Sangeet exponents, a genre of music that was originally and innately a product of the Bangla culture. Maybe he was perceived to be too 'Bengali' to fit the demands of the flexibility of popular Bombay film music.
Till 1957, Kishore Kumar was the voice of Dev Anand when Dada Burman was the composer. Hemant Kumar and Talat Mehmood were used in patches. After Kishore got busy with his films, Rafi was the voice Dada Burman used on the rebound, till Kishore came back heavily staring with Teev Deviyan (1965). Hemanta got only a solitary song – Na tum hamein jaano – during this phase. In spite of this song becoming a chartbuster, a classic and a favourite of the connoisseurs, Hemant Kumar did not sing for Dada Burman or Dev Anand again.
This remains one of life's ironies.
Get the best of News18 delivered to your inbox - subscribe to News18 Daybreak. Follow News18.com on Twitter, Instagram, Facebook, Telegram, TikTok and on YouTube, and stay in the know with what's happening in the world around you – in real time.
Read full article