New Delhi: The website of Ovleno Business Intelligence, the partner company of Cambridge Analytica, has been taken down after a slugfest broke out between the BJP and the Congress on Wednesday over links to the tainted big data firm.
News18 managed to take screenshots from the website of Ovleno Business Intelligence before it was taken down. OBI is a part of the joint venture of SCL (Strategic Communications Laboratories) India. SCL is the parent company of Cambridge Analytica.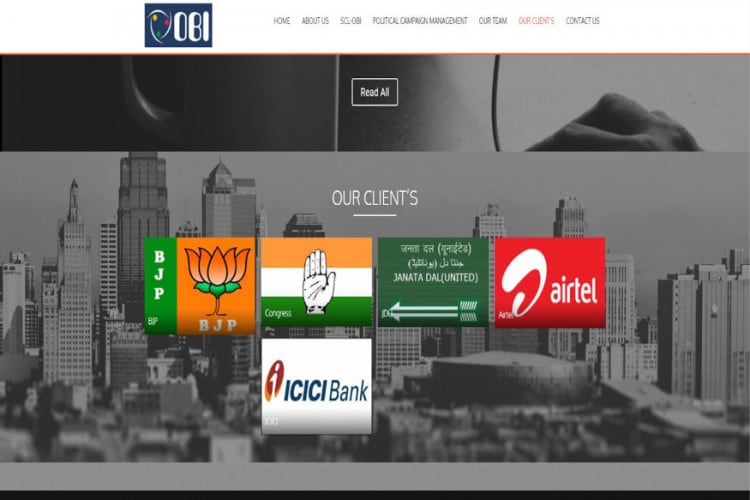 A screenshot of OBI's website proclaiming that the BJP, Congress and JD(U) were all its clients.

The website was taken down after the controversy broke out.
The company's website proclaimed that BJP, Congress and JD(U) were its clients, apart from ICICI bank and Airtel. The website of OBI said that it works on "political campaign management" and had photos of Prime Minister Narendra Modi and Delhi Chief Arvind Kejriwal on its homepage. However, the company did not list Aam Aadmi Party as its client.
The Congress has alleged that OBI's services were used by home minister Rajnath Singh in 2009 and that it is owned by the son of a parliamentarian affiliated to a BJP ally.
The Linkedin profile of OBI's director said that the company had successfully managed four elections campaigns for the BJP, including its Mission 272 plus, a reference to the party's 2014 Lok Sabha slogan. Questions posed to the director did not elicit any response.
Cambridge Analytica, the firm at the centre of the row over illegal mining of Facebook data to influence elections, claims to have worked in India during the 2010 Bihar Assembly Elections on its website, but did not spell out which party hired it.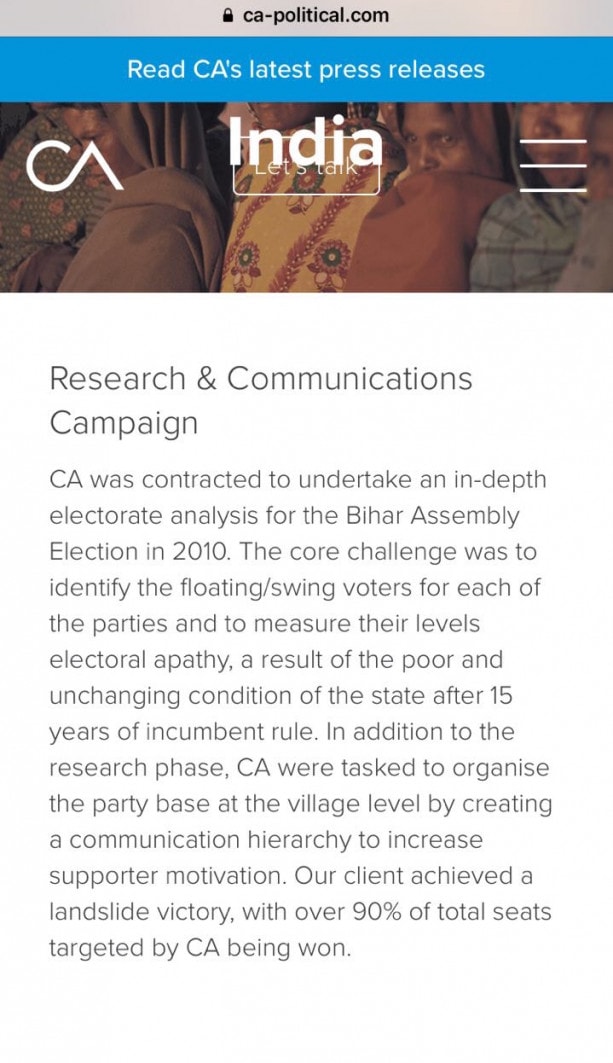 The website of Cambridge Analytica claims to have worked in India during the 2010 Bihar Assembly Elections.
"CA was contracted to undertake an in-depth electorate analysis for the Bihar Assembly Election in 2010. The core challenge was to identify the floating/swing voters for each of the parties and to measure their levels electoral apathy, a result of the poor and unchanging condition of the state after 15 years of incumbent rule," it said.
However, it did add that its client had achieved "a landslide victory, with over 90% of total seats targeted by CA being won." The elections were won by the JD(U), which was in alliance with the BJP.
The BJP has denied any links and instead alleged that Cambridge Analytica had worked with Congress on electoral strategy. Ravi Shankar Prasad also claimed that CA was behind Rahul Gandhi's revamped social media presence.
Congress IT cell head Divya Spandana a.k.a Ramya denied the allegations by the Law Minister and said, "Congress has never and is not employing Cambridge Analytica. The company only works with right-wing parties, not liberals. Their website itself says they work with BJP."
Read all the Latest News, Breaking News and Coronavirus News here