nda:
Needmore seats to Win

Needmore seats to Win
upa:
Hired as Cops, SPOs in Kashmir Mow Lawns, do Laundry of Politicians and Babysit Their Kids
The total strength of Jammu and Kashmir Police is around one hundred thousand (1lakh) which includes over 30,000 SPOs.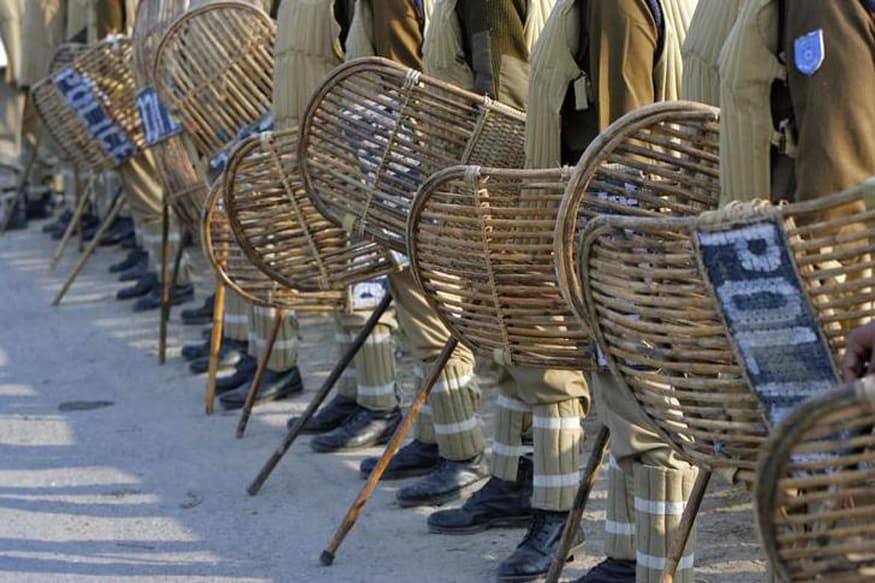 Image for representation.
The Special Police Officer who decamped with seven AK assault rifles from PDP MLA Aijaz Ahmad Mir's personal security officers in Srinagar on September 28 was performing menial jobs at the latter's residence.
"He used to cook and carry out other chores like cleaning and washing clothes," a police officer privy to the investigation said.
Adil Basheer, the SPO, was part of the security detail of PDP MLA Mir, who represents Wachi constituency of south Kashmir's Shopian.
The total strength of Jammu and Kashmir Police is around one hundred thousand (1lakh) which includes over 30,000 SPOs.
Who are the SPOs?
In 1995, J&K government started engaging SPOs. They are not permanent employees but receive monthly honorarium. An SPO used to receive Rs 3000. Later in 2016, Ministry of Home Affairs (MHA) increased the amount to Rs 5000-6000 depending upon their experience.
During the 2016 unrest in Kashmir, the government of India allowed recruitment of 10,000 SPOs following requisition by then chief minister Mehbooba Mufti.
These ad hoc police personnel don't go through any formal training and their recruitment is sans any set requirement. Police district chiefs are competent to recruit them.
Role of SPOs
SPOs were originally raised as a counter-insurgency force of J&K police.
"To tackle militancy effectively with limited resources, the state came up with plan to raise a force in the police that were drawn from the groups which had erstwhile militant connections," a retired Jammu and Kashmir cop, wishing anonymity, told News18.
The SPOs became vital part of the counter-militancy setup.
However, the recruitment of these policemen didn't end when militancy started its downward run.
More SPO squads were raised in every district of the state. It also became a way to tackle mounting unemployment.
As their numbers surged, some of them were deputed with security detail of protected persons — politicians, bureaucrats, police officers. Since they were not trained to handle weapons, the protected persons got them to perform household chores as domestic help.
News18 talked to a number of SPOs to share their experience and their responses were startling.
One SPO who was posted at the residence of a former minster said that he used to mop floors and serve guests. He also mowed the lawns at the minister's residence. Another SPO who is deployed at the residence of a Deputy Superintendent of Police (DSP) said that he would do babysitting. "I have even changed the diapers of the baby of my Sahab," said the SPO.
In some cases SPOs have been deployed to work as domestic help at the residences of relatives of top police officials.
An SPO told News18 that he was deployed at the home of a top police officer's brother-in-law. "In the morning, I wash utensils and clothes. During the day, I am the watchman of their apple orchard," said the SPO.
The SPOs go through this drudgery in the hope that if they will keep their bosses happy it might help their chances of getting inducted into the department on permanent basis.
The rules of engagement and promotion are not clear.
Some of them are serving as SPOs from last 15 years while many left the job as they saw no light at the end of the proverbial tunnel.
"I am working as an SPO from last 14 years," said an SPO, who is also the father of four children. His eldest daughter is in high school.
"Some people who were working with me were promoted because of the help of the people they were deployed with," he says. "I have given the prime of my youth to police but I don't see any ray of hope."
Exposed and Vulnerable
As militancy again reared its ugly head in 2010, the SPO recruitment also spiked. They were engaged in intelligence gathering and anti-militancy operations along with controlling law and order situations.
To control the increasing stone pelting incidents, some of the stone pelters were recruited as SPOs. SPO Adil Basheer, who decamped with weapons, was also involved in stone pelting cases before he was appointed in the police.
The militants in Kashmir started blaming SPOs for their proactive role in counter-insurgency operations and covert intelligence gathering. A number of SPOs were attacked and killed. Some were kidnapped. When the militant threats amplified, SPOs begun resigning after 2016.
Since last year, dozens of SPOs announced their resignations publically. Some posted their videos on social media and some announced resignation in mosques. With the kidnapping of kin of 11 policemen by militants in south Kashmir in August, the fear in the rank and file of police mounted.
More SPOs starred resigning which compelled government to increase the honorarium. The recent resigning spree forced the government to shut mobile internet in south Kashmir for many weeks as the SPOs would announce the resignation in videos and share them online.
Those SPOs whose experience is less than six years will receive Rs 6000 a month. Those with experience of more than five years, are to get Rs 9,000. For the SPOs serving for more than 15 years, the honorarium was hiked to Rs 12,000
The order was issued by the Ministry of Home Affairs, stating that there are 10,967 SPOs with the experience of less than five years. Those who have completed five years stand at 10,623. And those with over 15 years' experience number 8,411.
Recently, the government also increased the ex-gratia of SPOs to Rs 30 lakh from the existing Rs 14.50 lakh. For a regular policeman, the ex-gratia was hiked to Rs 70 lakh from the existing Rs 48 lakh in case of death in militancy-related incidents.
Following the recent rifles decamping incident, police on Wednesday ordered the withdrawal of SPOs performing duties as personal security officers (PSOs) of "protected persons".
As per the order of additional director general of police Munir Khan, "All SPOs except SPO drivers, presently attached with protected persons be immediately withdrawn."
Khan reacted sharply to the charge of the SPOs being used for domestic chores. He said it is totally absurd.
"We will investigate this matter thoroughly and no one will be allowed to use SPOs for jobs out of their duty," he said. "We are not running domestic help agency."
(Aakaash Hassan is a Kashmir based freelance journalist.)
(Get detailed and live results of each and every seat in the Lok Sabha elections and state Assembly elections in Andhra Pradesh, Odisha, Arunachal Pradesh and Sikkim to know which candidate/party is leading or trailing and to know who has won and who has lost and by what margin. Our one-of-its-kind Election Analytics Centre lets you don a psephologist's hat and turn into an election expert. Know interesting facts and trivia about the elections and see our informative graphics. Elections = News18)
| Edited by: Ashutosh Tripathi
Read full article
Countdown To
Elections Results
To Assembly Elections 2018 Results