The Supreme Court of India is set to hold a groundbreaking open-court reconsideration of Section 377 of the Indian Penal Code (IPC) on February 2. The December 11, 2013 verdict of the apex court had recriminalized homosexuality between consenting adults on the ground that there was no constitutional infirmity in this provision.
A bench headed by Chief Justice TS Thakur will hear the curative petition filed, seeking to cure the defects in the judgment by upholding the validity of the section. The law, which dates back to 1860, criminalises sexual activities "against the order of nature", arguably including homosexual acts.
The curative petition filed by Naz Foundation, which is the final appeal available against the original verdict, challenges both the 2013 judgment and the January 2014 order. It said, "The effect of re-criminalisation on account of the impugned judgment has caused immense prejudice against gay activists. They have been put at risk of prosecution under Section 377, on account of the association between homosexuality and penile-anal/penile-oral sexual acts." We reached out to Naz Foundation, who refused to comment till the Supreme Court has finished the hearing.
The earlier judgement by Justices GS Singhvi and SJ Mukhopadhyaya had taken up the hackles of the community and civil liberties activists. The rejection of a review petition filed earlier, instigated the NGO to file a curative petition. The latest hearing could be a glimmer of hope for the larger LGBTQI community that has received support from several quarters.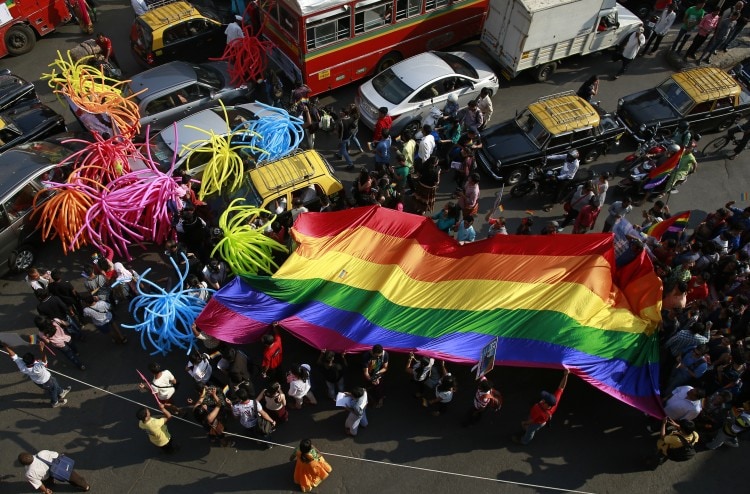 Participants holding a rainbow flag pass through a junction during a gay pride parade, which promotes gay, lesbian, bisexual and transgender rights, in Mumbai, January 31, 2015. REUTERS/Danish Siddiqui
Former SC Judge Vikramjit Sen had recently said that it is time to do away with Section 377. He went on to say that the society is mature enough to make its choices and exercise sexual preferences in private. Actress Nandita Das had said that in spite of it being a tough battle, she's an optimist. She felt that the very fact that people have now started talking about Section 377 will work to its advantage by making the issue more "mainstream". Recently, Shashi Tharoor's Private Member's Bill decriminalizing homosexuality was turned down in the Lok Sabha, sparking furore not only in the LGBTQI community, but also on social media.
Earlier in 2009, a two-judge bench of the Delhi High Court in a landmark judgement had held that criminalising consensual homosexual sex between adults is a violation of fundamental rights guaranteed by India's Constitution. The verdict resulted in the decriminalisation of homosexual acts involving consenting adults, in the jurisdiction of the Delhi High Court. However, in 2013 this was challenged in the Supreme Court which overruled the decision . LGBTQI activists claim that by overruling the 2009 verdict, the Supreme Court (which referred to the community as a " minuscule minority") had denied them basic human rights.