ANALYSIS | Hot Potato for India, Failure of US Foreign Policy as Trump Recognises Jerusalem Israel Capital
Historically, most Presidential debates in the US have addressed the Israel-Palestine conflict, but this is the first time that a US President has openly advocated Jerusalem as the capital of Israel.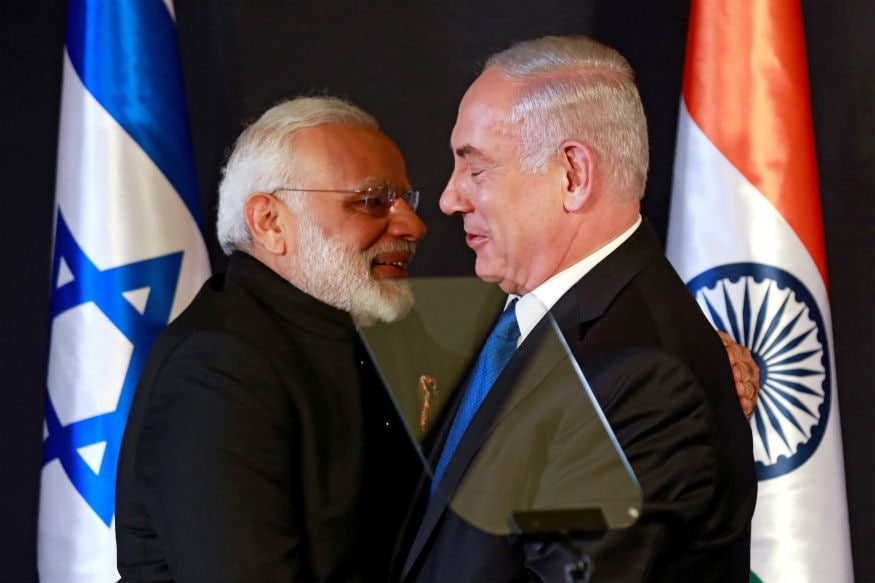 PM Narendra Modi hugs Israeli Prime Minister Benjamin Netanyahu. (Reuters)
New Delhi: US President Donald Trump on Thursday announced that the United States would recognize Jerusalem as the capital of Israel. But does Trump's move come as surprise? Not really.
Like his predecessors, Trump, during his election campaign promised that he would move the US embassy in Israel to Jerusalem from Tel Aviv. The only difference, now that we see it, is that Trump delivered on his promise and the other Presidents did not, considering the international repercussions of such a decision.
Historically, most Presidential debates in the US have addressed the Israel-Palestine conflict, but this is the first time that a US President has openly advocated Jerusalem as the capital of Israel.
As Trump said "it is the recognition of reality and this is the right thing to do", the US President made it clear that he had accepted the Jerusalem Embassy Act of 1995, which the Congress had passed for moving the US embassy from Tel Aviv to Jerusalem and called for the latter to be identified as an undivided city and the Israeli capital.
The Act was kept aside by previous Presidents, including Bill Clinton, George Bush and Barack Obama, who said that the Congress was trying to encroach on executive authority.
The international repercussions of such a move and the possible failure of international diplomacy is believed to be one of the prime reasons why Presidents never implemented this Act, until today, when Trump recognized Jerusalem as the Israeli capital.
Jerusalem has been a bone of contention between Israel and Palestine for the longest time, with Israel claiming it as its undivided land and Palestine claiming that the eastern part of Jerusalem is their capital.
Donald Trump's move to shift the US embassy to Jerusalem is expected to fuel tensions further, with violence being seen as a possible outcome.
Failure of American Foreign Policy
Trump, in his statement, has claimed that the United States will work towards a two-state solution as long as the parties are ready. The statement, however, is being seen as rhetoric by many.
Considering the reactions from other international players, there seems to be negligible support for Trump's move, which many categorize as unilateral. The move of course has been hailed by Israeli Prime Minister Benjamin Netanyahu, who has called this a historic day.
Palestinian leader Mahmoud Abbas has, however, called Trump's speech a "declaration of withdrawal from the role the US has played in the peace process". Additionally, Turkish President Recep Tayyip Erdogan has called for a leaders' summit later this month to discuss the move.
"Trump's move further delegitimizes American foreign policy and this is nothing but an exercise of hegemonic arbitration of power. The fact that he has made such a unilateral decision going against the opinion of international diplomacy will not work well for anyone, including the United States. From where I see it, I think a tremendous emotional mobilization and religious radicalization will emerge not only from the Palestinian territories but other parts as well," said Dr Khinvraj Jangid, an assistant professor at the Jindal Centre for Israeli Studies, OP Jindal Global University.
"Trump's statement on two-state solution is just rhetoric. The location of the US embassy is the least of all concerns in the Israel-Palestine conflict. The renunciation of violence from Hamas and ending of occupation of Palestinian territories by Israel are two of the major concerns. But the fact that Trump has chosen to focus on the least important of concerns without talking about peace for Palestinians, renders his talk of solution rhetorical," Jangid said.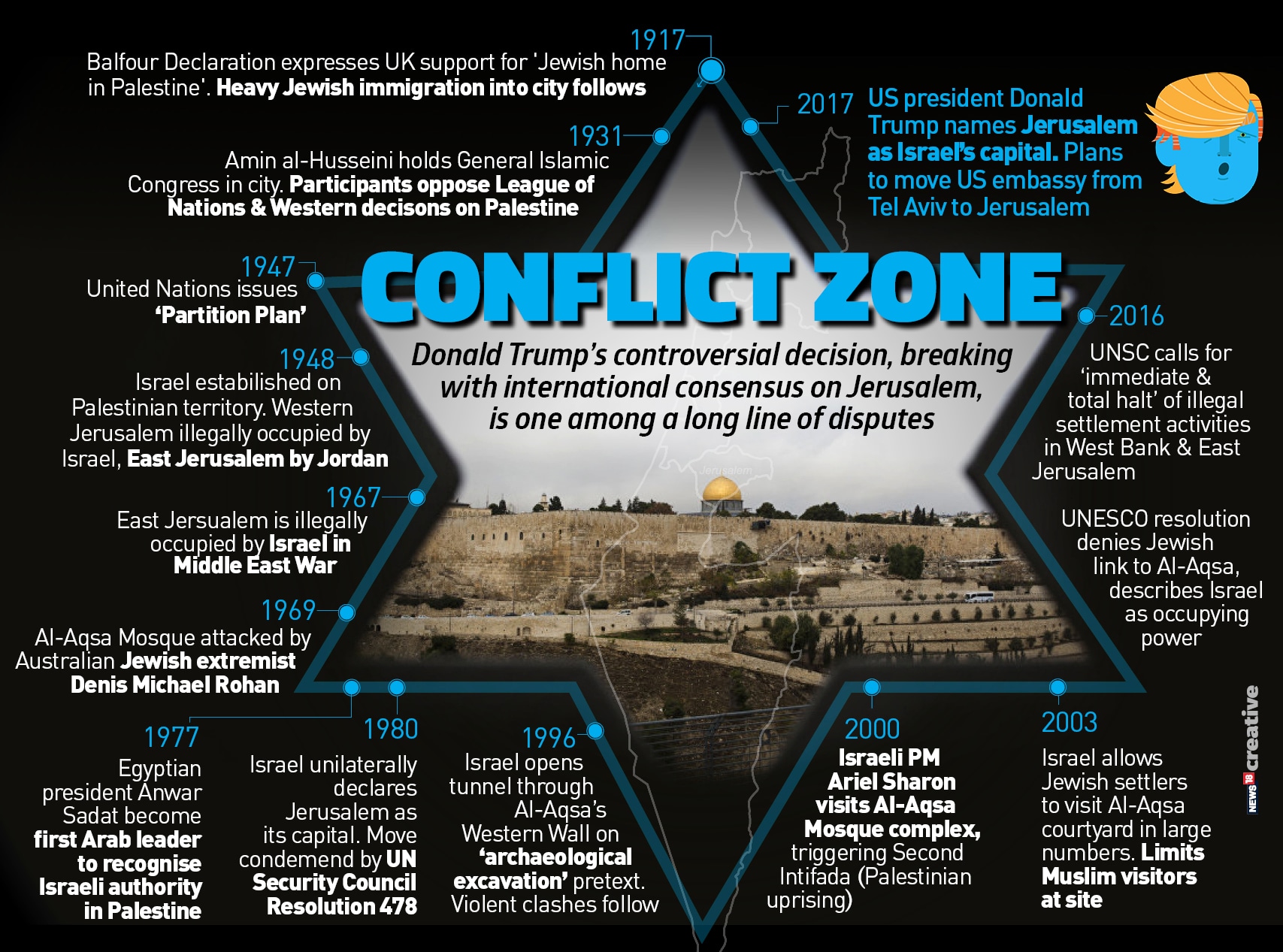 He added that it was also imperative to note that there have been highlights and achievements in American foreign policy discourse with regards to international conflict such as the Madrid peace conference. Trump's move kills all previous moves made by the US in mediating in this conflict.
During the Gulf War of 1991, the way the US acted against Saddam Hussain for Kuwait's independence is still considered as a fine example of peak diplomacy victories.
Moreover, when Israel and Palestine signed the Oslo Peace Agreement, it was on the White House lawns in the presence of then President Bill Clinton. Trump's move kills that effort, which came to be known as the Clinton Parameters. Trump's reckless move, as Jangid points out, has rendered the Clinton Parameters as a useless piece of paper.
India Must Tread Carefully
While Trump's move significantly fails American policy at various levels and invites sharp criticism, where does India stand? As of now, nowhere. Reacting to Donald Trump's decision to recognise Jerusalem as Israel's capital, India on Thursday said its position on Palestine is "independent and consistent".
Considering the convoluted stance that India has on national interest, like many other countries, it is likely to wait for other international players, like China, the United Nations, European Union and the Arab world before it makes a proper, detailed statement on Trump's move.
His decision puts India in a very uncomfortable diplomatic position, considering its warm relations with Israel. It is imperative to note that Netanyahu is expected to arrive in the country early next year for a state visit.
India's relations with Israel have only moved from strength to strength, especially with Prime Minister Narendra Modi's recent visit to Israel.
"Trump's decision provokes India to take a stand and this particular case is like a hot potato in their hands. At best, India is going to take no position and release diplomatic statements only," Jangid said. And indeed, all that India on Thursday said was that its position on Palestine is independent and consistent.
"India's position on Palestine is independent and consistent. It is shaped by our views and interests, and not determined by any third country," Raveesh Kumar, spokesperson for the Ministry of External Affairs, said in a statement.
Modi is also believed to have close ties with Donald Trump too, most recently with Trump's daughter and adviser Ivanka leading the US delegation to the Global Entrepreneurship Summit in Hyderabad.
Combine that with India's growing closeness with Israel, this rising possible trilateral between the three nations was being talked about in international power corridors. India's response will also be looked at with reference to this particular aspect.
"India must make sure, before it makes any decision, that it can't ignore the Arab world in this situation. India has more strategic reliance on the Arab world than the US does. The cost of what it might lose from adhering to the US's current stand on recognizing Jerusalem as Israeli capital is far greater than what its stand can gain," Jangid said.
On Wednesday in New Delhi, during an international conference on Zionism, a question was asked "Where is the capital of Israel—Tel Aviv or Jerusalem". Trump has answered that question now and how many international players, including India, agree to that is yet to be seen.
Get the best of News18 delivered to your inbox - subscribe to News18 Daybreak. Follow News18.com on Twitter, Instagram, Facebook, Telegram, TikTok and on YouTube, and stay in the know with what's happening in the world around you – in real time.
| Edited by: Sanchari Chatterjee
Read full article